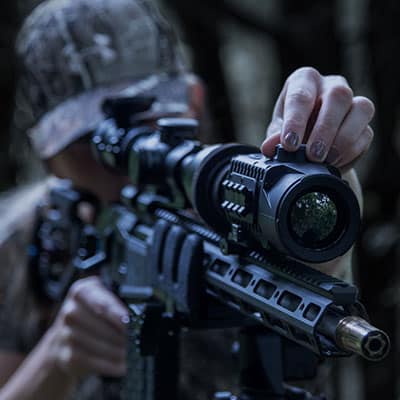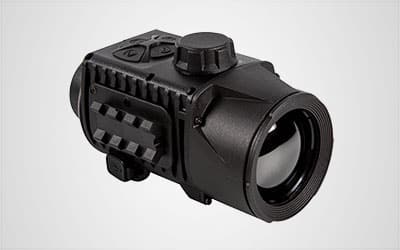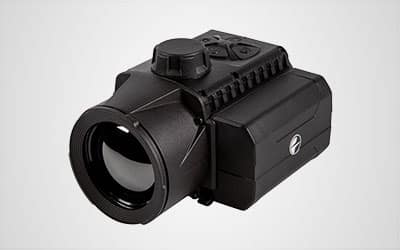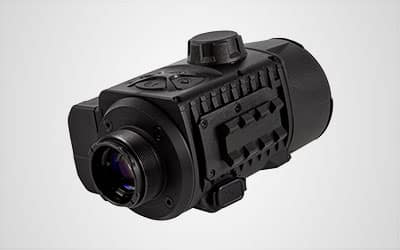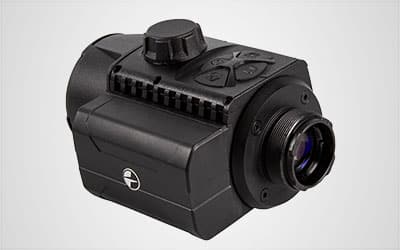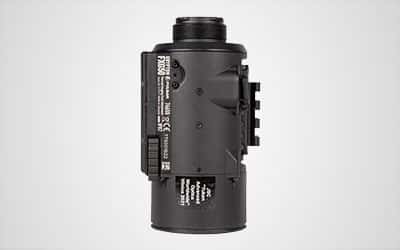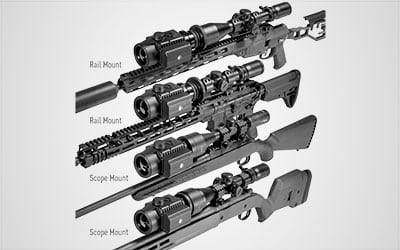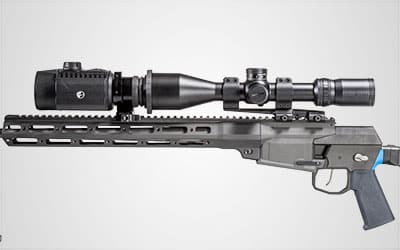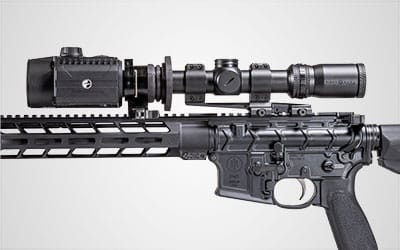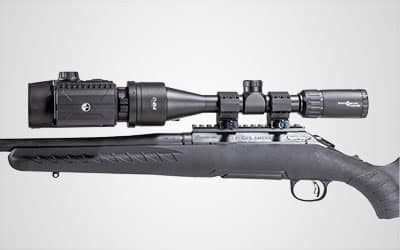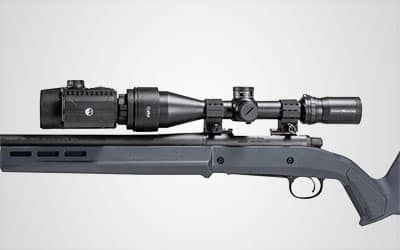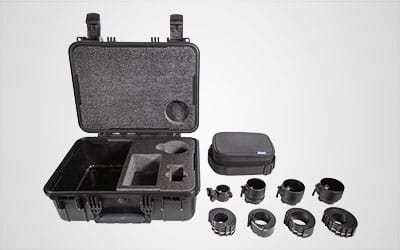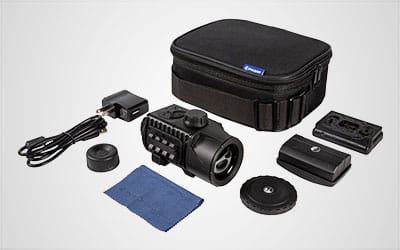 Pulsar Krypton FXG50

Thermal Front Attachment
The Krypton FXG50 quickly converts your daytime riflescope to a full feature thermal optic, without need to re-zero! The quick-release adapter and Precise Screen Positioning (PSP) mechanism ensure reattachment in precisely the same position. Produced in the USA, this thermal attachment boasts a 2500 yard detection range. Even the smallest details are visible, from branches and leaves to grass and other terrain!
Export Statement
It is the responsibility of the buyer to comply with export control laws and regulations of the United States Government and to obtain export licenses if required.Learn more >
Advanced Thermal Upgrade for Your Day Scope
Based on a new cutting-edge 12 µm thermal imaging sensor with 640×480 pixel resolution, plus a high quality HD AMOLED microdisplay, the Krypton FXG50 thermal imaging front attachment offers the sharpest image while retaining the accuracy of the day scope. Suitable for various optics with a wide range of magnifications, the Krypton FXG50 is a true thermal upgrade turning day riflescopes into powerful thermal imaging aiming systems.
Detection Range up to 2500 Yards
A powerful objective lens in combination with a professional grade 12 µm sensor thermal imaging sensor provides exceptional detection capabilities. A standard 1.8 m (6 ft) tall object can be detected at a 2300 m (2500 yds) distance in complete darkness.
High Definition Image
For image acquisition the Krypton FXG50 uses a high quality 12 µm thermal imaging sensor with 640×480 pixel resolution that delivers enhanced identification of animals, their extremities and even the smallest details, such as branches, leaves, grass, and terrain in all weather conditions.
Fast, Precise Operation
Even in low-light conditions, users can easily make quick adjustments through the optimized and sequential layout of electronic and optical components. The Krypton FXG50 reduces the stress and maximizes the joy of hunting and shooting.
Quick Release Adaptor with Precise Day Optics Alignment
The Krypton FXG50 mounts in front of the day optic with a quick release adapter and Precise Screen Positioning (PSP) mechanism that appears in the day optic's field of view. This allows precise alignment of the thermal attachment's field of view with the central point of the riflescope's field of view.
Point-of-Impact Stability
The Krypton FXG50 provides precise sight alignment and simple adjustment for quick target acquisition and shot placement, even in complete darkness. The attachment's design ensures stability of the point-of-impact when focusing the attachment for different distances.
Works with Different Magnifications of Different Day Optics
The Krypton FXG50 can be used comfortably on a wide range of day optics with magnifications from 1.5x to 6x.
Shockproof Magnesium Alloy Housing
The rugged and lightweight magnesium alloy housing is designed to withstand recoils of high caliber rifles. Increased structural rigidity reduces vibrations during the shot and leads to enhanced ballistics, while the properties of magnesium alloy help to ensure better heat dissipation.
Built-in Photo and Video Recorder
One press of the REC button captures footage that can be shared easily with colleagues, friends, and family. 16 Gb of internal memory holds many hours of recorded video and hundreds of photos, and recorded files can be downloaded to a PC or smartphone.
Integration with iOS and Android devices via Wi-Fi
The built-in Wi-Fi module connects the Krypton FXG50 with either Android or iOS smartphones using the Stream Vision 2 mobile app. This combination opens up a wide range of options: wireless device software updates, real-time image transmission to the mobile device screen, remote control digital functions, and much more. Registered app users are provided with cloud storage for photos and videos taken with a digital or thermal imaging device. Compatibility is maintained with the first version of the Stream Vision app.
Benefits of Daylight Optics at Night
The Krypton allows users to maintain the benefits of day optics at night. Advantages include the longer eye relief compared to night vision riflescopes, continued use of familiar and conventional aiming reticles, continuous zoom, and the quick conversion from day to thermal hunting mode, preserving shooting style.
HD AMOLED Display
A quality HD AMOLED display delivers crisp, vivid, richly contrasted images. The AMOLED technology provides flawless and fluid high-resolution imaging with the bonus of power savings.
8 Hours Operation Time
Quick change rechargeable battery packs provide enough power for up to 8 hours of non-stop operation. On one battery pack the unit can run the whole night without the need to be replaced. Any ordinary power bank can be connected via Micro USB and used as an external power supply.
Recoil Rated up to .375 H&H, 12-Gauge, and 9.3×64
The Krypton FXG50 is recoil rated up to 6,000 joules for flawless performance on larger calibers up to .375 H&H, 12-gauge, and 9.3×64.
IPX7 Waterproof Rated
The IPX7 waterproof rating protects against heavy rainfall, snow, or other precipitation. The KRYPTON is designed to run flawlessly, even after submersion in up to 3 feet of water, for up to 30 minutes.
Wide Range of Operating Temperatures
The housing, power unit, optics, and electronics of the Krypton FXG50 are designed for field use in a wide range of temperatures, from a blistering 122° F down to extreme cold at -13° F.
Included in Package
Thermal Imaging Attachment
Picatinny Rail Adapter
42mm and 50mm Adapter
Carrying Case
IPS7 Battery Pack (Li-ion)
Battery Pack Charger
Power Adapter
USB Cable
Lens-Cleaning Cloth
Accessories
IPS Batteries
Interchangeable standard power supplies for Trail / Helion / Accolade / Digisight Ultra / Forward / Krypton / Lexion.
IPS Battery Charger
Compatible with IPS5 / IPS7 / IPS 7A / IPS10 / IPS14 Battery Pack.
PB8I Battery
The Pulsar PB8I Power Bank
is designed to extend operating time of Pulsar devices equipped with a microUSB port.
Pulsar Krypton FXG50 Specifications
General
MPN
PL76655K
UPC
840284900166
Performance
Detection Range

2500 yds

Max. recoil power on rifled weapon (Eo)

6000 J

Shock resistance on the smooth-bore rifles, caliber

12

Sensor
Type

VOx, uncooled

Resolution

640×480

Pixel pitch

12 µm

Frame rate

50 Hz

Calibration (non-uniformity correction)

Manual, Auto, Semi-Auto

Optics
Objective lens

F50/1.2

Field of view (HxV)

8.7 x 6.5 / 15.4 x 11.6 degrees / m @ 100 m

Magnification

1x

Magnification with 5x monocular

5x

Recommended Magnification of Day Optics, x

1.5x – 6x

Minimum focusing distance, yd

5.46

Display
Type

AMOLED

Resolution

1746 x 1000

Color palettes

White hot, Black hot

Image detail boost

Yes

Video Recorder
Video / photo resolution

960 x 720

Video / photo format

mp4 / .jpg

Built-in memory

16 GB

Connections and Compatibilities
Wi-Fi standard

802.11 b/g

Frequency

2.4 GHz

USB socket

Micro USB Power/data

Supported application

Stream Vision 1, Stream Vision 2

Power Supply
Output voltage

3.0 – 4.2 V

Battery type

Li-Ion Battery Pack IPS7

Capacity

6400 mAh

Operating time on battery pack (at t=22°C)

8 hrs

External power supply

5 V (microUSB)

Environmental & Physical
Degree of protection, IP code (IEC60529)

IPX7

Operating temperature range

-25 to +50 °С

Body material

Magnesium alloy

Dimensions

5.6 x 3.6 x 3.0 in

Weight (w/o batteries)

18.34 oz

Specifications are subject to change without notice.