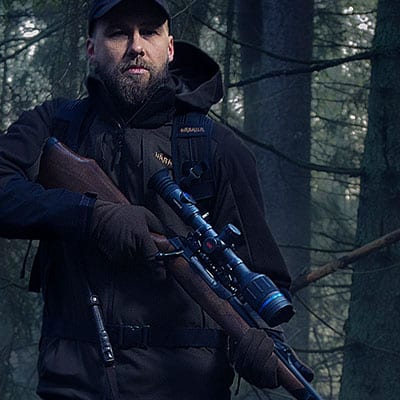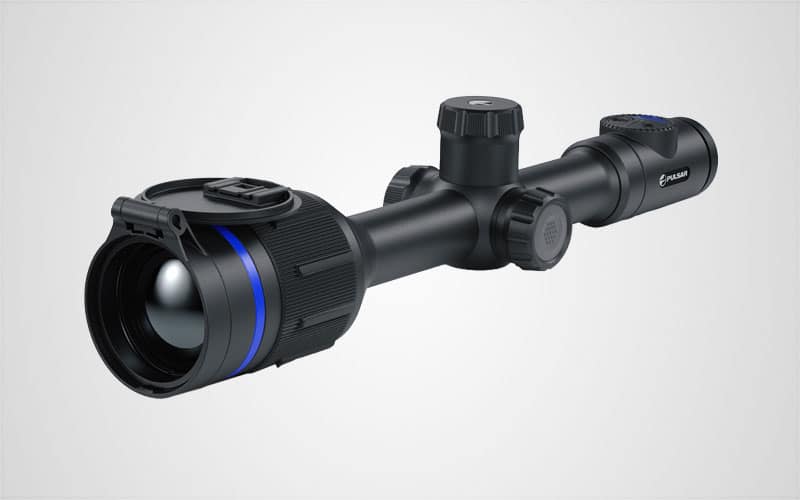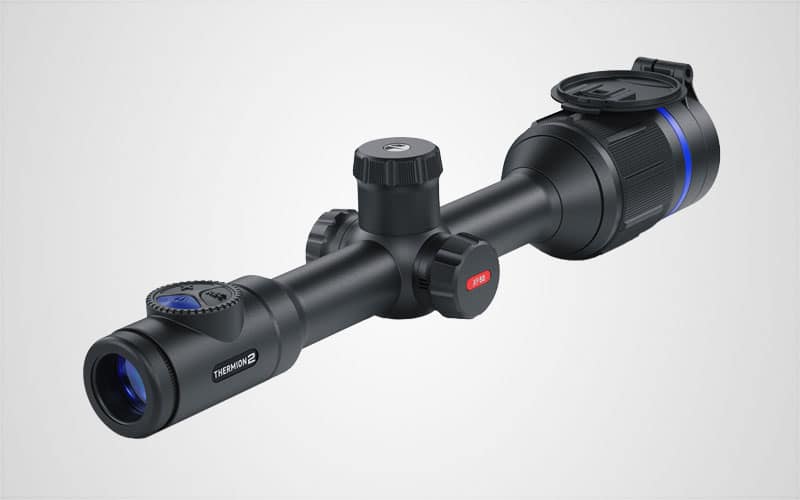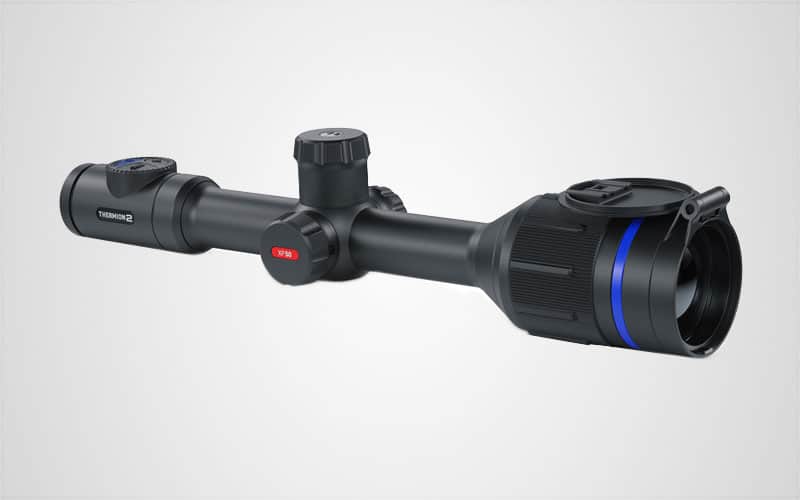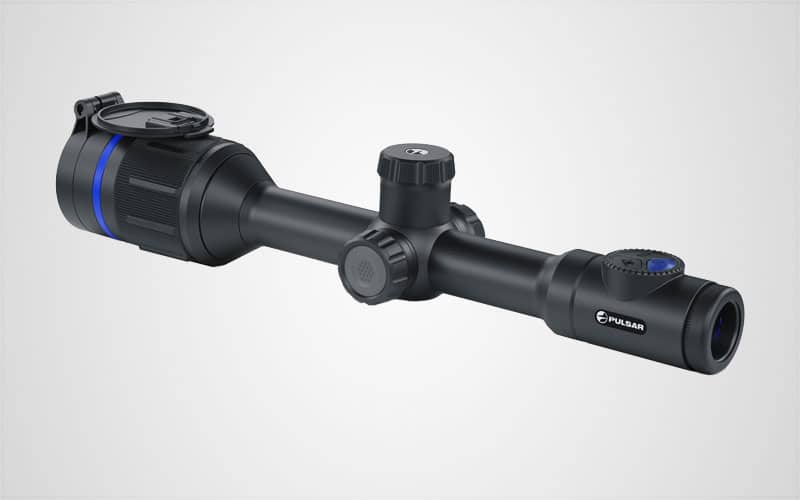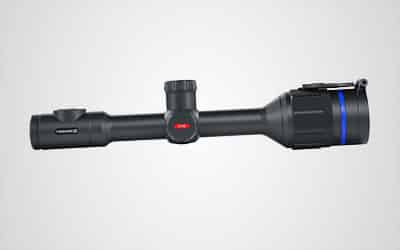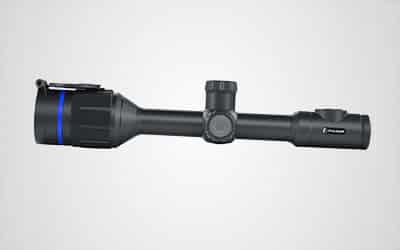 Pulsar Thermion 2

Thermal Imaging Riflescope
Pulsar Thermion 2 Thermal Imaging Riflescopes redefine sleek and powerful thermal imaging technology. Thermion 2s can detect extremely slight temperature variations in heat signatures nearly or over a mile away (depending on model). These are ideal scopes for professional hunting, law enforcement, ranching, and more.
Export Statement
It is the responsibility of the buyer to comply with export control laws and regulations of the United States Government and to obtain export licenses if required.Learn more >
Summary of Thermion 2 Features
Highly Sensitive Thermal Imaging Sensor
Extreme Detection Range
Fast Aperture f1.0 Germanium Optics
Variable Digital Zoom
Recoil Rated up to .375 H&H 12-Gauge and 9.3×64
Mounts on Standard 30mm Scope Rings
Instant Start-up
Rugged Reliable All-Metal Housing
IPX7 Waterproof Rated
Zeroing Profiles Management
Customizable Reticle Options
Full-Color HD AMOLED Display
Video and Still-Photo Recording
Picture-in-Picture
Various Color Palettes
Stream Vision App Supported
Upgradable Functional
User Friendly Controls
B-Pack Mini Combined Power System
Mounts on Standard 30 mm Scope Rings
Designed from the ground up for ease of use, Thermion 2 riflescopes are mounted on standard 30 mm scope rings. No specialized tools or equipment are needed.
Highly Detailed Thermal Imaging
The XQ38 and XQ50 models have 384×288 thermal resolution with under 40 mK sensitivity, while the XP50 model has 640×480 thermal resolution with under 25 mK sensitivity. All Thermion 2 riflescopes feature 17µm pixel pitch technology, which together with their resolution and sensitivity, ensures perfect detail recognition even in the harshest weather conditions with low thermal contrast. The smallest temperature differences will be clearly visible in rainfall, fog, and cold mornings—the most difficult conditions for thermal imaging.
Precision Germanium Optics
All Thermion 2 riflescopes feature fast aperture F/1.0 enhanced Germanium lenses to ensure optimal heat energy transmissivity to minimize noise and improve the details of the scene.
Variable Digital Zoom
Digital zoom, either 4x or 8x depending on model, multiplies a wide range of optical magnification to provide improved focus and detailed target recognition at significant distances.
Full-Color, HD AMOLED Display
Thermion 2's 1024×768 HD AMOLED display with Picture-in-Picture capability delivers a crisp, richly contrasted, vividly colored field of view. AMOLED technology ensures flawless, fluid, high-resolution imaging and power saving.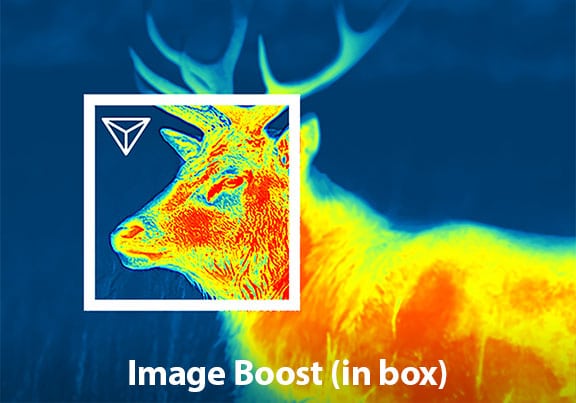 Image Boost Technology
Image Boost technology is a proprietary combination of software algorithms which enhance image clarity and overall image detail. Applying Image Boost makes for a sharper and more detailed picture enabling better object identification capabilities.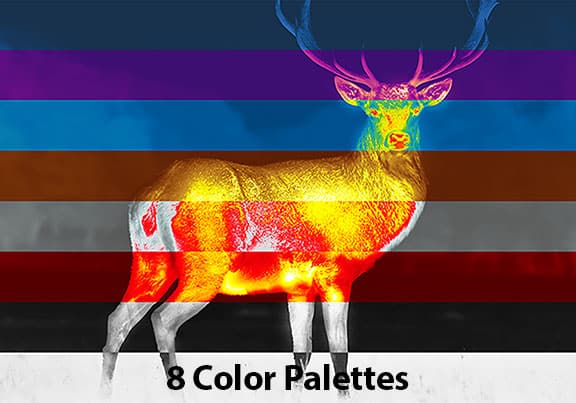 Color Palettes & Identification Modes
Color palettes offer customized display options. While white hot and black hot are most popular, while red hot, rainbow, and ultramarine highlight a heat signature's more intense hot spots. Violet, red monochrome, and sepia are optimal palettes for reduced eye fatigue over long periods of observation. In addition, rock/forest/identification modes help ensure positive target identification.
Zeroing Profiles Management
Store up to 5 zeroing profiles, with 10 distance coordinates each for varying scenarios, in internal memory for quick rifle change-outs and on-the-fly adjustments.
Customizable Reticle Options
Select from 10 color-customizable reticles, including scalable ballistic styles. Color options include black, white, red, and green.
User Friendly Controls
Thermion 2 operation and adjustments are simple using the three function buttons on the top of the device and left side encoder. The three buttons and encoder provide access and management of all device menu options, settings, and system functions.
Video and Still-Photo Recording
Integrated video and still image recording in MPEG-4 and .jpg make sharing the thermal action quick and easy. The onboard 16-GB internal memory handles recoil flawlessly and stores hours of video or thousands of photos.
Integrated Wi-Fi. Stream to iOS and Android
The built-in WiFi module connects the device with either Android or iOS smartphones using the Stream Vision 2 mobile app. This combination opens up a wide range of options: wireless device software updates, real-time image transmission to the mobile device screen, remote control digital functions, and much more. Users registered in the application are provided with cloud storage space for photos and videos taken with a digital or thermal imaging device. An important feature is that the device is still compatible with the previous, first version of the Stream Vision application.
Recoil Rated up to 6000 Joules
Thermion 2 riflescopes are recoil rated up to 6,000 joules for flawless performance on larger calibers up to .375 H&H, 12-gauge, and 9.3×64.
Rugged, Reliable All-Metal Housing
Designed for rugged reliability, Thermion riflescopes boast full, reinforced yet lightweight metal construction. Precision fabrication of housing elements ensures flawless field performance.
IPX7 Waterproof Rated
Thermion 2's are IPX7 waterproof rated for protection from heavy rainfall, snow, or other precipitation. The Thermion is designed to run flawlessly, even after submersion in up to 3 feet of water for up to 30 minutes.
B-Pack Mini Combined Power System
Thermion 2 riflescopes have a combined battery system which consists of two rechargeable batteries (internal and external) that provide 7 hours of battery life. The external rechargeable battery can be replaced in a matter of seconds.
Thermion 2 Accessories
APS Batteries
2 Ah and 3 Ah miniature power elements provide sufficient operation time and can be quickly replaced. These B-Pack mini batteries can be quickly charged either with included charger station or in the unit connected to USB.
APS Chargers
This is the charger for the 2 Ah and 3 Ah battery packs.
PB8I Battery
The Pulsar PB8I Power Bank extends operating time via the Thermion 2 microUSB port.
Thermal Zeroing Targets
Heated targets enable simple and precise zeroing-in of a thermal imaging riflescope.
Pulsar Thermion 2 Specifications
Models
XQ35 Pro
XQ50 Pro
XP50 Pro
MPN
PL76541
PL76548
PL76547
UPC
812495029745
812495029752
812495029608
Performance
Detection Range

1476 yds

1968 yds

1968 yds

Max. recoil power on rifled weapon (Eo)

6000 Joules

Shock resistance on the smooth-bore rifles

12 caliber

Mount Type

30 mm rings

Thermal Sensor
Sensor Type
Uncooled ASi
Resolution, pixels

384×288

384×288

640×480

Pixel pitch

17 µm

NETD

<25 mK

Frame rate

50 Hz

Optics
F35/1.0
F50/1.0
F50/1.0
Magnification (optical + 4x zoom)
2.5–10x
3–12x
2–16x
Field of view (HxV), degrees / m @ 100 m
10.7°/18.7°
7.5°/13.1°
12.4°/21.8°
Eye relief

50 mm

Display
Type

AMOLED

Resolution, pixels

1024×768

Reticle
Click value, H/V, mm at 100 m
18 – 2.5x, 9 – 5x, 4.5 – 10x
13 – 3x, 6.5 – 6x, 3.25 – 12x
21 – 2х, 10.5 – 4х, 5.25 – 8х, 2.6 – 16х
Click range, H/V, mm at 100 m

3600/3600

2600/2600

4200/4200

Number of preloaded reticles

10

Video Recorder
Video / photo resolution

1024×768

Video / photo format

.mp4 / .jpg

Built-in memory

16 GB

Connectiivty
Wireless Protocol

Wi-Fi

Wireless Standard
802.11 b/g/n/ac
Frequency
2.4 / 5 GHz
Streaming

Stream Vision 2

Power Supply
Output voltage

3.0 V – 4.2 V

Battery type
APS5 Internal, APS2/3 External
Operating time on battery pack (at t = 22 °C)
10 hrs
External power supply
5 V, 9 V (USB Type-C)
Physical & Environmental
Degree of protection, IP code (IEC60529)

IPX7

Operating temperature range

-25° C to +50° C

Body material

Magnesium alloy

Dimensions, mm
16.5 x 3 x 3.7 inches
Weight (w/o batteries & mount)
26.4 oz
31.7 oz
31.7 oz