What does it take to unlock the next level of thermal imaging? 1,310,720 pixels (more than 4x the resolution of 640×480 devices), a 12 degree horizontal field of view, and a detection range of 3600 yards make the RS75 the ultimate thermal weapon sight for any distance. No longer do night hunters have to sacrifice detection range or field of view. They can have it all in one scope for close range, mid range, or longer range shots!
-
It is the responsibility of the buyer to comply with export control laws and regulations of the United States Government and to obtain export licenses if required.
Learn more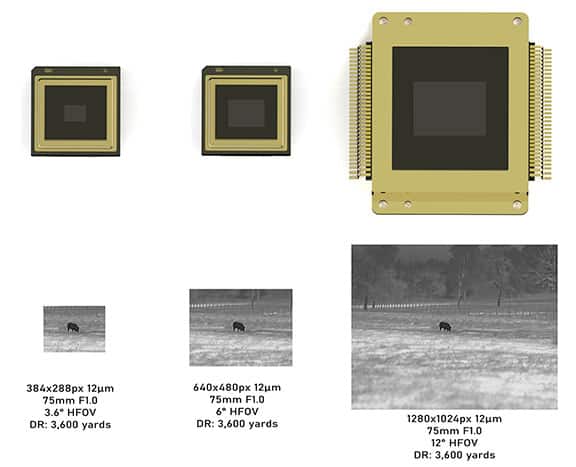 The Breakthrough: 1280x1024 Resolution
The InfiRay Outdoor RICO HD RS75 is the first commercially available 1280x1024 resolution thermal weapon sight! The RS75 ends the trade-off between a wide field-of-view or long-range performance! An astounding 1,310,720 pixels—more than four times the resolution of 640x480 devices—processed through iRayUSA's proprietary MATRIX III algorithm produces an image so clear, it is almost unbelievable! That, plus a 75mm f/1.0 lens, 12-degree angular horizontal field-of-view, and a detection range of 3600 yards, makes the RS75 the ultimate thermal weapon sight for any distance.
New Best-in-Class Features
To get the most out of the first 1280x1024 resolution weapon sight, a suite of best-in-class features are built into the RS75. These include a rail mounted laser rangefinder, a 1.03-inch 2560×2560 AMOLED microdisplay, compatibility with a custom reticle generator app, 128GB of internal storage, an enhanced microphone, and a recoil mitigating mount for increased durability. A number of familiar RICO Mk1 features are also included in the RS75, such as a 4 button layout, similar software style and menu functions, and high speed germanium objective optics.
Crystal Clear Audio and Video
The RS75 delivers crystal-clear onboard audio recording to capture each countdown and relive every impact. The increased audio clarity over previous RICO generations can capture a quiet whisper before the shot, or the report of a bullet impact hundreds of yards away.
The optical clarity of the RS75 is just as remarkable! The eyepiece paired with the ultra-high resolution microdisplay produces edge-to-edge image perfection. The RS75's orthoscopic eyepiece has also been redesigned with premium components specifically selected to achieve low distortion and full field clarity. This redesigned eyepiece offers a more forgiving eyebox for a more comfortable cheek weld and 60mm of eye relief.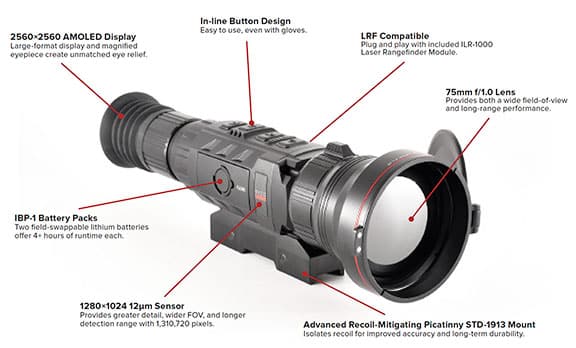 General
MPN
IRAY-RS75
UPC
850029093886
Thermal Sensor
Core
InfiRay MICRO II 1280
Resolution
1280×1024
Pixel Size

12 μm

NET

≤25 mk

Spectral Response

8–12 µm

Frame Rate

30 hz

Image Processing

MATRIX III

Non-Uniformity Correction (NUC)

Manual, Automatic, Semi-Automatic

Optics
Objective Lens Material

Germanium

Objective Lens

75 mm

Objective Diameter

75 mm

Objective F#

f/1.0

Optical Magnification

2x

Digital Zoom

16x

FOV

11.7° × 9.4°

Detection Range
3600 yds
Rangefinder

ILR-1000 LRF (Included)

Focusing Mechanism

Manual Focus

One-Shot Zero

Yes

Exit Pupil

14 mm

Eye Relief

60 mm

Diopter Range

-3 to +3

Eyepiece Focal Length

27mm

Display
Display Type
AMOLED
Display Resolution

2560×2560

Imaging Modes

White Hot, Black Hot, Red Hot, Color, Highlight

Reticle Types
7 (2 Dynamic, 5 Static)
Reticle Colors

Black, White, Red, Green

Picture-in-Picture

Yes

Electronics
Onboard Recording
Video and Images
Image Capture

Yes

Video Output
Yes
Storage Capacity

128GB

Wifi

Yes

Mobile App

Yes

Wireless Connectivity

Image/Video via App

Data/Power Connector

USB-C

User-Updatable Firmware

Yes

Power
Power Source

IBP-1 Battery Pack x 2

Run Time

4+ Hrs, Each Battery

External Power Source

USB-C

Start Up Time

< 10 Seconds, Instant from Standby

Physical & Environmental
Mounting System
Picatinny MIL-STD 1913 Rail
Size
12.55″ × 3.93″ × 3.34″
Weight
44.9 oz
Housing Material
T-6061 Aluminum
Ingress Protection
IP67
Operation Temp
-4°F to 122°F
Max. Recoil
1000 g/s² (300 Win./7mm Mag)
Warranty
5 Years

Specifications are subject to change without notice.
InfiRay Outdoor is the leading global brand in outdoor and hunting related thermal imaging products. InfiRay Outdoor is sold worldwide in more than 90 countries and is on the cutting edge of thermal imaging device technology. With 48% of all employees working in the R&D department, Infiray Outdoor owns 645 patents related to thermal sensors and optics, and has a production capacity of 7M units per year.
In addition to substantial production capacity, InfiRay Outdoor has been first to market over the past five years with exciting new technological advancements in the industry including 1280×1024 resolution sensors, 12um, 10um, and 8um sensors, dual field-of-view optics, shutterless calibration technology, and much more. These advancements have positioned InfiRay Outdoor as the clear leader in the thermal night vision industry.