Thermal Imaging Riflescopes
This thermal weapon sight is the culmination of many innovative design features and solid engineering from iRayUSA. MATRIX III image processing pushes the 384×288 resolution to a detection range of 1750 yards. BRAVO is packed with high-end features, including ergonomic breakthroughs such as iRayUSA's all new Magnetic Omnidirectional Connector, next-gen Hard Stop Buttons, and Tactile Ridge Positioning system.
-
It is the responsibility of the buyer to comply with export control laws and regulations of the United States Government and to obtain export licenses if required.
Learn more
The iRayUSA RICO BRAVO is a lightweight and compact thermal imaging riflescope that pushes the boundaries of 384x288 long-wave performance. The BRAVO detection range is 1750 yard. Built around innovative ergonomics, cutting-edge connectivity, and iRayUSA's MATRIX III algorithm, the BRAVO was designed by hunters for hunters. Ergonomic refinements make using the BRAVO effortless, from a strain-free Magnetic Omnidirectional USB Connector to next-generation Hard Stop Buttons to a Tactile Ridge Positioning System that puts fingers right where they're needed.
The BRAVO is optically and electronically optimized to squeeze every bit of performance from iRayUSA's MICRO II 12 μm sensor and manual focus F1.1 germanium lens. Additional features include high definition display, multiple dynamic reticles, stadiametric rangefinder, image and video capture, wireless connectivity, an ultra rigid glass-filled polymer housing, and an American Defense Manufacturing RQD quick release mount. The BRAVO comes with a protective hard case.
To top it all off, the BRAVO was designed and assembled Texas and is backed by iRayUSA's 5-year warranty with a 5-day repair guarantee. During the 5-year warranty period, iRayUSA will repair or replace, at its discretion, any optic that becomes defective from normal use. If they cannot repair an optic in less than one week, they will offer a replacement in like or better condition.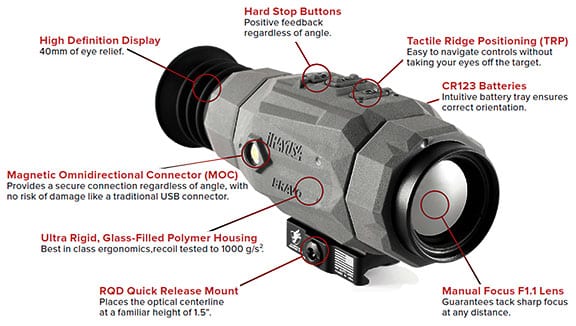 General
MPN
RB35
UPC
850029093114
Sensor
Resolution
384×288
Pixel Size
12 µm
Frame Rate
50hz
Image Processing
MATRIX III
Core
iRay Micro II 384
Optics
Objective Lens
35mm F1.1
Optical Magnification
3X
Digital Zoom
4X, stepped
FOV
7.5° x 5.7°
Detection Range
1750 Yards
Display Type
High-Definition
Display Resolution
1280×960
Imaging Modes
White Hot, Black Hot, Red Hot, Color, Highlight
Reticle Types
7 (2 Dynamic, 5 Static)
Reticle Colors
Black, White, Red, Green
Mounting System
Picatinny, MIL-STD 1913 / ADM RQD Mount
Picture-in-Picture
Yes
Rangefinder
Stadiametric
Eye Relief
40mm
Diopter Range
-4 to +4
Electronics
Onboard Recording
Video and Image
Wireless Connectivity
Video and Image via App
Data/Power Connector
Magnetic Omnidirectional Connector
Power Supply
CR123A x2
USB via Magnetic Omnidirectional Connector
Start Up Time
> 10 Seconds, Instant from Standby
Physical & Environmental
Size
7.78"×2.79"×3.13"
Weight
21.2 ounces (with Batteries)
Housing Material
Ultra Rigid, Glass-Filled Polymer
Ingress Protection
IP67
Operation Temp
-4°F to 122°F
Max. Recoil
1000 g/s² (300 Win./7mm Mag)
Warranty
5 Years

Specifications are subject to change without notice.
iRayUSA is a Texas-based designer, manufacturer, and distributor of premium thermal night vision devices that was established in 2020 to take advantage of more than 25 years of thermal sales, development, use and experience. While they are proud of their past industry experience, iRayUSA is most proud of their time spent in the field using thermal, and that is what drives them to make the best products possible. Products that they want to use as hunters.
This connection with their customer base is what makes iRayUSA different. It not only allows them to bring the most relevant products to market, it also confirms the need to support those products after the sale. Just like iRayUSA would expect products to be supported if they were the customer.