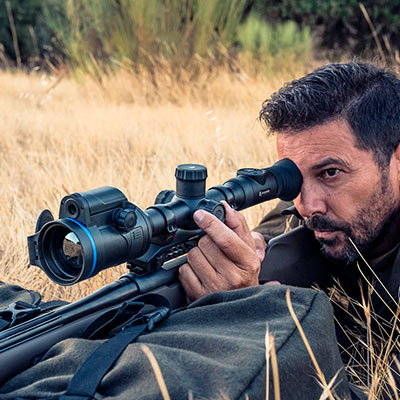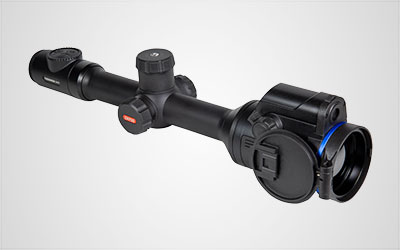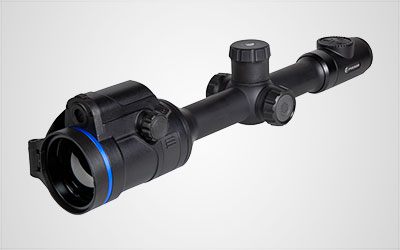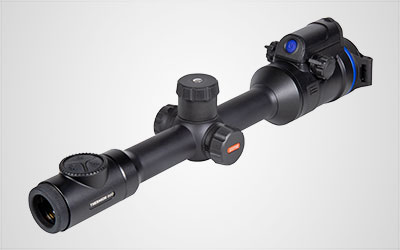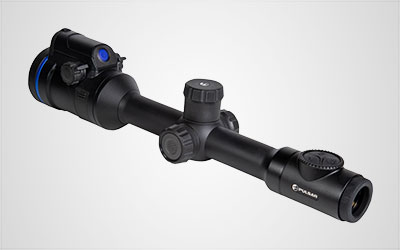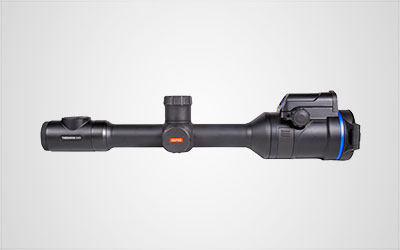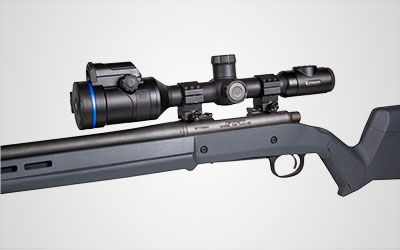 Pulsar Thermion Duo

Multispectral Thermal Riflescopes
Thermion Duo riflescopes combine advanced thermal imaging with a full color 4K daytime optic, and both can be used at the same time with picture-in-picture. These thermal sights are loaded with high end features, including one-shot freeze zeroing, photo/video recording, streaming to smart devices, 6 hours of battery life, and much more.
Export Statement
It is the responsibility of the buyer to comply with export control laws and regulations of the United States Government and to obtain export licenses if required.Learn more >
Thermion Duo Key Features
The first multispectral Pulsar hunting riflescope
Day & night use
4K full color sensor for daytime hunting
640×480 @ NETD < 25 mK high-sensitivity thermal imaging sensor
Fast aperture F50/1.0 thermal lens
Advanced image processing for enhanced detail, clarity, and contras
Combined multispectral viewing modes
One-shot freeze zeroing in thermal and digital channels
1968 yards thermal detection range day & night
Full featured video recording with audio
Wi-Fi connectivity through Stream Vision 2 app
Thermion Duo thermal riflescopes from Pulsar are the world's first multispectral hunting riflescopes, combining Pulsar's high-tech thermal imaging with the clarity and vividness of a full-color daytime optic. When in thermal mode, these highly versatile, multispectral optics can defeat animal camouflage and fog. At the same time, the digital full color mode can be used to judge a prey's trophy qualities in daylight. With the picture-in-picture feature, a hunter can find an animal through dense fog or foliage with thermal imaging, while also observing the area around it in full color 4K HD.
Thermion Duo riflescopes boast a the wide range of practical features that Pulsar products are known for, including one-shot freeze zeroing, 1024×768 photo and video recording with audio, Wi-Fi integration through the Stream Vision 2 app, and advanced image processing.
With six hours of battery life and compatibility with USB-C chargers, Thermion Duo riflescopes are both powerful and long-lasting. The solid aluminum alloy construction is both shockproof and waterproof, with an IPX7 rating, and withstands the most rigorous wilderness conditions.
The thermal advantage
The advantage of thermal imaging is early animal detection at any time of day. At night, it is the most effective way to find game at a great distance. Due to high-quality long-focal-length optics and a high-sensitivity sensor, Thermion Duo riflescopes can detect a 6-foot tall object at up to 1968 yards in complete darkness. During the day, the Thermion Duo thermal imaging channel helps locate game despite fog, haze, difficult terrain, camouflage, in tall grass, behind shrubbery, or deep in the forest.
4K full color sensor for daytime hunting
The daytime digital channel clearly draws objects at distances over 10 yards. Using a Thermion Duo riflescope as a daytime riflescope is simple and convenient, as the lens does not require focusing. The 4K resolution CMOS sensor provides exemplary detail and identification of objects across the entire range of magnifications. The full color daytime image is combined with extreme digital functionality. At any time, the hunter can record an image, change the reticle pattern and color, or connect the riflescope to a smartphone.
Highly sensitive thermal imaging sensor
A high-sensitivity European-made sensor with < 25 mK NETD captures minimal temperature differences when observing in low temperature contrast conditions, or in rain or fog. 640×480 resolution ensures reliable identification of the target, including high-quality visualization of important anatomical features of the animal, and reveals minute details of the surrounding landscape. The sensor's large size provides a wide field of view for comfortable and informative observation of both static and dynamic scenes.
Fast aperture F50/1.0 thermal lens
The high-sensitivity thermal sensor is fully utilized by the high-aperture F50/1.0 germanium lens and ensures maximum detection efficiency for the hunter in any weather conditions at any time of day.
Advanced image processing
Modern algorithms to reach a new level of image detailing, clarity, and contrast with Thermion Duo riflescopes. The thermal imaging channel, using a wide range of halftones, has the capability to render complex scenes with low-contrast objects, such as sky, grass, and water. The enhanced detail and sharpening of objects at different distances render a highly informative thermal image. Manually increasing the sensitivity of the thermal imaging sensor allows you to improve the quality of detection of the animal if observation conditions deteriorate. A smoothing filter and brightness and contrast settings ensure comfort for prolonged observation times. The daytime channel delivers ideal image perception in both sunny and cloudy conditions.
Multispectral viewing modes
Thermion Duo riflescopes support four observation modes. The digital image mode is used for daytime hunting. The thermal imaging mode is designed for night conditions, and as an auxiliary mode in difficult daytime conditions, including fog, dense clouds, rain, oncoming or side sunlight, tall grass, shrubbery, and trees. The picture-in-picture function makes it possible to simultaneously display images from both optical channels, prioritizing either the thermal or digital image.
One-shot freeze zeroing of thermal and digital channels
A single cartridge and the "Freeze" software function enable zeroing in both optical channels at a selected distance. After the ranging shot, the Thermion Duo riflescope takes a photo of the target, and the thermal imaging and digital channel reticles are set at the point of impact of the bullet. Thermion Duo riflescopes can be zeroed using the base magnification or the zoom, while the click value decreases in proportion to zoom. At maximum magnification the сlick value is less than 0.1 MOA. The aiming point is stable in the full magnification range.
Photo and video recording
One touch of a button is enough to capture an interesting moment or start recording a video. 16 GB of internal memory can store many hours of video and tens of thousands of photos, which can be easily moved to the cloud or an external device.
Integrated Wi-Fi for streaming to iOS and Android
The built-in WiFi module connects with either Android or iOS smartphones using the Stream Vision 2 mobile app. This combination opens up a wide range of options: wireless device software updates; real-time image transmission to the mobile device screen; remote control digital functions; and much more. Registered users are provided with cloud storage space for thermal images and videos.
2.4 / 5 GHZ waveband support
Thermion Duo riflescopes provide both 2.4 GHz and 5 GHz connection frequencies for Wi-Fi. The first is the standard smartphone frequency, while the 5 GHz connection offers better bandwidth, a faster data transfer rate, noise immunity, and improved connection stability with a smart phone or device.
Automatic transition to low-light mode
When the level of light decreases, the daylight sensor automatically switches into black and white mode. This helps maintain low noise level, clarity, and high definition through the evening up to sunset.
High-precision aiming with picture-in-picture
The picture-in-picture function provides the shooter with a high-precision zeroing frame. Taking only 10% of the total display area, the frame shows a magnified image of the target and reticle and allows the user to view the image close up in the aiming area with visual control of the entire field of view at the same time. Images from different channels can be combined on a single display, showing a thermal image in the secondary frame when using digital mode in the main frame, and vice versa. Also, an image from a single channel can be simultaneously displayed in both the main and p-i-p frame.
Matching field of view in thermal and digital channels
Magnification in each channel changes either gradually in 2x step or continuously to set the ideal ratio of magnification and visible field of view for specific scenarios. A huge advantage is that the magnification factors and fields of view of the digital and thermal imaging channels match up. When switching from channel to channel, the hunter will see the same scene, just in a different spectrum.
Five individual shooting profiles, 50 zeroing distances
Zeroing settings are saved in a shooting profile. Thermion Duo memory contains up to five shooting profiles for several types of weapons or cartridges. Each profile can hold up to ten zeroing distances.
A selection of 10 reticle shapes in nine color modes
A reticle is electronically displayed in the same plane as the target. Thermion Duo memory contains ten reticle configurations and functions (direct shot type, ballistic, scalable, and regular), all available in nine colors to optimize viewing in specific conditions.
Selection of 8 color palettes
A choice of 8 color palettes lets the user observe their field of view more effectively in varying observation conditions. White Hot, Black Hot, and Red Hot are optimal for object detection. Rainbow and Ultramarine help increase chances for recognition and identification. Red Monochrome, Sepia, and Violet are most suitable for long observation in the night.
High-precision ambidextrous lens focusing
Objective lens with an internal focusing mechanism gives a clear and sharp image at any range. Ergonomic focusing wheels are located on the right and left sides, making focusing easy either left- or right-handed.
Wide-angle eyepiece for comfortable observation
Observation with a Thermion Duo riflescope does not strain your eyes and enables the hunter to fully concentrate on the hunting process. The wide-angle eyepiece (29.5°) and wide viewing angle of the HD quality AMOLED display provide comfortable image perception without a keyhole effect and safe removal of the exit pupil of 50mm.
Mounting on standard 30 mm rings
Thermion Duo riflescopes resemble a classic daytime sight in a 30mm housing. This form factor provides flexibility for mounting the scope on hunting weapons using proven ring solutions.
High calibre recoil resistance
Thermion Duo thermal riflescopes are high impact resistant and can be used with rifled hunting weapons with calibers of 9.3×64, .30-06, .300, .375H&H, etc., as well as with smooth-bore and pneumatic weapons.
Instant start-up
Just 4 seconds from the moment you press the power button, a Thermion Duo riflescope is fully ready for work.
6 hours of battery life on a single charge
Thermion Duo riflescopes are powered with two rechargeable batteries: one built-in with a capacity of 4.9 Ah, the other replaceable with a capacity of 2 Ah. A single charge guarantees up to 6 hours of battery life, which covers the time of active use of the scope for a hunt. An embossment on the body of the replaceable battery helps determine its position accurately for quick and confident replacement in complete darkness by touch.
Completely waterproof IPX7
With an IPX7 waterproof rating, Thermion Duo riflescopes work in conditions of high humidity and heavy rain and can withstand half an hour immersion in water to a depth of 1 meter.
-13 to +122 °F operating temperature range
Thermion Duo riflescopes are designed to operate in a wide range of temperatures, from -25 to +50 °C. The frost-resistant AMOLED display has a standout quick response time and ensures a sharp image even when viewing a fast-moving scene.
Pulsar Thermion Duo Accessories
APS Batteries
2 Ah and 3 Ah miniature power elements provide sufficient operation time and can be quickly replaced. These B-Pack mini batteries can be quickly charged either with included charger station or in the unit connected to USB.
APS Chargers
This is the charger for the 2 Ah and 3 Ah battery packs.
Pulsar Thermion Duo Specifications
Models
DXP50
DXP55
MPN
PL76571
PL76572
UPC
840284900319
810119012319
Sensor
Type

Uncooled ASi (thermal)

| Full color CMOS (digital)

Resolution

640×480 px (thermal) | 3840×2160 px (digital)

Pixel pitch

17 µm (thermal)

NETD

<25 mK

Frame rate

50 Hz

Thermal detection range

1968 yards

Optics
Objective lens

F50/1.0 (thermal) | F17/4.34 (digital)

Magnification 2x—16x (for both channels)

2x–16x (thermal) | 4x–32x (digital)

Field of view (HxV), degrees / m @ 100 m
12.4×9.3 / 21.8×16.4 (for both channels on minimal magnification)
12.4×9.3 / 21.8×16.4 (thermal channel on minimal magnification)
6.1×4.6 / 10.6×8 (digital channel on minimal magnification)
Eye relief

50 mm (1.96 in.)

Diopter adjustment

-3/+5 D

Display
Type

AMOLED HD

Resolution

1024×768 pixels

Reticle
Click value, H/V, mm at 100 m
21.25 / 21.25 (thermal channel)
21.26 / 21.26 (digital channel)
21.25 / 21.25 (thermal channel)
10.33 / 10.33 (digital channel)
Click range, H/V, mm at 100 m
4250 / 4250 (thermal channel)
4252 / 4252 (digital channel)
4250 / 4250 (thermal channel)
2066 / 2066 (digital channel)
Number of preloaded reticles

10

Video Recorder
Video / photo resolution

1024×768 pixels

Video / photo format

.mp4 / .jpg

Built-in memory

16 GB

Wi-Fi
Wireless Protocol

Wi-Fi

Wireless Standard

IEEE 802.11 b/g/n/ac (WPA)

Frequency

2.4 / 5 GHz

Supported Application

Stream Vision 2

Power Supply
Output voltage

3.0 – 4.2 V

Battery type

Li-Ion Battery Pack АPS2 (external) + Li-Ion Battery Pack APS5 (internal)

Capacity

2000 mAh (external) + 4900 mAh (internal)

Operating time on battery pack (at 71.6 °F)

6 hours

External power supply

5V, 9V (USB Type-C)

Environmental & Physical
Compatible mounts

Standard 30 mm rings

Max. recoil power on rifled weapon (Eo)

6000 J

Max. recoil power on smoothbore weapon

12 caliber

Degree of protection, IP code (IEC60529)

IPX7

Operating temperature range

-13 to 122 °F

Body material

Aluminum alloy

Dimensions

16.54×3.07×3.29 in.

Weight

33.86 oz. (batteries included)