The RICO G-LRF seamlessly blends InfiRay Outdoor's 12 micron detector technology, built-in laser rangefinder, and intuitive user interface in a rugged, compact optic at an affordable price. Additional features include a 1024×768 OLED display, image and video capture with 32GB of storage, wireless streaming, and a field-swappable 26650 battery with a 7-hour run-time. It comes with a 5-year warranty.
-
It is the responsibility of the buyer to comply with export control laws and regulations of the United States Government and to obtain export licenses if required.
Learn more
RICO G-LRF thermal weapon sights represent the next generation of thermal functionality, seamlessly combining 12μm detector technology and a precision laser rangefinder in a single, compact unit.
The GL36R model has a resolution of 384x288, a 35 mm objective lens, and detection range up 1750 yards.
The GH50R model has a resolution of 640x512, a 50 mm objective lens, and a detection range up to 2400 yards.
RICO G-LRF sights also feature a 1024×768 OLED display for a crisp, high-contrast image, and a single 26650 battery that delivers 7 hours of runtime before swapping.
Designed as a more compact and affordable alternative to the full size RICO Mk1, RICO G-LRF thermal sights carry over several of the same features: a 4 button layout; compatibility with the AD-RQD quick release mount; high speed germanium objective optics; and similar software style and menu functions.
The integrated high performance 905nm laser rangefinder provides accurate measurements to 1000 yards. This advanced class 3R LRF module uses the latest technology in laser ranging to decrease the physical size of the laser input receiver while maintaining the accuracy and range capabilities of modules that are much larger, heavier, and more power hungry.
Other notable design characteristics employed to achieve a more compact size include a smaller chassis, shorter eyepiece focal length, barrel-style manual focus, and a high density battery configuration. A single 26650 battery was chosen to power the system as a space saving and high value alternative to multi-battery designs. 26650 style batteries are widely available off the shelf. All these features combine to make a RICO G-LRF thermal sight an excellent option for hunters who don't need more than 7 hours per battery swap, appreciate a smaller size, and like an integrated laser rangefinder.
RICO G-LRF sights also include 32GB of image and video capture, wireless streaming via app, an electronic compass, and multiple reticles. It's never been easier to detect, range, and connect on your next hunt!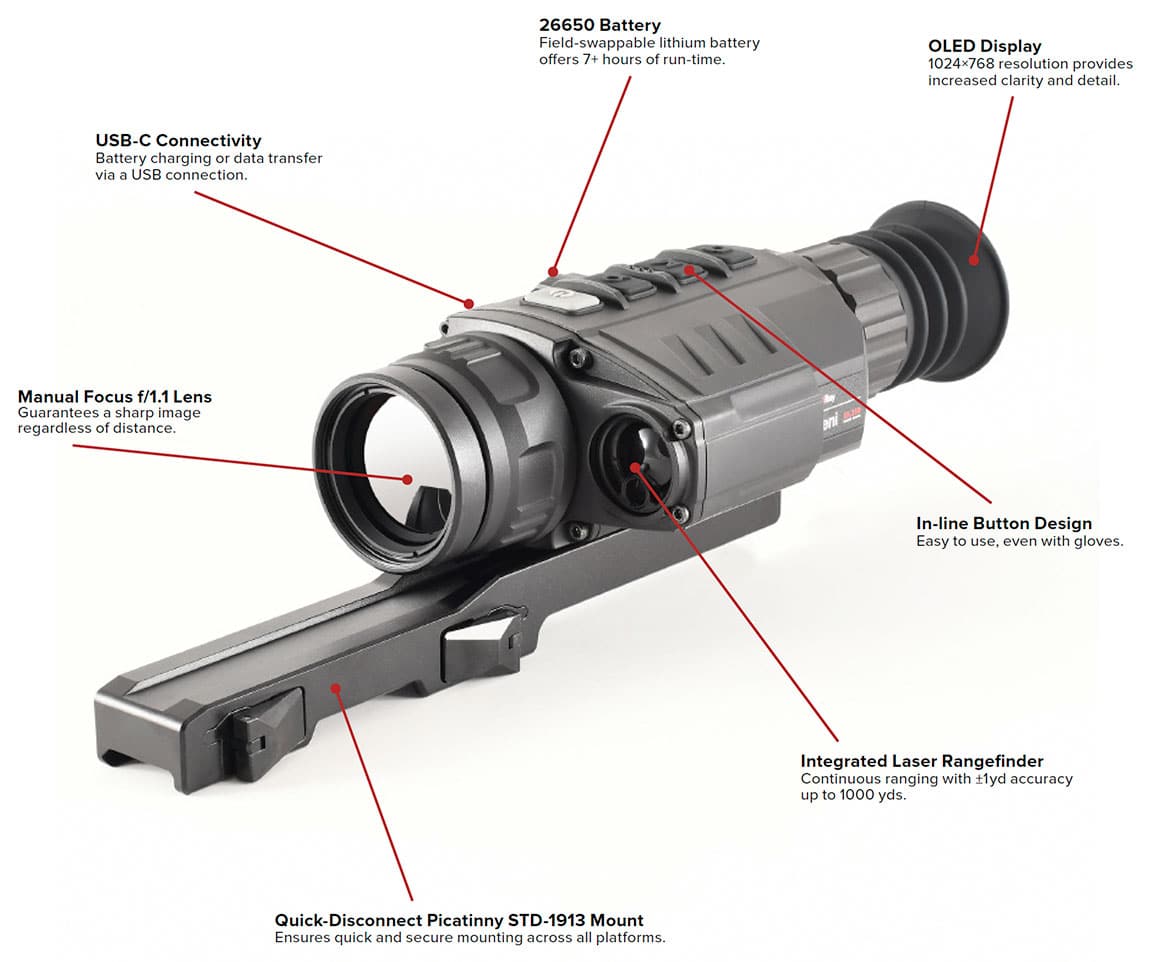 This product is backed by iRayUSA's 5-year warranty with a 5-day repair guarantee. During the 5-year warranty period, iRayUSA will repair or replace, at its discretion, any optic that becomes defective from normal use. If they cannot repair an optic in less than one week, they will offer a replacement in like or better condition.
General
Model
GL35R
GH50R
MPN
IRAY-GL35R
IRAY-GH50R
UPC
850029093701
850029093725
Sensor
Core
iRay Micro II 384
iRay Micro 640
Resolution
384×288
640×512
Pixel Size

12 μm

Thermal Sensitivity
<50 mK
Spectral Response

8–12 Microns

Frame Rate

50 hz

Image Processing

MATRIX III

Non-Uniformity Correction (NUC)

Manual, Automatic, Semi-Automatic

Optics
Objective Lens Material

Germanium

Objective Lens
35 mm f/1.0
50 mm f/1.1
Focusing Mechanism

Manual Focus

Magnification

3×

Digital Zoom
8x, stepped
FOV

7.5° × 5.7°

8.8° x 6.6°
Detection Range

1750 Yards

2400 Yards
One-Shot Zero

Yes

Eye Relief

40 mm

Diopter Range

-4 to +4

Display
Display Type
AMOLED
Display Resolution
1024×768
Imaging Modes

White Hot, Black Hot, Red Hot, Color, Highlight

Reticle Types
7 (2 Dynamic, 5 Static)
Reticle Colors

Black, White, Red, Green

Picture-in-Picture

Yes

Rangefinder

Internal Laser Rangefinder

Electronics
Onboard Recording
Video and Images
Storage Capacity

32 GB

Wifi

Yes

Mobile App

Yes

Wireless Connectivity
Video and image via app
Data/Power Connector

USB-C

User-Updatable Firmware

Yes

Start Up Time

< 10 Seconds, Instant from Standby

Power Supply
26650 Battery, USB-C External
Run Time

7 Hours

Physical & Environmental
Mounting System
Picatinny STD-1913 Rail
Size
8.85″ × 3.93″ × 2.42″
Weight
23.9 oz
25.71 oz
Housing Material
Polymer
Ingress Protection
IP67
Operation Temp
-4°F to 122°F
Max. Recoil
1000 g/s² (300 Win./7mm Mag)
Warranty
5 Years

Specifications are subject to change without notice.
InfiRay Outdoor is the leading global brand in outdoor and hunting related thermal imaging products. InfiRay Outdoor is sold worldwide in more than 90 countries and is on the cutting edge of thermal imaging device technology. With 48% of all employees working in the R&D department, Infiray Outdoor owns 645 patents related to thermal sensors and optics, and has a production capacity of 7M units per year.
In addition to substantial production capacity, InfiRay Outdoor has been first to market over the past five years with exciting new technological advancements in the industry including 1280×1024 resolution sensors, 12um, 10um, and 8um sensors, dual field-of-view optics, shutterless calibration technology, and much more. These advancements have positioned InfiRay Outdoor as the clear leader in the thermal night vision industry.