Dual Mode Thermal Weapon Sight
Advancements in the resolution and pixel density of thermal sensors and ultra-HD micro displays have led to this hybrid thermal weapon sight. The RICO HYBRID works either as a dedicated thermal weapon sight or as a thermal clip-on, and the modes can be switched in seconds without changing the eyepiece. Detection range is 2400 yards, and features include an optional laser rangefinder, ballistic solver, video/image recording, Wi-Fi connectivity, and more.
-
It is the responsibility of the buyer to comply with export control laws and regulations of the United States Government and to obtain export licenses if required.
Learn more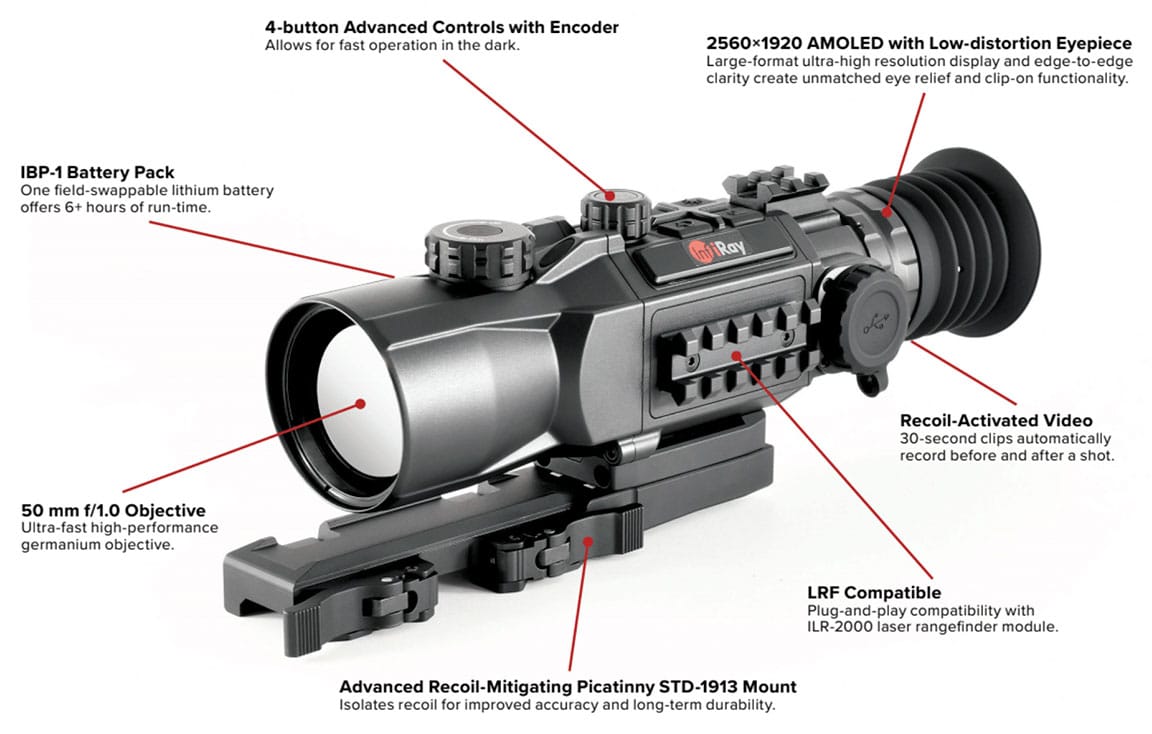 2,400 Yard Detection Range
HYBRID sights offer unprecedented versatility and a detection range of 2,400 yards, either as a dedicated thermal sight or an inline clip-on sight for day optics up to 10x.
Optional Laser Precision
HYBRID sights support an optional external laser range finder, the ILR-2000, to generate accurate aiming points through automatic ballistic calculation of rangefinding results. The accuracy of HYBRID can reach ±1MOA.
Ballistic Solver
HYBRID sights support ballistic calculation via a user-uploaded .xlsx file. Users calculate ballistics with their preferred software, then export and upload their trajectory in 5 meter increments. Once a ballistic profile loaded is loaded, and an ILR-2000 laser rangefinder (optional) can be plugged in and the HYBRID calculates drop and displays a second reticle in split second.
Ultra Clear Display
A low-distortion, orthoscopic eyepiece is paired with a high resolution, high contrast 1.03-inch 2560x1920 UHD AMOLED display for an extra large image with edge to edge clarity. Pixel density and and resolution are maintained in both dedicated and clip-on modes. The display also features low power consumption to help extend runtime.
Recoil-Activated Video
HYBRID sights add a recoil-activated video function to lock the 30-second clips before and after shooting so that no wonderful moments are missed. Both video and audio is recorded. Images and videos can be played back within the HYBRID sight or can be transmitted to smart devices through Wi-Fi.
Recoil-Absorbing Mount
A patented recoil-absorbing mount and new assembly process help HYBRID sights pass a rigorous reliability test. There is no movement from the zero position after more than 20,000 shots of 1200g impact. HYBRID sights are suitable for long-term use of a gun that is chambered for a 7.62×39mm cartridge.
Extra Large Eyebox/Long Eye Relief
The larger eyebox makes it easy to see clear images in dynamic situations. The 60 mm long eye relief avoids potential eye injury from the recoil of shooting.
Waterproof & Dust Proof
HYBRID sights are waterproof (IP67) and dust proof and operate over a wide temperature range (-4° F to 122° F), so they continue to operate flawlessly in adverse conditions.
General
MPN
HYH50W
HYH35W
UPC
850029093961
850029093961
Sensor
Device Technology

Thermal Imaging

Sensor

InfiRay Micro II 640

Sensor Resolution

640×512 pixels

Sensor Pixel Size

12μm

Thermal Sensitivity

≤25 mK

Spectral Response

8–12 Microns

Sensor Frame Rate

50 Hz

Non-Uniformity Correction (NUC)

Manual, Automatic, Semi-Automatic

Image Processing

MATRIX III

Optics
Detection Range

2400 Yards

1750 Yards

Objective Lens

50 mm f/1.0

35 mm f/0.9

Objective Lens Material

Germanium

Optical Magnification

3x

2x

Digital Zoom

8X, stepped

Focusing Mechanism

Manual Focus

Field of View

8.8° × 6.6°

12.6° × 9.4°

Eye Relief

60mm

Diopter Range

-4 – +2

Display
Display Type

1.03-inch Large-format AMOLED

Display Resolution

2560×1920

Color Palettes

White Hot, Black Hot, Red Hot, Iron Red, Rainbow, Outline

Reticle Types

8 (7 Static, 1 Custom BDC Reticle)

Reticle Colors

Black, White, Red, Green, Blue

Picture-in-Picture

Yes

One-Shot Zero

Yes

Rangefinder
Laser

ILR-2000 LRF (Optional/Not Included)

Recording/Connectivity/Power
Onboard Recording

Video, Recoil-Activated Video, and Image

Storage Capacity

64GB

Video Output

Analog RS-170/NTSC

Wi-Fi Connectivity

Image and Video via App

User Updatable Firmware

Yes

Data/Power Connector

USB-C

Power Source

IBP-1 Li-ion Battery Pack (6+ Hours)

External Power Source

IBP-1 Li-ion Battery Pack (6+ Hours)

Start Up Time

<10 Seconds, Instant from Standby

Physical & Environmental
Mounting Interface

Picatinny STD-1913 rail

Recoil Rating

1000 g/s² (300 Win./7mm Mag)

Operating Temperature Range

-4°F to 122°F

Housing Material

Aluminum

Ingress Protection

IP67

Size

11.02" × 3.03" × 2.99"

10.51" × 3.03" × 2.99"

Weight

40.5 Oz

40.0 Oz

Warranty

5 Years
Only logged in customers who have purchased this product may leave a review.