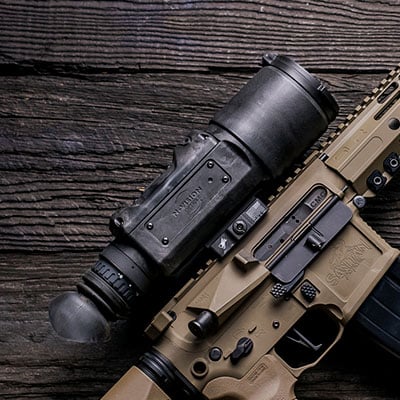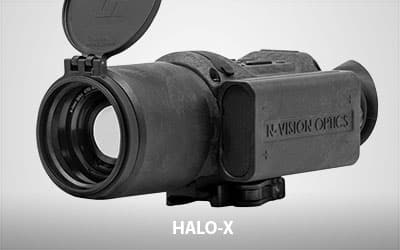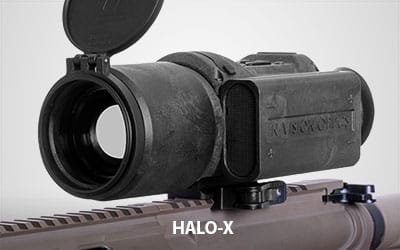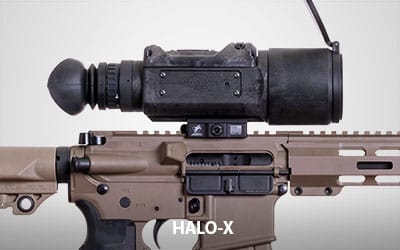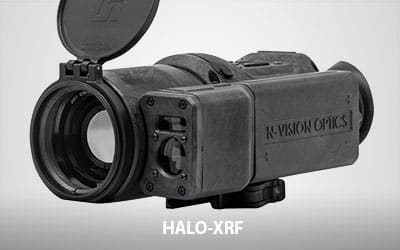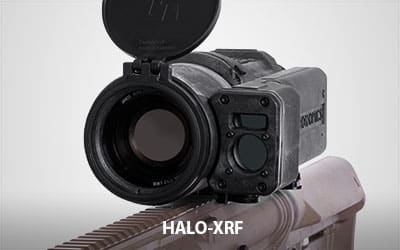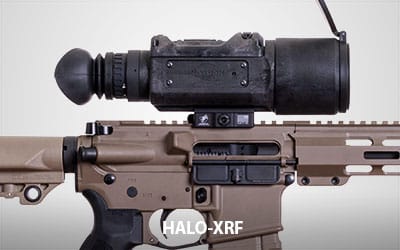 N-Vision HALO-X

Thermal Scopes
HALO-X combines a state-of-the-art BAE thermal imaging core with high end features demanded by customers. These include onboard video recording, Wi-Fi connectivity, and with HALO-XRF, an integrated laser rangefinder. HALO-X is proudly designed and built in the U.S., making it the ultimate U.S.-made thermal scope available to the hunting market.
Export Statement
It is the responsibility of the buyer to comply with export control laws and regulations of the United States Government and to obtain export licenses if required.Learn more >
N-Vision HALO-X Features & Benefits
640×480 Resolution BAE Thermal Core
HALO-X Thermal Scopes are built around a high end BAE thermal sensor with sharp 640×480 resolution, 12 micron architecture, and a 60 Hz refresh rate for smooth motion.
35 mm or 50 mm F1.1 Germanium Objective Lens
Choose between two different objective lenses. The 35 mm lens offers a wider field of view, while the 50 mm lens offers a greater detection range.
Built-in Laser Range Finder (XRF Only)
HALO-XRF features a built-in laser range finder with a range of up to 1,000 yards/meters.
Built-in Video and Audio Recording
HALO-X eliminates the need for external recorders. Pixel accurate 60 Hz videos are internally captured and stored for later transfer to the user's PC via USB connection.
Wi-Fi Streaming
The streaming feature permits the user to stream videos over the Wi-Fi connection and possibly broadcast the hunts in real-time to Youtube, Facebook, or other social media that may allow it.
Zoom Sensitive Zeroing
Reticle movement steps are zoom dependent, which allows for the most precise zeroing.
8 Reticle Options
Choose from eight reticles, including two Mil Dot reticles.
USB-C Connection
A standard USB-C type cable is used for user software updates, downloading videos and still images, or powering up the HALO-XRF with an external 5V (USB) power source.
Rechargeable 18650 Batteries
HALO-X operates on two rechargeable 18650 batteries, providing up to 7 hours of run time (at room temperature).
HALO-X Accessories

Replacement Eyecup
18650 Battery. KeepPower 18650 3500mAh Protected Button Top.
18650 Battery Charger. Dual independent battery slots. Compatible with any USB power and wall adaptors. Includes USB cable and carrying bag.
NOX/HALO-X USB-C Cable. 2 feet long.
HALO-X T-Shirt. 4.3-oz, 60/40 ring-spun combed cotton/polyester. Sueded jersey material makes this shirt super-soft for added comfort.
HALO Hoodie. 9.7 oz., cotton polyester blend fleece. Jersey-lined hood and dyed-to-match drawstring.
HALO-X Instructional Videos
N-Vision HALO-X Specifications
Model
HALO-X35
HALO-X50
HALO-XRF
MPN
HALO-X35
HALO-X50
HALO-XRF
UPC
Resolution
640 x 480
Sensor Pitch
12µm
Refresh Rate
60 Hz
Lens

35mm F1.1

50mm F1.1

50mm F1.1

Focus
Fixed
Digital Zoom

1x/2x/4x/8x

Magnification

2.5x

3.5x

3.5x

Display Type

OLED, 640×480, B&W

Power

18650 batteries (2)

Remote Power

USB, 5.0V

External Connector

Waterproof USB-C

Calibration (NUC)

Manual

Detection Range
1,491 yards
2020 yards
2020 yards
Recognition Range
524 yards
725 yards
725 yards
Identification Range
270 yards
380 yards
380 yards
Weight
32.5 oz
37 oz
41.5 oz
Size
8.6 x 3.6 x 3.4 inches
8.6 x 3.6 x 3.4 inches
8.9 x 4.1 x 3.4 inches

Specifications are subject to change without notice.