Digital Night Vision Riflescope
The Digex C50 delivers high definition color imaging from dawn to dusk and black-and-white imaging at night! This digital night vision riflescope has all the traditional capabilities and aesthetics of a classic daytime hunting optic, plus many advanced features: 850 nm IR illuminator, 1928×1088 Full HD sensor, 3.5x–14x digital magnification, 1024×768 HD AMOLED display, Wi-Fi streaming, photo/video recording, 10 hours operation, more.
-
It is the responsibility of the buyer to comply with export control laws and regulations of the United States Government and to obtain export licenses if required.
Learn more
24/7 Imaging
The use of different lens and sensor operating modes guarantees the best results at any time of day. Whether In the morning or at twilight, during the day or after midnight, the image is clear and detailed. The riflescope reveals game trophy qualities and behavior in full high definition, providing the hunter with the maximum possible information to make the right decision and take a shot.
Full Color Imaging from Sunset to Dusk
In deep twilight, when the human eye is already unable to discern details of observed objects, the Digex C50 in the Color Twilight mode displays a bright image with correct color rendering, prolonging hunting time into the night.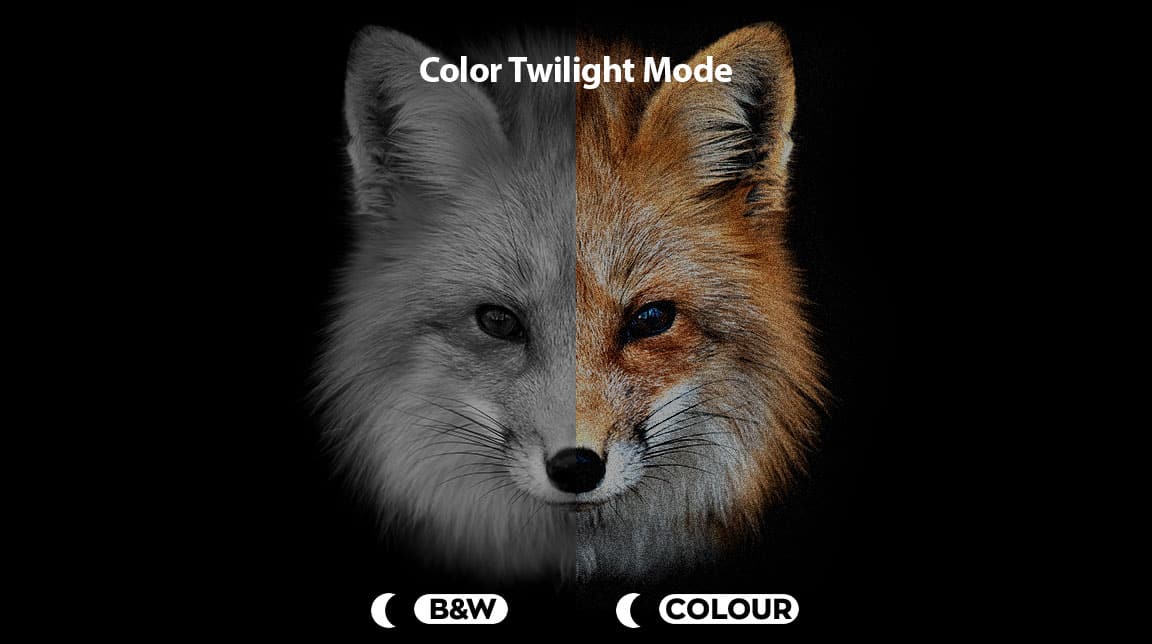 Realistic Daytime Color Rendering
The Digex C50 combines the full color imaging of classic daytime optics with advanced digital functionality. So conservative day hunting becomes high tech, and a conventional day sight is simply unnecessary.
550 Yard Night Viewing Range
The Digex C50 has best-in-class sensitivity in the infrared spectrum (night sensitivity), with a wavelength range of 900–950 nm. The riflescope is highly effective with its invisible IR illuminator. This makes the Digex C50 a perfect tool for detecting targets such as wild boar, deer, and elk at distances ranging up to 550 yards.
Up to 10 hours Battery Life
The Digex C50 is powered with two rechargeable batteries: one built-in with a capacity of 4.9 Ah, the other replaceable with a capacity of 2 Ah. A single charge provides up to 10 hours of battery life, which covers the time of active use during a hunt. Replaceable batteries are embossed for quick and confident replacement in complete darkness by touch alone.
Wi-Fi Connection with iOS and Android
The Digex C50 connects with either Android or iOS smartphones through built-in Wi-Fi and the Stream Vision 2 mobile app. This combination provides a wide range of functions: wireless software updates, real-time image display on smartphones, remote control digital functions, ballistic calculator to maximize accuracy and ethical shot placement, and much more. Registered app users are provided with cloud storage space for photos and videos taken with the Digex C50.
Classic Design Mounts on Standard 30mm Rings
The Digex C50 adds visual aesthetics to any hunting weapon. From the outside, the riflescope resembles a classic day sight in a 30mm housing. This form factor makes the Digex C50 fully compatible with hunting weapons using standard 30mm rings.
Adaptive Night Imaging
When the IR illuminator is used, special firmware algorithms equalize the image brightness on the display. At the same time, flood exposure from foreground objects is eliminated, and the brightness of distant objects increased, so objects at different distances will be equally and clearly visible. Tall grass and surrounding trees and bushes are not an obstacle to observing far-away animals in complete darkness.

5 shooting profiles / 50 zeroing distances
The Digex C50 offers a choice of ten different reticles that vary in color, configuration, and function: direct shot and ballistic, scalable (FFP) and non-scalable (SFP). Zeroing results are stored in five shooting profiles. Each profile can hold up to 10 zeroing distances.
High Precision Aiming with Picture-in-Picture Mode
Picture-in-picture provides the shooter with a high-precision aiming frame. Occupying only 10% of the total display area, the frame contains an enlarged image of the target and a reticle. This produces a detailed image of the aiming area, while also maintaining visual control of the entire field of view.
High Caliber Recoil Rated
The Digex C50 is highly shock-resistant for use with rifled hunting weapons of calibers 9.3x64, .30-06, .300, .375H&H, etc., as well as with smooth-bore and pneumatic weapons.
Variable Magnification
The base magnification of the Digex C50 increases fourfold, from 3.5x to 14x. The zoom changes either in 2x steps or continuously to set the ideal ratio of magnification and visible field of view. The high resolution sustains a high level of detail even at maximum magnification. This provides accurate aiming and long-range shots at any magnification.
High Contrast HD AMOLED Display
The 1024x768 HD AMOLED display brings enhanced color rendering, power saving, a high contrast image, and quick-response. This provides clear and smooth images for on-the-move observation and in cold conditions.
Enhanced Sensitivity Software
The SumLight function increases sensor sensitivity to enable passive observation (without IR illuminator) in low light conditions and at night. The software automatically activates algorithms (such as adding adjacent pixel signals of a sensor, frame addition) to enhance sensitivity while maintaining image quality.
Wide-Angle Eyepiece for Comfortable Observation
The wide-angle eyepiece (29.5°) and wide viewing angle of the HD quality AMOLED display provide comfortable image perception and no keyhole effect thanks to the 50mm exit pupil. Observation with the Digex C50 does not strain the eyes, helping the hunter fully concentrate on the hunt.
Photo and Video Recording
All it takes to take a photo or start recording video is the touch of a button. Capture full-color recordings whether day or night!
Wide Range of Operating Temperatures
The Digex C50 is designed to operate in a wide range of temperatures (-13° F to +122° F). The frost-resistant AMOLED display features a quick response rate and ensures a crisp image when viewing fast moving objects.
Completely Waterproof IPX7 Rating
With an IPX7 waterproof rating, the Digex C50 works in conditions of high humidity and heavy rain, and can withstand half an hour immersion in over three feet of water.
Instant Start-Up
Press the power button and the Digex C50 is ready to use in just three seconds.
Features:
24/7 day and night imaging
Full color imaging from sunset until dusk (ColorTwilight mode)
550 yards night detection range
Highly sensitive full HD sensor with 1928x1088 resolution
High contrast frost-resistant 1024x768 HD AMOLED display
Classic design mounts with standard 30 mm rings
Fully waterproof (IPX7)
Shock-resistant metallic frame for calibers up to .375H&H, 12 gauge, or 9.3x64
3.5x to 14x variable magnification
Digex X850 nm IR Illuminator
High-precision aiming with "Picture-in-Picture" mode
5 individual shooting profiles / 50 zeroing distances
Wide angle eyepiece
Photo and video recording
Built-in Wi-Fi with Stream Vision 2 app connects to Android or iOS smartphones for remote control of the Digex C50, plus wireless firmware and software updates, and a ballistic calculator
Two rechargeable batteries: one built-in with a capacity of 4.9 Ah, the other replaceable with a capacity of 2 Ah, providing up to 10 hours of operation on a single charge
Optional Pulsar BT remote control
General
MPN
PL76635L
UPC
812495029073
Sensor
Sensor Type

Full HD CMOS

Sensor Resolution

1928×1088 pixels

Daytime Image

Full Color

Twilight Image

Color

Night image

Monochrome (Color with IR Illuminator ON)

Detection Range (object 5.5 ft high)

550 yards (IR Illuminator ON)

IR Illuminator
IR Illuminator Wavelength

850 nm

IR Optical power

≤ 800 mW

IR spot position adjustment

Yes

Optics
Magnification

3.5x – 14x (4x zoom)

Lens Material

Night Vision Grade Glass

Lens Diameter

36 mm

Relative Aperture

1:1.4 D/f'

Field of View

6.7° horizontal (11.7 m / 100 m)

Eye Relief

50 mm

Diopter Adjustment

-3 / + 5 dptr

Display
Display Type

HD AMOLED Display

Display Resolution

1024×768 pixels

Number of Reticles in Memory

10

Reticle Colors

Black & Red, Black & Green, White & Red, White & Green, Green, Red, Blue, Orange

Click Value (Windage/Elevation)

11 mm / 100 m

Adjustment Range (Windage/Elevation)

2200 mm / 100 m (± 100 clicks)

Video & Photos
Built-In Video Recorder

Yes

Built-In Memory

16 GB

Video Format

mp4

Video Resolution

1024×768 pixels

Photo Format

jpeg

Photo Resolution

1024×768

Connectivity
USB Connection

USB Type-C

Bluetooth Connection

Bluetooth 4.2

Wi-Fi Connection

802.11 b/g/n

Wi-Fi Frequency

2.4 GHz

Remote Control

Pulsar RCC Supported (Optional)

Power Supply
Output Voltage

3.0–4.2 V

Battery Type

Dual Li-Ion B-Pack Mini Power System

Battery Capacity
4.9 Аh Battery (internal)
2 Аh Changeable Battery (external)
Battery Life

10 hours

External Power Supply

5 V (USB Type C)

Start-up Time

3 seconds

Physical & Environmental
Body Material

Metal

Mounting Brackets on Weapon

Standard 30 mm Rings

Shock Resistance on Rifled Weapon

6000 J

Shock Resistance on Smooth-Bore Rifles

12 caliber

Operating Temperatures

-13° F to +122° F

Level of Protection (IEC 60529)

IPX7 (waterproof)

Weight

48 oz.

Length

16.06 in.

Width

3.07 in.

Height

3.26 in.

Specifications are subject to change without notice.
Only logged in customers who have purchased this product may leave a review.