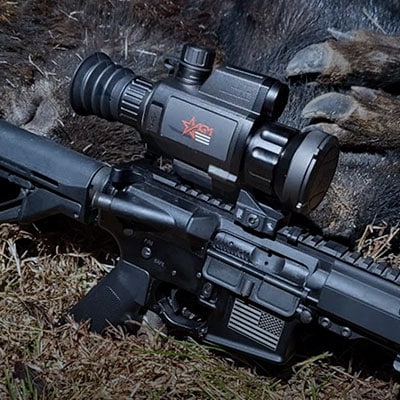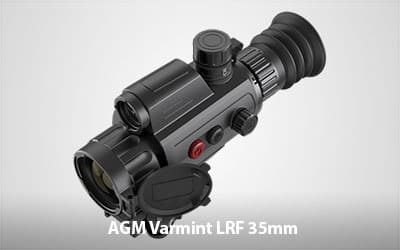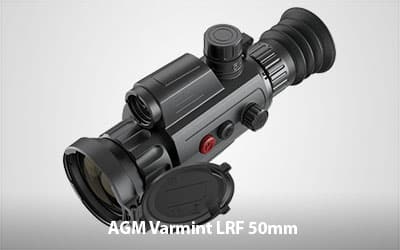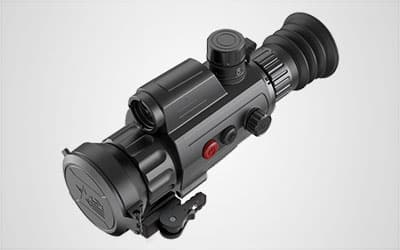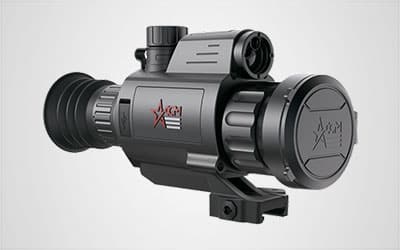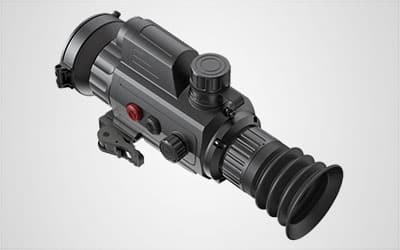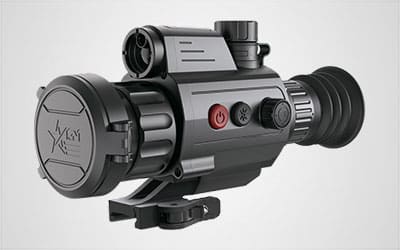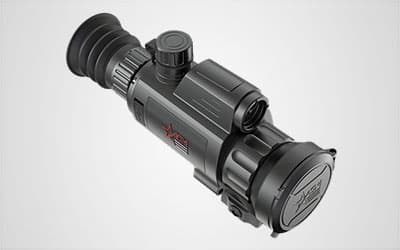 AGM Varmint LRF

Thermal Weapon Sights
Choose from two resolutions and two objective lenses. Detection range is up to 1350 yards (50mm lens). A laser rangefinder is built-in. A 50 Hz frame rate, advanced image processing, and 8x digital zoom deliver clear images in all conditions to the 1024×768 OLED display. Record up to 16 GB of video or stream via Wi-Fi. Waterproof and shockproof, the Varmint LRF also works as a handheld monocular and has a 4 hour battery life.
Export Statement
It is the responsibility of the buyer to comply with export control laws and regulations of the United States Government and to obtain export licenses if required.Learn more >
The Varmint LRF is a compact thermal imaging scope developed for 24-hour operation under any weather and environmental conditions. Available in multiple configurations: 384×288 (50 Hz) thermal detector or 640×512 (50 Hz) thermal detector, and 35mm or 50mm objective lens. These options allow the customer to choose the perfect unit for their needs. The 35mm lens is designed for medium-range applications, while the 50mm lens will be better suited for long-range engagements.
Equipped with a highly sensitive, 12μm thermal sensor and 1024×768 OLED display, the Varmint LRF provides a clear image under harsh environment conditions including darkness, fog, smoke, dust, rain, snow, brush, camouflage, etc. The device can be used as a thermal riflescope or handheld monocular, and is well suited to patrolling, hunting, static observation, and more.
The built-in laser rangefinder of the AGM Varmint LRF determines the exact distance between the observer and the target. Measurement results are displayed on the sight's display.
A single 18650 rechargeable battery gives the device up to 4.5 hours of continuous operation. An external 5V power bank (battery pack) can be easily connected via a USB to USB-C connector to significantly extend operating time.
The Varmint LRF is equipped with fast EMMC storage for on board video recording and image capture. An internal Wi-Fi module enables live video streaming and video/image recording via a smart device app.
Summary of Features
12μm high sensitivity thermal detector
640×480 resolution
12.52° × 10.03° FOV
Fast 50Hz imaging
1x, 2x, 4x, 8x digital zoom
Adjustable color palettes
Built-in laser rangefinder
High resolution OLED display
Various reticle types and colors
On-board video recording and snapshot
Built-in EMMC storage (16 GB)
Wi-Fi data transmission
Standby mode
Up to 4.5 hours continuous runtime
External power supply compatibility
Waterproof & shockproof
Limited 3-year warranty
Accessories
Hard Case for Storage/Transportation
ADM 2111 Long QR Mount
Constructed of durable, lightweight aluminum parts and featuring two throw levers for added mount security, this quick release weapon mount attaches to the thermal scope and mounts on any Picatinny or Weaver rail system without the use of additional tools or throw levers. Easy-to-use adjustable brackets with preset torque help make the mount quick and easy to use!
AGM Power Bank
10000 mA capacity. Comes with user manual, carrying case, USB cable Type-C, and micro USB cable.
AGM Varmint LRF Specifications
TS35-384
TS50-384
TS35-640
TS50-640
Detector Type
12 μm VOx Uncooled Focal Plane Arrays
Resolution
384 × 288
640 × 512
Refresh Rate Sensor
50Hz / OLED 50Hz
Response Waveband
8 μm to 14 μm
Lens (Focal Length)
35 mm
50 mm
35 mm
50 mm
Aperture
F1.0
Field of View
7.53° × 5.65°
5.28° × 3.96°
12.52° × 10.03°
8.78° × 7.03°
Magnification
3x – 24x
4x – 32x
2x – 16x
2.5x – 20x
Digital zoom
1x, 2x, 4x, 8x
Observation Distance
1,750 m
2,500 m
1,750 m
2,500 m
Eye Relief
45 mm
Display
1024×768, 0.39 inch, OLED
FFC (Flat Field Correction)

Auto, Manual, External Correction

Palettes
Black Hot, White Hot, Red Hot, Fusion
Highest Temperature Spot Tracking
Yes
Scene Mode

Jungle, Recognition

Reticle
5 types, 4 colors, on/off
Laser Rangefinder
Up to 600 m, ±2 m accuracy
Laser Wavelength
905 nm
Laser Safety Class
Class 1
Boresight Adjustment
Digital Controlled
Boresight Increment
0.13 mil / 0.44 MOA 0.09 mil / 0.31 MOA 0.22 mil / 0.73 MOA 0.15 mil / 0.51 MOA
One Scale Interval (Reticle #4)
2 mil / 6.75 MOA
Hotspot
Yes
Sleep Mode
Yes
Picture In Picture
Yes
Burn Prevention
Yes
Built-in Storage
16 GB EMMC
Record Video
On-board video recording
Capture Snapshot
Yes
CVBS Output
Yes (via USB)
Standby Mode
Yes
Battery Type
18650 (3.7V) Lithium Rechargeable Battery
Battery Operating Time (WiFi off)
Up to 4.5 hours
Battery Capacity Display
Yes
External Power
5 VDC/2 A, USB Type-C
Working Temperature
-20°C to 55°C (-4°F to 131°F)
Protection Level
IP6
Drop Test Height
1.5 m (4.9 ft)
Dimensions (LxWxH)
200 x 66 x 109 mm
210 x 74 x 109 mm
200 x 66 x 109 mm
210 x 74 x 109 mm
Weight (w/o batteries)
652 g (1.44 lb)
722 g (1.59 lb)
652 g (1.44 lb)
722 g (1.59 lb)