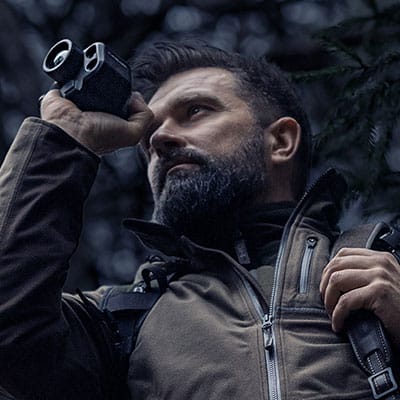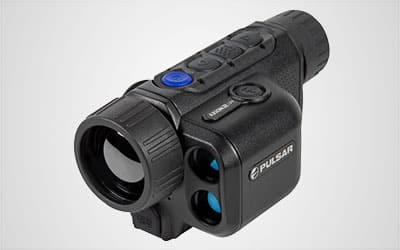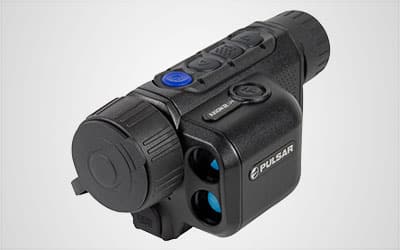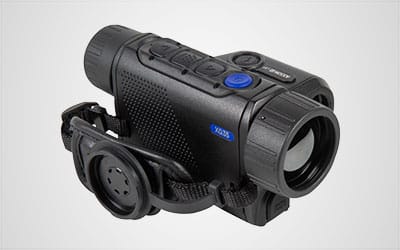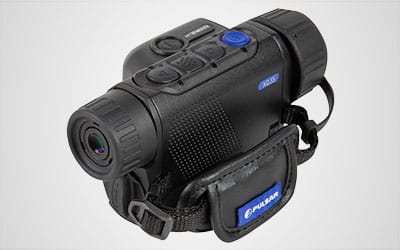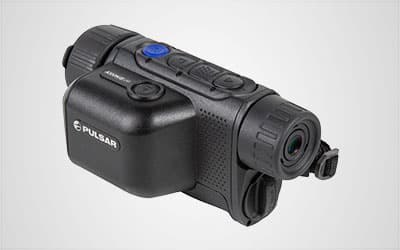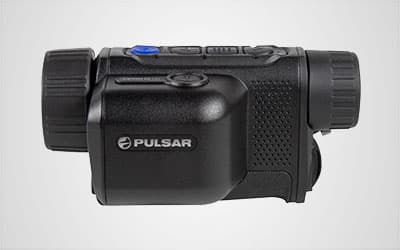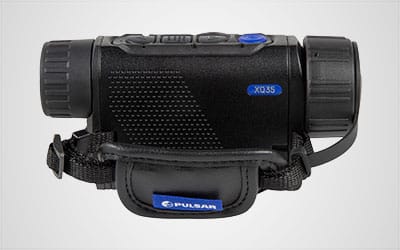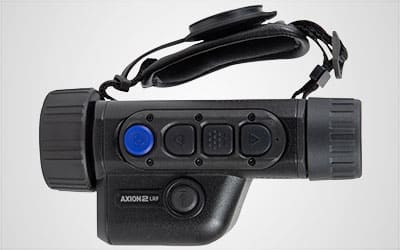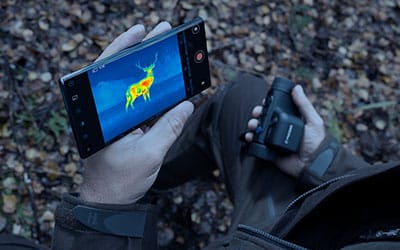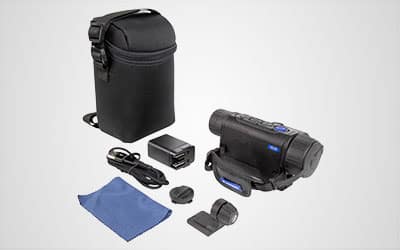 Pulsar Axion 2 LRF

Thermal Monocular
The Pulsar Axion 2 LRF thermal imaging monoculars are based on a highly sensitive sensor (NETD 40mK) at 384×288 or 640×480 resolution and include an integrated precision laser rangefinder (LRF). Featuring enhanced image clarity and detail, a man-sized object can be detected up to 1400 or 1900 yards away. View images in 8 different color palettes at 2x–8x magnification on the HD AMOLED display. Stream to smart devices.
Export Statement
It is the responsibility of the buyer to comply with export control laws and regulations of the United States Government and to obtain export licenses if required.Learn more >
Pocket-sized Pulsar Axion 2 LRF thermal monoculars detect heat signatures at over 1400 yards or 1900 yards away (depending on sensor resolution), making them superior at scoping large areas and locating prey. With an included 1100-yard laser rangefinder, these thermal monoculars give shooters an accurate approximation of the distance to their target. Crisp 384×288 or 640×480 thermal images are viewed on the 640×400 AMOLED display.
Axion 2 LRF also features built-in photo and video recording, Wi-Fi connectivity, a 16GB memory card, and variable magnification. Pulsar's Stream Vision 2 app makes it easy for shooters to record, stream, and preserve their thermal experience.
Weighing about 12 ounces, Axion 2 LRF is lightweight but still rugged. A body made of high-quality reinforced magnesium alloy, plus IPX7 ingress protection, and operating temperatures from -13° F to 122° F make these monoculars ready for virtually any kind of field operation. A Pulsar APS5 Li-ion battery provides up to 11 of operation (7 hours with XG35).
Feature Summary: 
384×288 or 640×480 sensor (<40 mK)
Advanced image processing
1400+ or 1900+ yards detection range
1100 yard laser rangefinder
Fast aperture F35/1.0 lens
Variable magnification + digital zoom
640×400 AMOLED display
Built-in photo and video recording
Wi-Fi connectivity and Stream Vision 2 app support
8 color palettes
Fast start-up time
Lightweight and pocket-sized
Rugged magnesium alloy housing
IPX7 fully waterproof
Enhanced image processing algorithms
Axion 2 LRF thermal imaging scopes use a new approach to image optimization to provide high-quality rendering of both target objects and background. Three levels of signal amplification in combination with an integral smoothing filter and fine brightness and contrast adjustments boost long-range detection of the animal or other target under different weather and temperature conditions.
High-quality reinforced magnesium alloy housing
Axion 2 LRF is designed for constant, rugged use. A magnesium alloy housing is light and strong at the same time. The housing reliably protects the internal components of the thermal imaging device from shocks, drops, moisture, and heat or cold. At the same time, the housing effectively removes heat from electronics, minimizes image noise, and increases image consistency during long-term observation.
Operates up to 11 hours on a single charge
A high-capacity APS5 rechargeable battery provides up to 11 hours of continuous operation of the XQ35 (384×288) on a single charge, or 9 hours with the XG35 (640×480). Swapping in a fresh battery takes just seconds. The battery is charged with a separate charger or inside the device from a PC, household power system, or power bank via USB-C. The same sources can be used as an external power supply.
Fast aperture lens
The germanium F35/1.0 lens features high infrared transmission in the LWIR range. Precision manufacturing of the optical elements in the lens contribute to clarity and detailing in the thermal images.
Long-distance laser rangefinder
Understanding the target distance is an essential factor in making the right decisions. A built-in laser rangefinder with a range of up to 1100 yards allows you to measure distances, either in single measurement or in continuous scanning mode, with an accuracy of ±1 yard for quick and error-free assessment of the situation
1400 or 1900 yard detection range
Axion 2 LRF is equipped with a highly sensitive thermal sensor with a resolution of 384×288 pixels (17µm pixels size) or 640×480 pixels (12µm pixel size). This advanced sensor captures high quality thermal images under difficult observation conditions, including rain, fog, and high humidity.  A standard 6 foot tall object can be detected up to 1400 or 1900 yards away in complete darkness.
Built-in photo and video recorder.
The built-in video recorder and 16 GB of internal memory can store hours of video and tens of thousands of photos. One touch of a button is enough to take a photo of an interesting scene or start recording video. The footage can be copied to a computer hard drive via a USB-C port. The user can also store up to 16 GB of video and photos in free cloud storage from Pulsar. Simply install the Stream Vision 2 mobile application, log in, and connect the device to a smartphone via Wi-Fi.
Variable magnification
Digital zoom provides improved focus and better overall object recognition at significant distances. The zoom changes either gradually in 2x steps or continuously for a truly optimum, customized field of view.
Field of view over 10 degrees
Axion 2 LRF is suitable for viewing wide areas, observing in motion, or to observe moving objects. The linear field of view is 10.7° (384×288) or 12.5° (640×480). The "Picture in Picture" function activates an additional window at the top of the display and displays the central area of the observed scene at 2 or 4 times magnification. This combination of a wide field of view and a detailed display of the selected object provides a full range of visual information.
A selection of 8 color palettes
A choice of 8 color palettes is provided to optimize the display for specific tasks, as well as react to changing observation conditions. White Hot, Black Hot, and Red Hot are optimal for object detection. Rainbow and Ultramarine help increase chances for recognition and identification. Red Monochrome, Sepia, and Violet are most suitable for long observation in the night.
Remote operation and updates through smartphone
Built-in Wi-Fi connects the Axion 2 LRF to Android and iOS smartphones via the Stream Vision 2 mobile application. This facilitates software updates; real-time image transmission to a smartphone screen; remote control of Axion 2 LRF functions; posting thermal photos and video on social media; plus access to the latest news from Pulsar. Also, registered users receive 16 GB of cloud storage for photos and videos recorded with the Axion 2 LRF.
Pocket-sized dimensions and lightweight
Axion 2 LRF scopes have a space-saving and pocket-sized design, and weigh just over 12 ounces. The device is easy to grip and has a symmetrical design with an in-line button arrangement for easy operation with either hand.
High-contrast AMOLED display
A high-contrast VGA-resolution AMOLED display has improved color rendering, saves energy, and delivers quick-response. Images are sharp and smooth even under frosty conditions.
Fast start-up
Axion 2 LRF scopes are fully functional within 5 seconds after pressing the "On" button. Quick start-up helps save battery power. When hunting, the Axion 2 LRF doesn't need to be kept ready at all times. Simply turn it on when needed!
IPX7 Fully Waterproof
Axion 2 LRF scopes are IPX7 waterproof-rated for protection from heavy rainfall, snow, or other precipitation. The unit is designed to run flawlessly, even after submersion in up to 1 meter of water for up to 30 minutes.
Accessories
Quick-change APS2, APS3, or APS5 battery packs
APS chargers for APS2/3 or APS5 battery packs
Pulsar PB8I power bank (extends operating time via the microUSB port)
Pulsar Neck Straps
Pulsar Axion 2 LRF Specifications
XQ35
XG35
MPN
PL77479
PL77477
UPC
812495029592
812495029578
Sensor
Type

Uncooled

Resolution

384×288

640×480
Pixel pitch

17 µm

12µm
NETD

<40 mK

Frame rate

50 Hz

Optics
Objective lens

F35/1.0

Magnification

2x–8x (x4 zoom)

2.5x–20x (8x zoom)
Field of view (HxV), degrees / m @ 100 m
10.7х8 / 18.2
12.5×9.4 / 21.9×16.4
Eye relief

14 mm

Diopter adjustment

+4/-5 dptr

Display
Type

AMOLED

Resolution

640×400

1024×768
Range Performance
Detection range
1400 yds
1900 yds
Laser Rangefinder
Wavelength

905 nm

Max. measuring range

1000 m

Measurement accuracy

± 1 m

Video Recorder
Video / photo resolution

528×400

1024×768
Video / photo format

.mp4 / .jpg

Built-in memory

16 GB

Wi-Fi
Wireless Protocol

Wi-Fi

Wireless Standard

IEEE 802.11 b/g/n/ac

Frequency

2.4 / 5 GHz

Environmental Characteristics
Degree of protection (IEC60529)

IPХ7

Operating temperature range

-25 to +40 °С

Power Supply
Output voltage

3.0–4.2 V

Battery type

APS 5 Li-ion Battery Pack

Capacity

4900 mAh

Operating time on battery pack

11 hrs at t=22° C

External power supply

5V, 9V (USB Type-C)

Weight & Size
Body material

Magnesium alloy

Dimensions
152x74x75 mm
Weight
12.34 oz
Specifications are subject to change without notice.