Dual FOV Thermal Monocular
This breakthrough imager boasts an easily switched dual field-of-view (FOV), plus Shutterless Calibration Technology and a full-color 1440×1080 HD OLED display. Detection range is over 2000 yards. Features include 640×480 12µm sensor, 50 Hz frame rate, 19/38 or 25/50 mm lens, 4X digital zoom, picture-in-picture, five imaging modes, onboard video/image recording, and Wi-Fi streaming/recording.
-
It is the responsibility of the buyer to comply with export control laws and regulations of the United States Government and to obtain export licenses if required.
Learn more
Dual Field of View Thermal Monocular
The InfiRay Outdoor ZOOM is the world's first commercially available dual FOV handheld thermal imager. It is also the first handheld product to feature Shutterless Calibration Technology (SCT), simplifying use and reduce power consumption.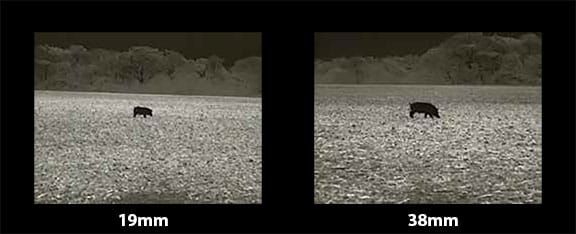 With the ZOOM's patented dual field-of-view design, users can seamlessly switch between a wide field-of-view (FOV) for detection, and a narrow FOV for target identification. A simple, intuitive twist of the objective focus ring doubles the optical magnification while also maintaining 100 percent of the sensor's native resolution. Digital zoom can't do that. 
Thermal monoculars have historically only been offered with a fixed field of view, which means the only way to zoom in and out is digitally through software, but zooming in also decreases thermal image resolution. Just one step of digital zoom on a 640x480 sensor degrades the thermal image resolution to 320x240, and the next step degrades it further to an abysmal 160x120.
Until now, the only way to have dual fields of view at full resolution has been to use two devices. The ZOOM's adjustable optical zoom feature solves the problem. Twist the focus ring to the right to zoom out and you get a 2X thermal image at 640x480 resolution; twist it to the left and you get a 4X thermal image still at 640x480 resolution!
Additionally, the ZOOM monocular is the first handheld thermal imager available to feature a full-color 1440x1080 HD OLED display, working in tandem with its ultra-sensitive 12 µm 640x512 sensor and MATRIX III processing to create the most flexible and eye-popping viewing experience on the market. The detection range is an impressive 2150 yards with the 38mm lens (ZH38 model) or 2400 yards with the 50mm lens (ZH50 model).
Other features include: 50 Hz frame rate for smooth motion, stepped 4X digital zoom, five imaging modes, picture-in-picture, stadiametric rangefinder, 10 hour battery life, video/image recording, wireless connectivity (via app), and a 5 year warranty.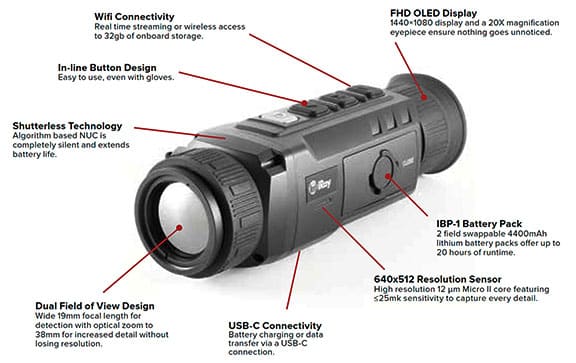 This product is backed by iRayUSA's 5-year warranty with a 5-day repair guarantee. During the 5-year warranty period, iRayUSA will repair or replace, at its discretion, any optic that becomes defective from normal use. If they cannot repair an optic in less than one week, they will offer a replacement in like or better condition.
ZH38
ZH50
General
MPN
IRAY-ZH38
IRAY-ZH50
UPC
850029093565
850029093572
Sensor
Resolution
640×512
Pixel Size

12 μm

Spectral Response

8–12μm

Thermal Sensitivity

<50mK NETD

Frame Rate

50hz

Image Processing

MATRIX III

Core
iRay Micro II 640
Optics
Objective Lens
19mm / 38mm
25mm / 50mm
Objective F#

1.2

Optical Magnification

1X / 2X

2X / 4X
Digital Zoom

4X, stepped

FOV
22.9° x 17.2° / 11.5° x 8.7°
17.5° x 13.1° / 8.8° x 6.6°
Detection Range

2150 yds

2400 yds
Display Type

FHD OLED

Display Resolution

1440×1080

Imaging Modes

White Hot, Black Hot, Red Hot, Color, Highlight

P.I.P.

Yes

Rangefinder

Stadiametric

Eye Relief

20mm

Diopter Range

-5 – +5

Electronics
Onboard Recording
Video and Image
Wireless Connectivity

Video / image via App

Data / Power Connector

USB-C

Power Supply
IBP-1 Li-Ion Battery Pack, 10 hours. USB-C external
Start Up Time
< 10 Seconds, Instant from Standby
Physical
Size
7.48" x 2.55" x 2.36"
Weight
19.04 oz
22.92 oz
Environmental / Warranty
Warranty

5 Years

Housing Material

ABS

Ingress Protection

IP67

Operation Tem

-4°F to 122°F
InfiRay Outdoor is the leading global brand in outdoor and hunting related thermal imaging products. InfiRay Outdoor is sold worldwide in more than 90 countries and is on the cutting edge of thermal imaging device technology. With 48% of all employees working in the R&D department, Infiray Outdoor owns 645 patents related to thermal sensors and optics, and has a production capacity of 7M units per year.
In addition to substantial production capacity, InfiRay Outdoor has been first to market over the past five years with exciting new technological advancements in the industry including 1280×1024 resolution sensors, 12um, 10um, and 8um sensors, dual field-of-view optics, shutterless calibration technology, and much more. These advancements have positioned InfiRay Outdoor as the clear leader in the thermal night vision industry.