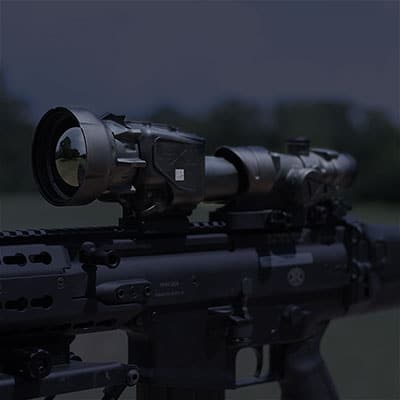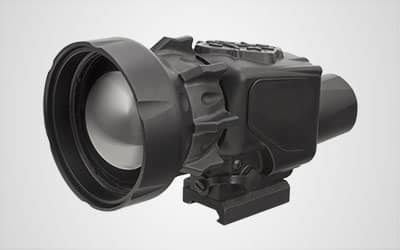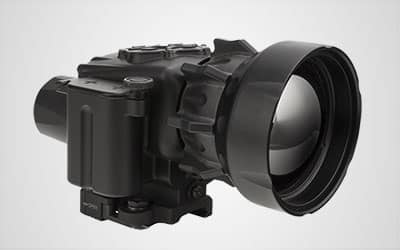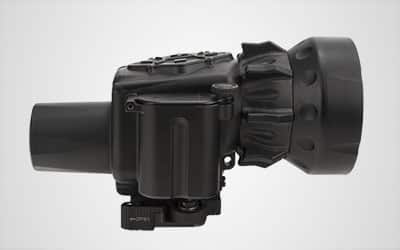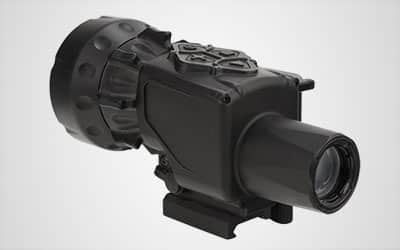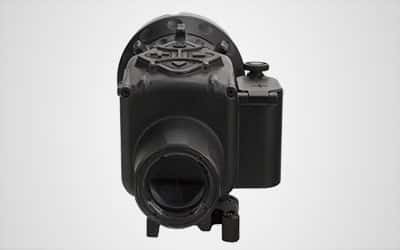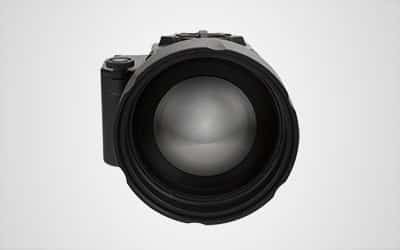 Trijicon UTC®xii

Universal Thermal Clip-On
Optimal for surveillance and long-range applications (2650m detection range), the UTCxii is a small, lightweight, universal thermal clip-on for existing weapon sights between 1x and 10x magnification. Start-up is rapid and operation is single-handed, with over 5 hours of battery life. A 12µm sensor with 640×480 resolution and 60 Hz frame rate delivers clear, crisp images. The UTCxii quickly unmounts without boresight adjustment. 
Export Statement
It is the responsibility of the buyer to comply with export control laws and regulations of the United States Government and to obtain export licenses if required.Learn more >
Featuring a detection range of 2650 meters, the Trijicon UTCxii Universal Thermal Clip-On is an uncompromising solution for surveillance and other long range operations at nighttime or in adverse daytime conditions such as dust, smoke, fog, light foliage, or other obscurants. It incorporates a 12 micron sensor with 640×480 resolution and a 60 Hz frame rate for superior image quality.
Compatible with virtually any powered (1x–10x magnifying) scopes, the light weight and compact size of the UTCxii, together with over 5 hours of battery life, make it practical for extended operations. Start-up is quick and operation is single-handed, and it can be quickly unmounted with no need for boresight adjustment. The UTCxii can store up to 100 snapshots (uncompressed raw binary format).
Specifications
Weight & Dimensions
MPN
N/A
UPC
N/A
Color

Black

Weight
(without batteries)
20.5 oz (0.58kg)
Length
(without lens cover or eyecups)
6.25 in. (158mm)
Width
3.25 in. (82mm)
Height
3.10 in. (79mm)
Imaging Characteristics
Pixel pitch
12 μm
Sensor
Uncooled microbolometer
Wavelength
8-12 μm
Pixel format
640 x 480 array
Refresh rate

30/60Hz dual mode

NEdT

< 50mK at F/1

Detection Range
(NVTherm model)

2650m (80% probability @ 60Hz, 0.75m² target)

Display Color

Monochrome

Display Size

640 x 480

Optical magnification

1X

Digital magnification

0.5X and 2X

Field of view

7.5° diagonal (6° horizontal x 4.5° vertical)

Optical co-use

Unity to 10X+

Eye relief distance

50mm

Optical focus

Manual

Diopter adjustment

None set to 800 meters

Power
Power source

(1) or (2) CR 123 (3V system)

Power up

3 seconds

Battery operating life @25°C
2.25 hr (1 battery)
5.5 hours (2 batteries)
Environment
Operating temp

-25°F (-32°C) to 122°F (50 °C)

Storage temp

-40°F (-40°C) to 160°F (71 °C)

Immersion

Tested at 66 ft for 2 hrs

Climatic zones

Hot, basic

Compass
Capacity

100 snapshots

Image format

8-bit uncompressed raw binary file

Weapon Mount / Accuracy Information
Weapon mount format

M1913 Milspec

Weapon mount

LaRue modified LT648

Aim point

1 MOA

Eyepiece centerline height (from top of rail)

1.310 in.

*Disclaimer: Specifications are subject to change without notice. Availability of camera models and accessories subject to regional market considerations. Prices listed are US only, please consult your specific country for current pricing.