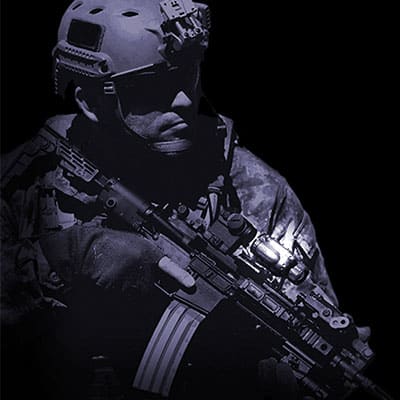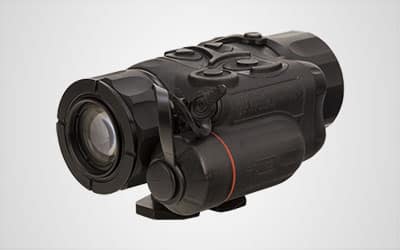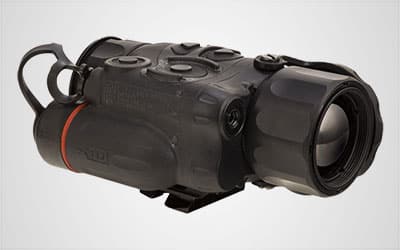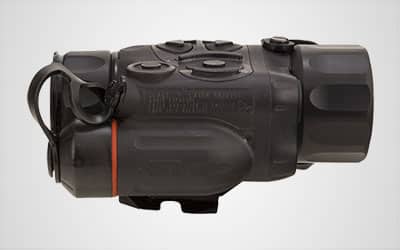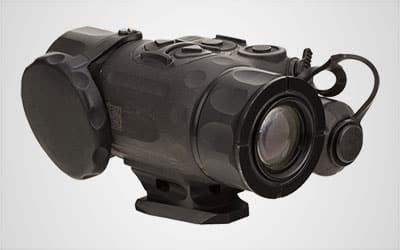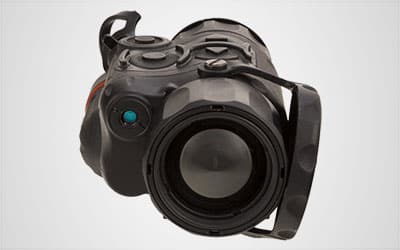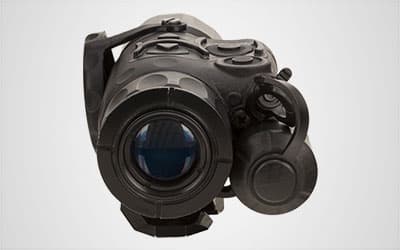 Trijicon SkeetIR™x

Micro Thermal Monocular
The Trijicon SkeetIRx is a miniature, multi-purpose thermal optic that is small enough to use as a helmet-mounted observation device, yet powerful enough to use as a clip-on or stand-alone thermal riflescope.
Export Statement
It is the responsibility of the buyer to comply with export control laws and regulations of the United States Government and to obtain export licenses if required.Learn more >
Small. Versatile. Powerful.
Weighing a nicely pocketable 9 oz, the compact Trijicon® SkeetIRx quickly adapts to handheld, helmet-mounted, dedicated rifle, and clip-on rifle use. The seamless transition from observation to targeting supports a wide range of applications:
Covertly finding and locating objects without visible light
First responder, search and rescue, K-9 unit
Officer safety and protection
Hot spot and disturbed surface detection
Crime scene investigation
High Resolution Thermal Imaging
The SkeetIRx's full resolution 640×480 thermal sensor, with a dual mode 30//60Hz refresh rate, captures a clear thermal image. Targets can be detected and recognized in all environmental conditions—day or night—more than half a mile away. The monochrome display has a matching resolution of 640×480. The SkeetIRx also provides digital zoom from .5x to 2x and user selectable electronic reticles.
Other Features & Benefits
The SkeetIRx interface and controls are simple and consistent, allowing intuitive 1-handed operation.
Visible and IR laser pointers are included, along with a digital magnetic compass.
A Wilcox® Shoe Interface is included. A Wilcox Flip-to-Side mount is optional.
Up to 100 uncompressed 8-bit images can be stored on the SkeetIRx and RS-170 video output is supported.
The SkeetIRx powers up in just 3 seconds and can run 2 hours on a single CR123 lithium battery.
The SkeetIRx is immersible down to 66 feet for up to 2 hours.
Free Add-ons Included with SkeetIRx
Also included for free with the SkeetIRx is the standard accessory kit ($800 value) and the flip-to-side weapon mount ($595 value).
Specifications
Weight & Dimensions
MPN
19022-0000-02
UPC
N/A
Color

Black

Weight
(without batteries)

9 oz (0.26kg)

Length
(without lens cover or eyecups)

4.0 in. (102mm)

Width

2.4 in. (61mm)

Height

1.7 in. (44mm)

Power
Power source
(1) CR 123 lithium battery or USB outlet
Power up
3 sec
Battery operating life @ 77°F (25°C)
2.0 hrs @ 60Hz
Environment
Operating temp
-40°F (-40°C) to 140°F (60 °C)
Storage temp
-40°F (-40°C) to 160°F (71 °C)
Immersion
Tested at 66 ft for 2 hrs
Climatic zones
Hot, basic
Imaging Characteristics
Optical focus

Manual

Diopter adjust

Manual

Optical magnification 1X
1X
Digital magnification

0.5X and 2X

Field of view

28° diagonal (22.5° horizontal x 16.5° vertical)

Optical co-use

Unity up to ≤ 5x

Minimum focus distance

500mm

Range (NVTherm model)
80% probability (60Hz), 0.75m2 size target
Detect
910m
IR camera
Sensor

Uncooled microbolometer

Wavelength

8-12 μm

Pixel pitch

17 μm

Pixel format

640 x 480 array

Refresh rate

30/60Hz dual mode

NEdT

< 50mK @ F/1

Display
Color

Monochrome

Size

640 x 480

Eye relief distance

20mm

Diopter adjustment

+/- 2.0 diopters

Compass
Digital magnetic compass
Yes
Pointers
Visible laser pointer
Color
Red
Class
3R
Power level
4.7mW
Wave length
625-645nm
IR laser pointer
Class
1
Power level

5.0mW

Wavelength
820-850nm
Image Storage
Capability

100 snapshots

Image format

8-bit uncompressed raw binary file

Weapon Mount Acccuracy / Information
Weapon mount format

M1913 military specification

Weapon mount
Included: Wilcox® Shoe interface
Optional:
Wilcox® Flip to Side rifle mount
Aim point

3 to 4 MOA

Eyepiece centerline height (from top of rail)
1.533 in.
(Note: flip mount accounts for 0.325 in. of that height)

*Disclaimer: Specifications are subject to change without notice. Availability of camera models and accessories subject to regional market considerations. Prices listed are US only, please consult your specific country for current pricing.