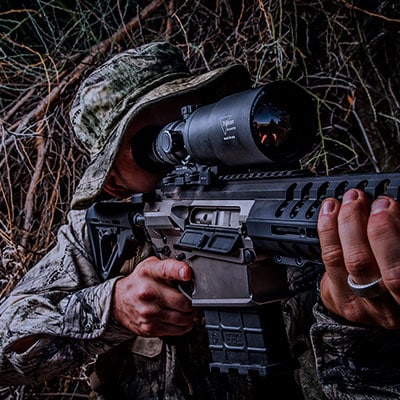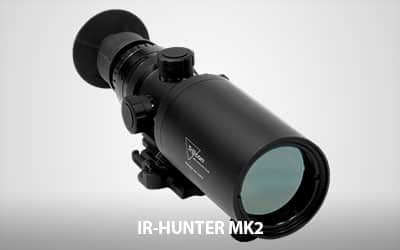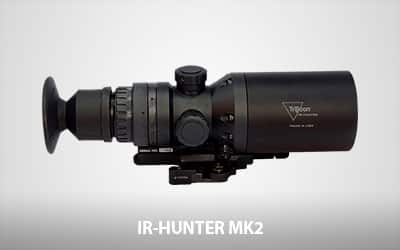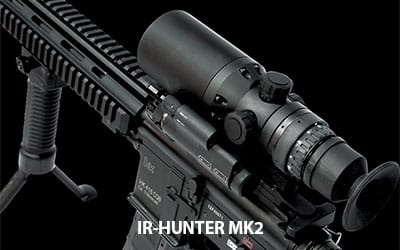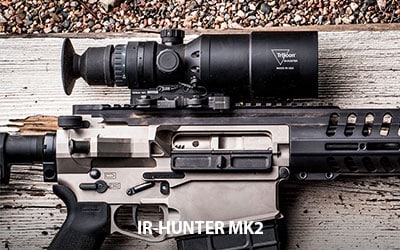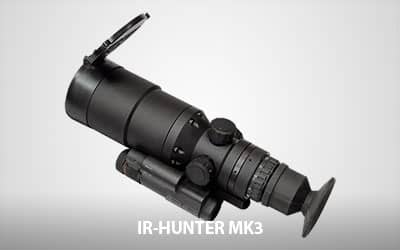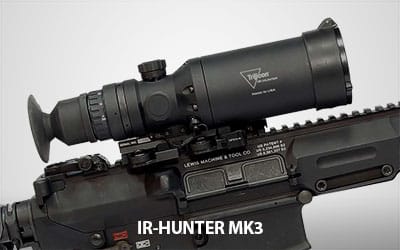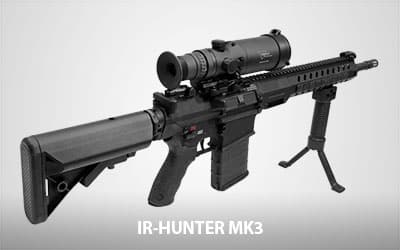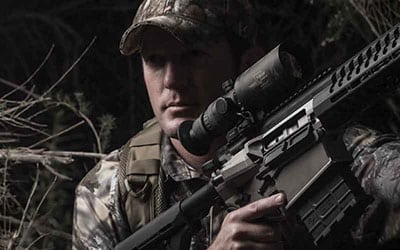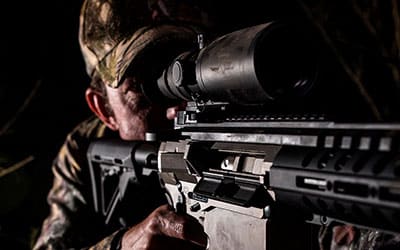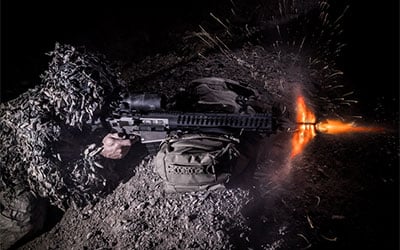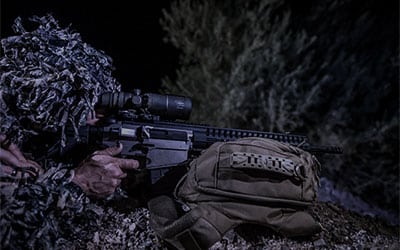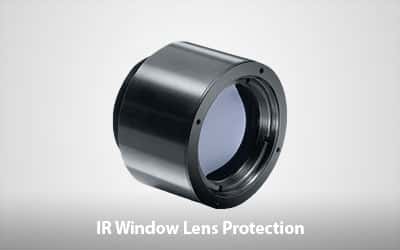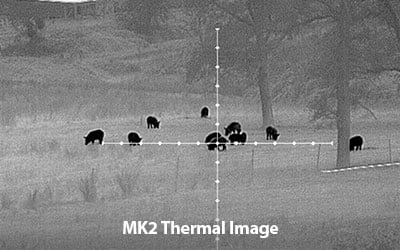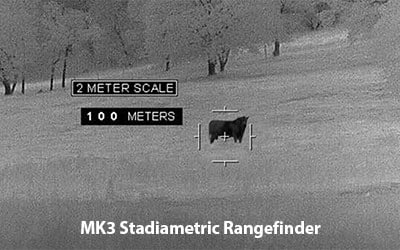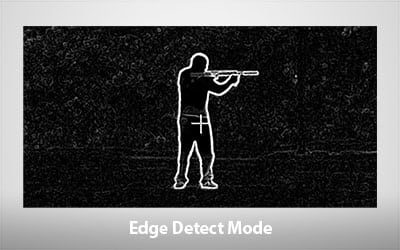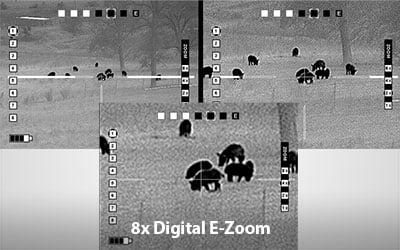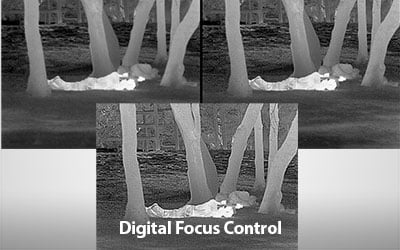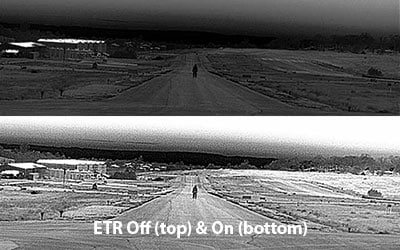 Trijicon IR-HUNTER™

Thermal Riflescope
Meet the advanced thermal hunting scope that's built for one purpose: a successful hunt every time. The Trijicon IR-HUNTER thermal riflescope series delivers user-friendly ergonomics and advanced infrared technology based on more than 25 years of night vision system design. All you have to think about is sight alignment and trigger squeeze. Choose your perfect magnification and field of view from IR-HUNTER MK2 and MK3 models.
Export Statement
It is the responsibility of the buyer to comply with export control laws and regulations of the United States Government and to obtain export licenses if required.Learn more >
Lights-Out Precision Lets You Take On the Night
The IR-HUNTER is not only intuitive and easy to operate, it offers superior processing power which delivers precision sighting reticles that scale as you zoom—the same as a first focal plane reticle does on a high-end riflescope. Choose from multiple magnifications, fields of view, and distance needs. The IR-HUNTER lets you take your shot with confidence. Even in complete darkness.
IR-HUNTER Features & Benefits
640×480 Thermal Sensor. Offers clear, crisp imagery through smoke, dust, and complete darkness.
MicroIR™ 12 Micron Technology. 42% increase in magnification over 17 micron technology using the same optics.
MIL Spec digital OLED Micro Display. View crisp, precise imagery that lets you hunt for hours and hours.
Enhanced Target Recognition (ETR). Ensures that your imagery isn't washed out against the sky or horizon, IR‑HUNTER focuses its processing power onto your target for precisely detailed images.
8x Digital Zoom. Digital electronic zooming system lets you achieve various magnifications quickly. And with the advanced, built-in sighting system, the reticle will maintain boresight and even increase its MOA accuracy.
Digital Focus Control (DFC). Allows you to not only focus your picture to your optimum setting, but also sharpen your overall picture for extreme detail.
Full 60 Hz Frame Rate. Provides smoothest imaging. Or use the 30 Hz mode for power savings.
AR-Coated Germanium Lens. It's DLC hard carbon coated, thermally stabilized, with high environmental durability and shock-resistance.
IR Objective Window. The Germanium objective front lens is the most costly item on the sight that's exposed to the elements, so it's protected with a highly transmissive, fully replaceable IR window (except MK3-60).
Crisp, Detailed Reticles. Digitally generated reticles and symbols are sharp and clear for speed and accuracy.
Edge Detect Tactical Mode. This is an entirely new way to view your target with more precision. Edge Detect Mode uses a fraction of the brightness of other modes, so your eyes are not as prone to night blindness from the screen.
Turret Knobs for Superior Ergonomics. When you're in the dark under pressure, you're still confident.
Full Digital Video. Take advantage of full digital signal processing for pristine video quality.
Image Capture and Video Out. Capture what you see and export it for storage and analysis.
Standard, Tactical & Clip-On. The most versatile thermal riflescope on the market.
Made in the USA. Built for shooters by shooters right here in America.
IR-HUNTER MK2 & MK3 also include:
Hard Case
Shuttered Eye Guard
Lenspen Cleaning System
User's Manual
Quick Reference Guide
Warranty Card
Trijicon Logo Sticker
Specifications
Model
MK2
MK3
IRMK2-20
IRMK2-35
IRMK3-35
IRMK3-60
MPN
IRMK2-20
IRMK2-35
IRMK3-35
IRMK3-60
SKU
719307800687
719307800694
719307800700
719307800717
Sensor Type
Uncooled VOx (Vanadium Oxide)
Thermal Sensitivity
<50mk
Sensor Resolution
640×480 Pixels
Sensor Pitch
12 Micron
Frame Rate
60 Hz with a 30 Hz Power Save Mode
Spectral Response
8 – 12 Microns
Display Type
Digital OLED
Display Resolution
640×480 Pixels
Start-up Time
Approx. 5 Seconds
Video Output
Analog RS-170 (with optional cable)
Analog RS-170 (cable included)
Battery Type
2 x CR123
3 x CR123
Battery Life
3.5 Hours @ 60 Hz
5 Hours @ 30 Hz
E-Zoom
Yes
Polarity Control
Yes
DCE
(Digital Contrast Enhancement)
Yes
ETR
(Enhanced Target Recognition)
Yes
DFC
(Digital Focus Control)
Yes
User Contrast
Yes
Advanced Turret Adjustment Knobs
Yes
Windage/Elevation Readouts
No
Yes
Stadiametric Rangefinder
No
Yes
Mil Spec Construction
Yes
Objective Lens Flip Cap
Yes
Battery Extender
Optional
Yes
Weapon Mount
Single Lever LaRue Quick Disconnect Rail Mount
Dual Lever LaRue Quick Disconnect Rail Mount
Reticle
Simple and Complex Reticles
MOA Adjustment
Simple and Complex Reticles
MOA Adjustment
Digital Readouts
4 Save Locations
Weight
29.1 oz
(825g)
34.9 oz
(989g)
34.9 oz
(989g)
37 oz
(1050g)
Dimensions
6.5″ L
2.9″ H
3.1″ W
7.4″ L
2.9″ H
3.1″ W
7.4″ L
2.9″ H
3.1″ W
7.6″ L
3.1″ H
3.3″ W
Diopter

-6 /+2

Eye Relief

27mm

Base FOV
22°
12°
12°
7°
Optical Magnification
1.5x
2.5x
2.5x
4.5x
Digital Magnification
8x
Optical + Digital Magnification
12x
20x
20x
36x
Environmental
-40c to +55c Operating
-45c to +75c Storage

*Disclaimer: Specifications are subject to change without notice.