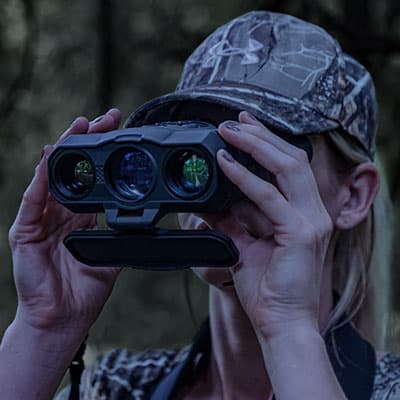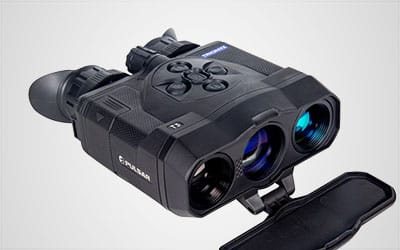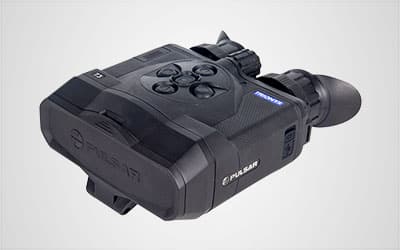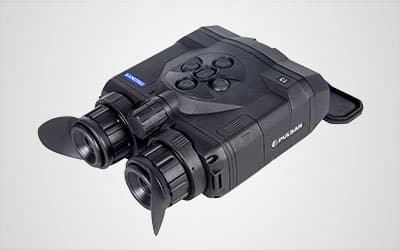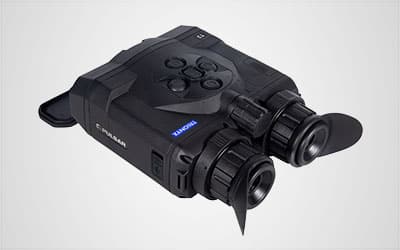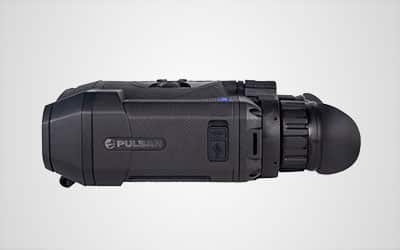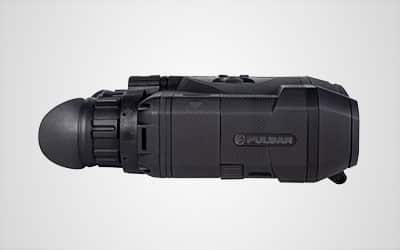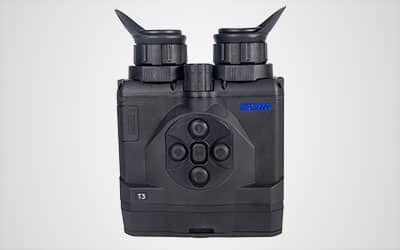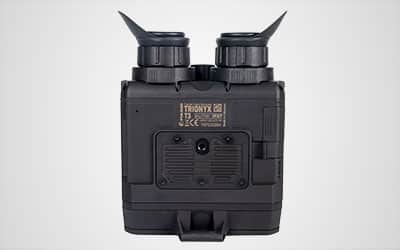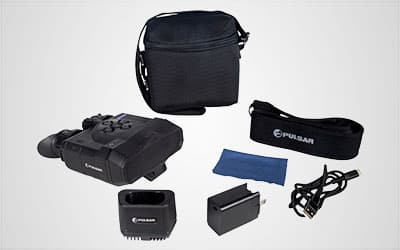 Pulsar Trionyx T3

Multispectral Binoculars
Thermal imaging, digital night vision, and an IR illuminator all come together in the Trionyx T3. Detect heat signatures at over 1000 yards, then identify it clearly with digital night vision. View it on the AMOLED display with 8 color palettes. Record it with built in video and connect via WiFi to smart devices. The Trionyx T3 is rugged, waterproof, and runs 6 hours.
Export Statement
It is the responsibility of the buyer to comply with export control laws and regulations of the United States Government and to obtain export licenses if required.Learn more >
Trionyx T3 multispectral binoculars seamlessly combine thermal and digital night vision imaging in a single unit, and also features a powerful IR illuminator. 
Hunters can use the fixed focus 384×288 thermal sensor to detect an animal at over 1,000 yards, then switch to digital night vision to confirm the target before firing.
The Trionyx 3 is also ideal for law enforcement, with its thermal sensor able to quickly detect a suspect fleeing or hiding, and the digital night vision able to provide clear identification.
Observation can be conducted in three modes: thermal imaging, digital night vision, and fused thermal and digital imaging. The fusion mode is useful at close range to keep the heat source in sight while also seeing the surrounding vegetation and landscape. With the added capability of an 850nm IR Illuminator, virtually nothing can escape detection by the Trionyx T3.
Trionyx T3's thermal imaging has 2.5–10x magnification, and digital night vision has 3.5–14x, so users can customize their view on the high-def AMOLED display. Eight unique color palettes add to imaging versatility.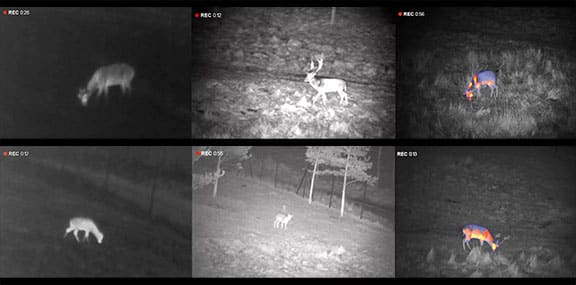 Daylight can wash out the digital image, so a small daytime filter is included with the Trionyx T3. The filter simply screws onto the front of the digital lens. It comes with a battery, charger, and wall plug.
Beyond its multispectral capabilities, the Trionyx T3 is loaded with stunning technological features. Utilizing the built-in video recording, 16GB of internal memory, Wi-Fi connectivity, users can capture, save, and share all the action. Robust and hardy from inception, the Trionyx T3 has a 6-hour battery life with the quick-change Pulsar TPS7 Li-Ion battery pack and an IPX7 waterproof rating.
For more information and "how to" instructions, click the links on this page to view product videos—begin with Quick Start—and product documentation.
Key Features:
Multi-channel thermal/digital/fusion overlay imaging modes
384×288 Thermal Sensor
1280×720 CMOS Sensor
1000yd Thermal Detection Range
450yd Digital NV Detection Range
1280×720 AMOLED Display
Focusable Digital NV for Positive Target Identification
Built-in 850nm IR Illuminator
Built-in Recording & Wi-fi capability
IPX7 Waterproof Rating
Functions after being submerged in 1 meter of water for 30 minutes
Shockproof Glass-Nylon Composite Body
Included in Package
Multispectral Fusion Binoculars
Carrying Case
User Manual
Battery Pack TPS 7
Lens Cleaning Cloth
USB Type-C Cable
Neck Strap
TPS7 Battery Charger
220V USB Charger
Pulsar Trionyx T3 Specifications
General Info
UPC
812495026782
MPN
PL77451
Thermal Sensor
Resolution

384×288 pixels

Response

LWIR

Sensitivity

<40 mK NETD

Frame rate

50 Hz

Pixel pitch

17 µm

Calibration

manual, auto, semi-auto

Range of detection (human = 1.7m x.5m)

1000m (1093 yards)

Magnification

2.5x–10x

Digital Sensor
Resolution

1280×720 pixels

Range of detection (human = 1.7m x.5m)

450m (492 yards)

Magnification

3.5x–14x

SumLight

Yes

Display
AMOLED
Display resolution

1280×720 pixels

Color palettes (thermal mode)
8
Video Recorder
Format of video clip

.mp4

Resolution of video clip

1024×768

Resolution of photo files

1024×768

Type & max capacity of memory card

eMMC 16 Gb

Approximate capacity of memory card

25min/1Gb

Video out availability

NA

Optical
Objective lens diameter

26 mm (1 in)

Digital zoom

2x/4x

Thermal imaging lens

Fixed focus, 30 mm (1.2 in) / F1.25

Digital night vision lens

Manual focus, 36 mm (1.4 in) / F1.2

Field of view (horizontal)

9.1 degrees

Field of view (horizontal)

21.8 m @ 100 m

Close focus distance
Thermal: fixed focus
Digital: 5 m minimum
Eye relief

15 mm (.59 in.)

Exit pupil diameter

3.5 mm

Diopter adjustment

+/-5 dptr.

Interpupillary distance

56 –71 mm

Infrared illuminator wavelength (LED)

850 nm

Connectivity & Power
Built-in Wi-Fi

Yes

Stream Vision application support

Yes

Micro USB socket

Power/data

Power supply

3.7 V

Battery type

Pulsar TPS7(Li-Ion)

Battery life w/o IR

6 hours

Battery life with IR

4.5 hours

External power supply

5V USB Type-C

Physical / Environmental
Tripod mount

1/4 inch

Shockproof

Yes

Fogproof

Yes

Nitrogen filled

NA

IP Standard (water rating)

IPX7

Operating temperature

-13 to 104 °F / -25 to 40 °C

Body material
G

lass-Nylon Composite

Length

165 mm / 6.5 in.

Width

131 mm / 5.2 in.

Height
6

6 mm / 2.6 in.

Weight

26.8 oz.