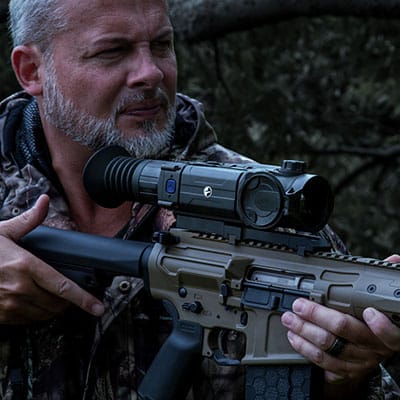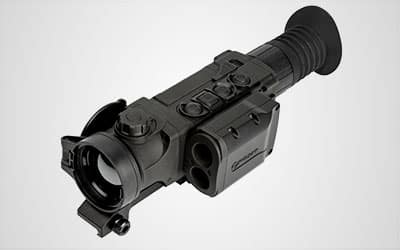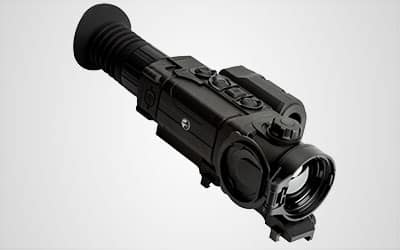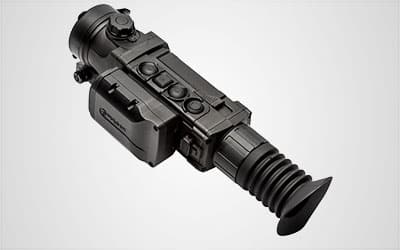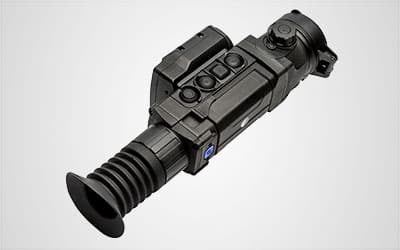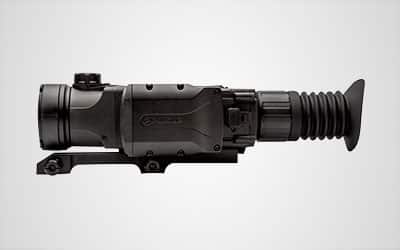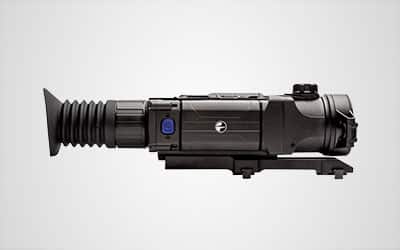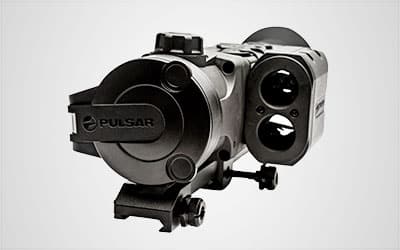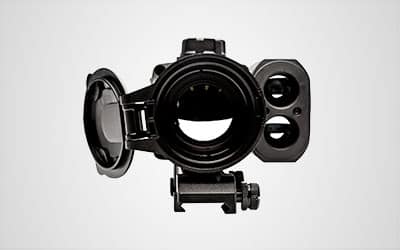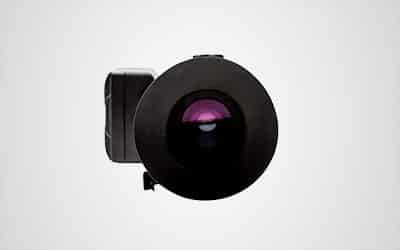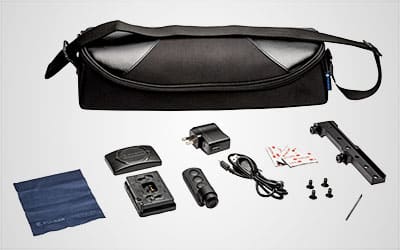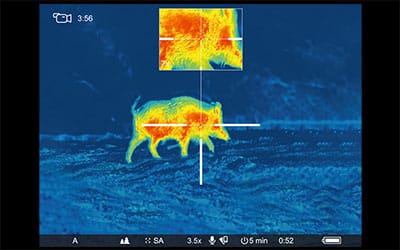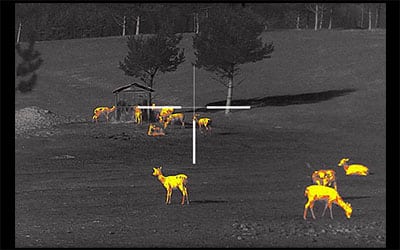 Pulsar Trail 2 LRF

Thermal Imaging Riflescopes
Trail 2 LRF thermal imaging riflescopes feature a built-in precise laser rangefinder, HD AMOLED screen with picture-in-picture, video recorder, 3-second startup, Wi-Fi connection to smart devices, and a long-life quick-change battery. Two models are available with 640×480 or 384×288 resolution and have a detection range up to 2000 yards.
Export Statement
It is the responsibility of the buyer to comply with export control laws and regulations of the United States Government and to obtain export licenses if required.Learn more >
The Next Level of Thermal Precision
With an advanced thermal sensor, a high definition AMOLED micro display, and Pulsar image enhancing technology, Trail 2 LRF riflescopes produce a sharp, contrasted image full of detail in all conditions, either at 384×288 resolution with the XQ50, or 640×480 with the XP50. An integrated laser rangefinder (LRF) provides quick, on-the-go range data for precision shooting, and video recordings can be streamed or downloaded to smart devices. These riflescopes also feature Instant Startup, 8-hour battery life, IPX7 waterproof rating, digital zoom, picture-in-picture viewing, and much more.
Highly Sensitive Thermal Imaging Sensor
An advanced NETD <40mK sensor produces precise detail recognition imaging even in adverse weather conditions like rain and fog. Even when thermal contrast is low, small temperature differences are clearly visible with richly contrasted, high-resolution imaging. The user is rewarded with enhanced identification of animals, their extremities, and even the smallest details, such as branches, leaves, grass, and terrain.
Long Detection Range up to 1800m
A powerful objective lens together with the advanced thermal sensor provides exceptional detection capabilities. A standard 1.8m tall object can be detected at a 1800 m distance in complete darkness.
Built-in Precise Laser Rangefinder LRF)
The integrated, precision laser rangefinder provides accurate range finding (±1m accuracy up to 1km) in two modes: Single Time Measurement and Scanning. Scanning mode allows the shooter to adjust quickly to changing distances for better shot placement.
Instant Start-Up (about 3 seconds)
Thanks to revolutionary electronics, TRAIL 2 LRF can be powered up almost instantly. Quick start-up increases battery life and prolongs overall operation time. With instant start-up capability, the riflescope can be powered rapidly activated when seconds count.
Full-Color, HD AMOLED Display
Trail 2 LRF's new HD display delivers a crisp, richly contrasted, vividly colored field of view. AMOLED technology ensures flawless, fluid, high-resolution imaging and power saving.
Display Off
During short periods of inactivity and for better concealment, Display Off powers down the display without interrupting other operating functions. Using Display Off means a much faster restart time when you need it most.
Variable Magnification
Trail models include variable magnification, up to 8x with the XP50 model, and feature both 2x step-up and smooth, graduated magnification for a truly optimum, customized field of view.
Image Boost Technology
Pulsar's Image Boost technology is a proprietary combination of software algorithms that improves image clarity and overall image detail. Image Boost makes images look noticeably sharper and more detailed.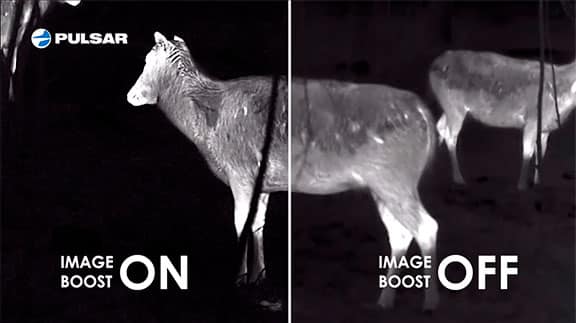 Observation Modes
Image optimization should be performed depending on the environmental location and conditions. Mountains, fields and forests have different ambient temperatures. In order to achieve the highest possible image quality, certain settings have been optimized and gathered into profiles. As a result, optimized imaging in various conditions is easier. Identification preset is another optimal-imaging option that makes identifying easier, even at longer distances.
50 Hz Refresh Rate
High Image frequency is important when shooting at moving targets. A high refresh rates ensures motion is fluid and in real-time, allowing more accurate speed assessment and shot placement.
Picture-in-Picture
Picture-in-Picture improves accuracy by providing a magnified image of the reticle area at the top of the display. With only a tenth of the display area reserved for PiP, the field of view remains virtually unobstructed for simultaneous PiP and FOV viewing.
Wide-Angle Eyepiece
The field of view of the complex wide-angle, six-lens eyepiece employed in the Trail 2 LRF captures a significantly bigger and better image. Combined with the HD AMOLED display, the eyepiece delivers a rich, deep images to the user.
Customizable Reticle Options
A full complement of digitally displayed reticle solutions ensures quick target acquisition and a richly contrasted sight picture. Choose from a wide array of color-customizable reticle patterns, including scalable ballistic styles.
High Recoil Resistance
The Trail features exceptionally high shock resistance, capable of handling high-powered firearm recoil, up to .375-cal., including smoothbore and airsoft. Rating: 12gauge, 9.3×64, .375H&H Shock Resistance.
Built-In Accelerometer / Gyroscope
A built-in accelerometer/gyroscope improves accuracy by precisely identifying cant and angles greater than 5° with an arrow indicating the direction and degree of lateral tilting. Increased angles are denoted with additional arrows. Moreover, the riflescope can be set to auto shutdown when resting in a non-shooting position. Unit operation may be disabled when the vertical angle is greater than 70° or horizontal angle is greater than 30°. The accelerometer feature may be temporarily disabled for continued use at excessive angles.
Zeroing Profiles Management
Store up to 5 zeroing profiles, with 10 distance coordinates each, for varying situations, in internal memory for quick rifle change-outs and on-the-fly adjustments.
Built-in Photo and Video Recorder
The built-in video recorder is a great asset when it comes to filming or taking photos of once-in-a-lifetime experiences. One press of the REC button captures footage that can be shared easily with colleagues, friends, and family via wired connection or Wi-Fi. 16 Gb of internal memory provide many hours of recorded video and tons of photos. Recorded files can be later downloaded to PC or smartphone.
Wi-Fi Integration with iOS and Android Devices
The built in Wi-Fi module and Stream Vision app provide connectivity of the Trail 2 LRF with Android or iOS smartphones or tablets. This offers a set of unique features such as direct image streaming, downloading and sharing recorded files, firmware update, and remote control of the optic.
Shockproof Magnesium Alloy Housing
The rugged and lightweight magnesium alloy housing is designed to withstand recoils of high caliber rifles. Increased structural rigidity reduces vibrations during the shot and leads to enhanced ballistics, while the magnesium alloy helps ensure better heat dissipation.
IPX7 Waterproof Rated
Trail 2 LRF riflescopes are IPX7 waterproof-rated for protection from heavy rainfall, snow, or other precipitation. The riflescopes are designed to run flawlessly, even after submersion in up to 3 feet of water for up to 30 minutes (IEC 60529).
B-Pack Power Supply
Trail 2 LRF includes a progressive autonomous B-Pack power supply consisting of a quick-detach, rechargeable IPS7, 6.4 A-h battery pack designed to deliver up to 8 hrs. of operation. Higher-powered IPS14 battery packs, as well as AA battery cases, also are available and provide a perfect off-the-grid power solution.
Wide Range of Operating Temperatures
With a frost-resistant AMOLED display, the Trail 2 LRF thermal imaging riflescopes are designed to deliver flawless performance at an extreme temperature range of -25°C + 50°C.
User-Friendly Interface
Trail 2 LRF is designed with ease-of-operation in mind. User feedback has resulted in the most friendly interface to date, complete with an easy-to-read, icon-driven, alpha-numeric status bar at the bottom of the display. Internal menu items and options are also displayed on a contrasting gradient substrate so the user can keep an eye on settings without losing sight of the objective.
Accessories
IPS Batteries. Interchangeable standard power supply.
Battery Charger IPS. Compatible with IPS5 / IPS7 / IPS 7A / IPS10 / IPS14 Battery Pack.
PB8I Battery. The Pulsar PB8I Power Bank extends operating time (via microUSB port).
Rifle Mounts. The mounting holes in the base of Pulsar riflescopes enable the mount to be installed in one of multiple positions. This choice helps the user to ensure the most suitable position on a riflescope. Choose the mount you need!
Weaver SQD Mount. This quick-release mount is designed for Weaver or Picatinny rails. It uses a reliable pin locking system to prevent accidental opening. The locking mechanisms are secured by locking screws so the mount withstands intensive operation, including multiple cycles of removing and installing, vibration and shock loading during firing, the accumulated effect of a large number of shots. At the same time,  this mount provides complete repeatability of mounting the sight with the mount on the rail while maintaining the point of impact (adjusting) and accuracy of fire.
Weaver Mount. Designated for installation on Weaver or Picatinny rails.
Prism 14/200 Mount. Universal base for placing mounts of different manufacturers including EAW (Apel), Blaser, MAK, and others.
CZ550 Mount. Quick-release mount. Allows installation of riflescopes on carbine CZ-550.
Los/ Dovetail Mount. Allows installation of riflescopes on carbines «Los 7-1», «Los 4», «Bars 4-1» and other weapons manufactured in Russia and Europe that have upper mount «dovetail».
MAK Adapter. Allows to equip the riflescope with a monoblock mounts МАК (МАК Milmont, MAR Flex and others) for further installation on the weapon.
Side Mount. Makes it possible to mount the riflescope on Soviet and Russian-made weapons equipped with a dovetail side rail, including Saiga, Tiger, Vepr, SKS carbines, etc.
Weaver QD112 Mount. Quick-release mount for installation on Weaver or Picatinny rails.
Specifications
Model
XQ50
XP50
MPN
PL76558
PL76559
UPC
812495026539
812495026911
Main
Sensor
384×288 @ 17 µm (NETD <40 mK)
640×480 @ 17 µm (NETD <40 mK)
Objective lens
F50/1.2
Magnification, x
3.5 – 14 (x4 zoom)
2 – 16 (x8 zoom)
Field of view (HxV), degrees / m@100m
7.5×5.6 / 13.1×9.8
12.4×9.3 / 21.8×16.3
Detection range, m
1800
Sensor
Type
uncooled
Resolution, pixels
384×288
640×480
Pixel pitch, µm
17
Frame rate, Hz
50
Optics
Objective lens

F50/1.2

Magnification, x

3.5 – 14

2 – 16

Field of view (HxV), degrees / m @ 100 m
7.5×5.6 / 13.1×9.8
12.4×9.3 / 21.8×16.3
Eye relief, mm

50

50

Display
Type
AMOLED
Resolution, pixels
1024×768
Range Performance
Detection range, m

1800

Laser Rangefinder
Safety class for laser equipment according to IEC 60825-1:2014
1
Wavelength, nm

905

Max. measuring range, m

1000

Measurement accuracy, m

± 1

Reticle
Click value, H/V, mm at 100 m
13 / 13 (on minimum magnification)
21 / 21 (on minimum magnification)
Click range, H/V, mm at 100 m

2600 / 2600

4200 / 4200

Number of preloaded reticles

10

Video Recorder
Video / photo resolution, pixel

1024×768

Video / photo format

.mp4 / .jpg

Built-in memory, Gb

16

Environmental Characteristics
Degree of protection, IP code (IEC60529)

IPХ7

Operating temperature range, °С

-25 – +50

Power Supply
Output voltage, V

3.0 – 4.2

Battery type

Li-Ion Battery Pack IPS7

Capacity, mAh

6400

Operating time on battery pack (at t=22°C), h *

8

External power supply, V

Micro USB type B (5V)

Connections & Compatabilities
Max. recoil power on rifled weapon (Eo), Joules

6000

Shock resistance on the smooth-bore rifles, caliber

12

Calibration (non-uniformity correction)

manual, auto, semi-auto

Wi-Fi
Frequency, GHz

2.4 GHz

Standard

802,11 b/g

Line-of-sight reception range, m

15

Weight & Size
Dimensions, mm
347x102x76
Weight, kg

0.8

*Disclaimer: Specifications are subject to change without notice.