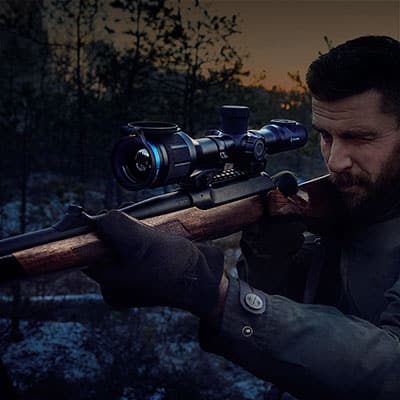 NEW MODELS! XM30 & XG (BAE)
NEW MODELS! XM30 & XG (BAE)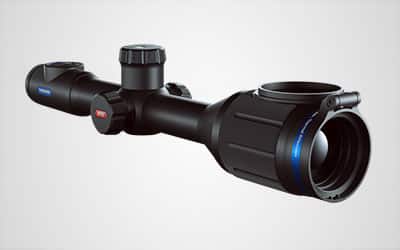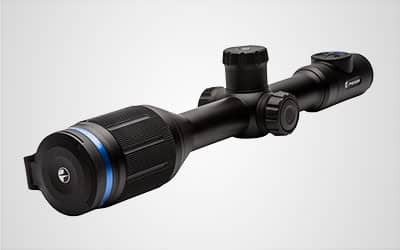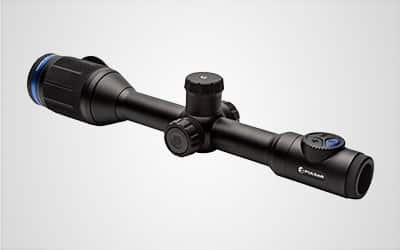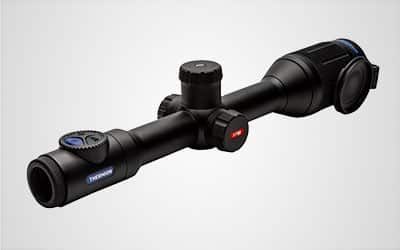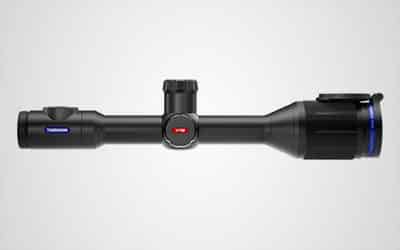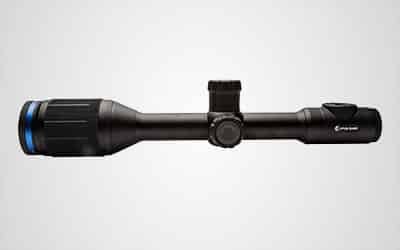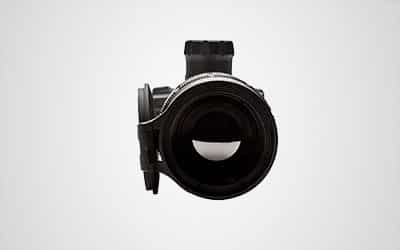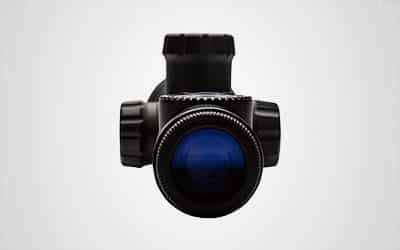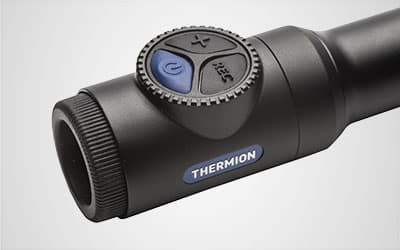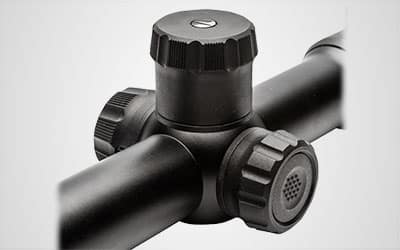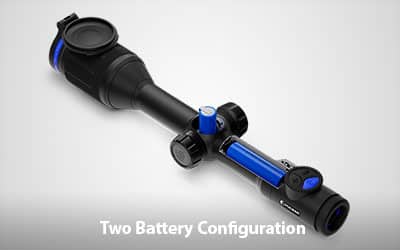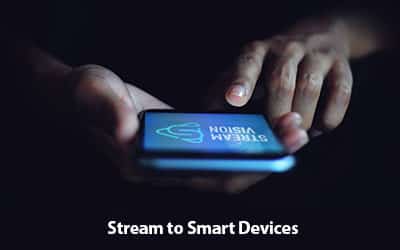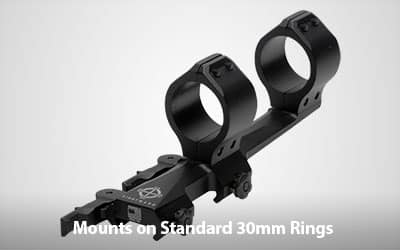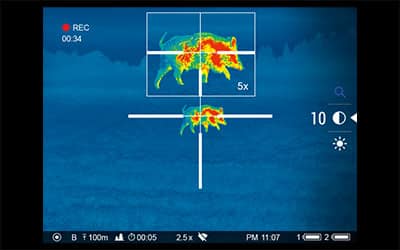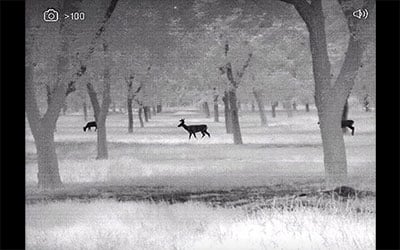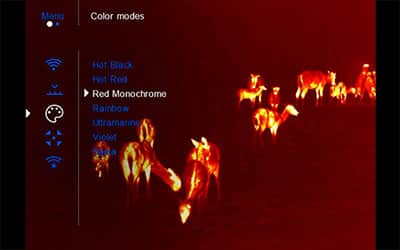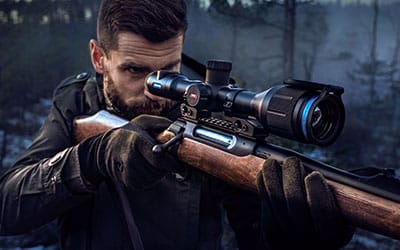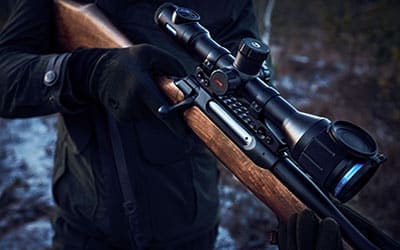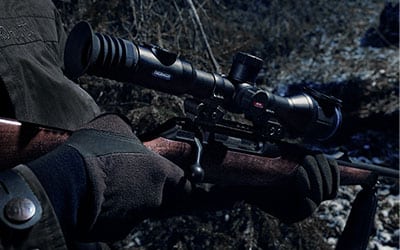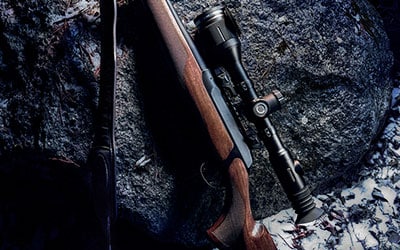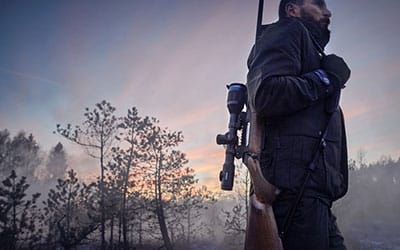 Pulsar THERMION

Thermal Imaging Riflescope
The Pulsar THERMION is a thermal imaging riflescope that looks like a traditional scope and mounts on standard 30mm rings. Features include an HD AMOLED display and up to 2,400-yard detection range. THERMION XG has a 12 micron BAE sensor and 640×480 resolution. Video and photo recording can be recoil activated and streamed to smart devices.
Export Statement
It is the responsibility of the buyer to comply with export control laws and regulations of the United States Government and to obtain export licenses if required.Learn more >
True Superiority
Boasting state-of-the-art design and the latest in advanced technological innovations, the Pulsar THERMION delivers premium thermal imaging, but in a traditional-style aircraft-grade 30mm tube.
THERMION XG has a 42mm objective lens and uses the highly regarded 12 micron BAE sensor with 640×480 resolution.
THERMION XP models have either a 38 or 50mm objective lens and a 17 micron sensor with 640×480 resolution.
THERMION XQ models have either a 38 or 50mm objective lens and a 17 micron sensor with 384×288 resolution.
THERMION XM models have either a 38 or 50 mm objective lens and a 12 micron sensor with 320×240 resolution.
THERMION XM30 has a fixed focus 30mm objective lens and a 12  micron sensor with 320×240 resolution.
All THERMION models are cutting-edge thermal imaging riflescopes for professional hunters who value traditions and seek technological superiority.
Instant Start-up
New electronics provide nearly instantaneous start-up. Instant start-up helps to save energy and prolongs time of operation. The riflescope can be kept switched off and then rapidly activated when the right time comes.
Proprietary Image Boost Technology
Pulsar's proprietary Image Boost software algorithms (available with Thermion XP and XQ) increase imaging clarity and overall image detail. The result is a sharper, more detailed field of view and enhanced object identification.
Mounts on Standard 30mm Scope Rings
Designed from the ground up for ease of use, THERMION riflescopes mount on standard 30mm scope rings. No specialized tools or equipment are needed. The body style matches any style of firearm or crossbow for a truly classic look.
Extreme Detection Range
High quality germanium optics coupled with an advanced thermal imaging sensor ensure an unprecedented detection range from 1,450 to 2,500 yards depending on the model, even in complete darkness.
Recoil Rated up to .375 H&H, 12-Gauge, and 9.3×64
Recoil is rated up to 6,000 joules for flawless performance on larger calibers.
Full Color HD AMOLED Display
See the night world with pristine clarity! The HD AMOLED display shows crisp and vivid high resolution images with excellent contrast, while also being power efficient. High image quality allows enhanced identification of animals, including their extremities, and reveals the smallest visual details, such as branches, leaves, grass, and terrain. Viewing modes are selectable for rock, forest, or identification.
Versatile Magnification and Zoom
THERMION NG has 3x–24x optical magnification, with the low end providing a wider field-of-view, as well as 2x/4x/8x digital zoom. Other THERMION models have different combinations of optical magnification and digital zoom.
Picture-in-Picture
Picture-in-picture displays a magnified image in the top-center 10 percent of the display, facilitating precise shot placement while still seeing the full field of view.
Color Palettes
Color palettes offer customized display options. White Hot and Black Hot are most popular. Red Hot, Rainbow, and Ultramarine highlight a heat signature's more intense hot spots. Violet, Red Monochrome, and Sepia are optimal palettes for reduced eye fatigue over long periods of observation.
Customizable Reticle Options
THERMION riflescopes come with a wide array of color-customizable reticles, including scalable ballistic styles. Color options are black, white, red, and green.
Zeroing Profiles Management
Store up to 5 zeroing profiles, each with 10 distance coordinates for varying situations, in internal memory for quick rifle change-outs and on-the-fly adjustments. THERMION riflescopes feature one-shot zeroing with freeze function.
User Friendly Controls
Operation and adjustments are simple using the three buttons on the top of the device and the left side encoder. These controls provide access and management of all device menu options, settings, and system functions. Choose from manual, automatic, and semi-automatic calibration modes
Video and Still Photo Recording
Integrated video (50 Hz frame rate) with audio can be recoil activated. 16GB of internal memory stores hours of video or thousands of photos. Videos are stored in MPEG-4 format and still images are stored in JPEG format for quick and easy sharing.
Stream Vision App
Built-in wifi and the free Stream Vision app (for iOS and Android) connects THERMION riflescopes to the online world and enables using a smartphone or tablet as a second display or for remote control.
This connectivity also enables transferring recorded files, adjusting settings, and upgrading firmware.
IPX7 Waterproof Rated
IPX7 waterproof rating provides protection from heavy rainfall, snow, or other precipitation. THERMION riflescopes are designed to operate normally in virtually all conditions, even after submersion in up to 3 feet of water for up to 30 minutes.
Rugged, Reliable All-Metal Housing
Designed for rugged reliability, THERMION boasts a precision magnesium alloy housing, providing unparalleled protection from the elements while also being remarkably light weight.
B-Pack Mini Combined Power System
THERMION riflescopes have a dual battery system with both an internal and external battery. The external battery ensures additional operation time and can be replaced in a matter of seconds without turning off the riflescope.
Every Pulsar THERMION package includes:
THERMION Riflescope
APS2 Battery Pack
APS Battery Charger
Battery cap for APS3
USB Cable
Charging unit 220v/USB
Cleaning Cloth
Manual
Carrying Case
Pulsar THERMION Accessories
APS Battery Packs
Interchangeable standard 3.6 V Li-Ion power supplies for AXION monoculars. APS2 weighs 0.04 kg and measures 59x24x24 mm. APS3 weighs 006 kg and measures 74x24x24 mm.
Pulsar PB8I
The Pulsar PB8I power bank extends AXION operating time via the microUSB port.
APS Battery Charger
Charges APS2 / APS3 battery packs.
Specifications
THERMION XG Specifications
General Info
UPC
812495026553
MPN
PL76529
Electronic components
Sensor
320×240 pix. @ 12 µm
Type of Microbolometer
Uncooled Microbolometer
Frame Rate, Hz
50
Microbolometer resolution, pixels
640×480
Spectral Sensitivity, µm
8-14
Pixel Pitch, µm
12
Display type
AMOLED
Display Resolution, pix.
1024×768
Integrated video recorder
Yes
Micro USB Socket
Power/Data
Viewing operation modes
rocks, forest, identification
Defective pixel repair option
Yes
Integrated Wi-Fi module
Yes
Stream Vision support
Yes
Optical characteristics
Magnification, x
3-24
Digital zoom, x
2x/4x/8x
Lens diameter, mm
42
Lens focus, mm
50
Relative aperture, D/f'
1:1.2
Field of View,°
8.8
Field of View, m@100m
15.4
Field of View, ft@100yd
46.2
Minimum focusing distance, ft/m
16 / 5
Eye Relief, in/mm
2 / 50
Diopter adjustment, dptr.
-3 / +5
Focusing type of distance
Objective
Range of Detection

Range of detection, yd / m

2,400 / 2200
Power Supply
Power Supply
3.0 – 4.2
Battery type
B-Pack mini(18650 Li-Ion)
Battery life (with video out off), hours
7
External Power Supply
5V – USB
Reticle
Click value, 1 click = MOA
1/2
Windage & Elevation adjustment range, MOA
103
Number of preloaded reticles
10+
Reticle Type
Variable electronic reticles
Physical & operational characteristics
Lens Material
Germanium
Body Material
metal
Type of mount for attachment of additional accessories
weaver/picatinny rail
Operating Temp,°F/°_
-13 to 122 / -25 to +50
Level of Protection (acc. to IEC 60529)
IP67 100% dustproof and submergible to 1m for 1 hour
Calibration
automatic, semi-automatic, manual
Recoil rating, max caliber
.375 H&H
Length, in/mm
16 / 407
Width, in/mm
3.1 / 78
Height, in/mm
3.1 / 80
Weight (without batteries), oz
31.75
THERMION XM30 Specifications
General Info
UPC
812495025891
MPN
PL76524
Sensor
Type

Uncooled Microbolometer

Resolution, pixels

320×240

Frame Rate, Hz
50
Spectral Sensitivity, µm
8-14
Pixel Pitch, µm
12
Optical
Detection Range, yd / m

1400 / 1300

Magnification, x
3.5-14
Digital zoom, x
2x/4x
Lens Material

Germanium, glass

Lens diameter, mm
24
Lens focus, mm
30
Relative aperture, D/f'
1:1.25
Field of View,°
7.3
Field of View, m@100m
12.8
Field of View, ft@100yd
45.9
Minimum focusing distance, ft/m
21 / 7
Eye Relief, in/mm
2 / 50
Diopter adjustment, dptr.
-3 / +5
Focusing type of distance
Fixed
Power Supply
Power Supply
3.0 – 4.2
Battery type
B-Pack mini(18650 Li-Ion)
Battery life (with video out off), hours
7
External Power Supply
5V – USB
Reticle
Click value, 1 click = MOA
.4
Windage & Elevation adjustment range, MOA
82
Number of preloaded reticles
10+
Reticle Type
Variable electronic reticles
Display
Display Type

AMOLED

Display Resolution, pix.

1024×768

Operation Modes

Rocks, Forest, Identification

Defective Pixel Repair Option

Yes

Recording & Connectivity
Integrated Video Recorder

Yes

Integrated Wi-Fi Module

Yes

Stream Vision Support

Yes

Micro USB Socket

Power/Data

Physical & operational characteristics
Body Material
Metal
Type of mount (to attach accessories)
Weaver/Picatinny rail
Operating Temp,°F/°_
-13 to 122 / -25 to +50
Level of Protection (acc. to IEC 60529)
IPX7
Waterproof
Yes
Calibration
Manual, Automatic, Semi-automatic
Recoil rating, max caliber
.375 H&H
Length, in/mm
15.2 / 387
Width, in/mm
3.1 / 78
Height, in/mm
2.5 / 63
Weight (without batteries), oz
26.5
THERMION Specifications (38mm lens)
Models
XQ38
UPC
812495026485
MPN
PL76522
Main
Sensor
384×288 pix. @ 17 µm
Objective lens
F38/1.2
Magnification, x
2.5-10
Field of view (HxV), degrees / m@100m
9.8×7.4
Detection range, m
1350
Sensor
Type
Resolution, pixels
384×288
Pixel pitch, µm
17
Frame rate, Hz
50
Optics
F38/1.2
Magnification, x
4 – 2.5 – 10
Field of view (HxV), degrees / m @ 100 m
9.8×7.4
Eye relief, mm
50
Display
Type
Resolution, pixels
1024×768
Range Performance
Detection range, m
1350
Reticle
Click value, H/V, mm at 100 m
17 / 1728 / 28
Click range, H/V, mm at 100 m
3400 / 34005600 / 5600
Number of preloaded reticles
Video Recorder
Video / photo resolution, pixel
1024×768
Video / photo format
.mp4 / .jpg
Built-in memory, Gb
16
Environmental Characteristics
Degree of protection, IP code (IEC60529)
IPХ7
Operating temperature range, °С
-25 – +50
Weight & Size
Dimensions, mm
395х78х72394x78x80
Weight, kg
0.75
Power Supply
Output voltage, V
3.0 – 4.2
Battery type

Dual Li-Ion B-Pack Mini Power System: 2 A·h Changeable Battery (external) / 3.2 A·h Battery (internal)

Capacity, mAh
2000 (external) + 3200 (internal)
Operating time on battery pack (at t=22°C), h *
7
External power supply, V
5V
Connections and Compatibilities
Max. recoil power on rifled weapon (Eo), Joules
Shock resistance on the smooth-bore rifles, caliber
12
Mounting brackets on weapon
Standard 30 mm rings
Wi-Fi
Frequency, GHz
2.4GHz
Standard
802,11 b/g
Line-of-sight reception range, m
15
THERMION Specifications (50mm lens)
Models
XM50
XQ50
XP50
UPC
812495025761
812495026492
812495025785
MPN
PL76526
PL76523
PL76543
Main
Sensor
320×240 pix. @ 12 µm
384×288 pix. @ 17 µm
640×480 @ 17 µm (NETD <40 mK)
Objective lens
F50/1.2
Magnification, x
5.5 – 22 (x4 zoom)
3.5-14
2 – 16 (x8 zoom)
Field of view (HxV), degrees / m@100m
4.4×3.3 / 7.7×5.8
7.5×5.6
12.4×9.3 / 21.8×16.3
Detection range, m
1800
Sensor
Type
Resolution, pixels
320×240
384×288
640×480
Pixel pitch, µm
12
17
Frame rate, Hz
50
Optics
F50/1.2
Magnification, x
5.5 – 22
3.5-14
2 – 16
Field of view (HxV), degrees / m @ 100 m
4.4×3.3 / 7.7×5.8
7.5×5.6
12.4×9.3 / 21.8×16.3
Eye relief, mm
50
Display
Type
Resolution, pixels
1024×768
Range Performance
Detection range, m
1800
Reticle
Click value, H/V, mm at 100 m
7 / 7
13 / 13
21 / 21
Click range, H/V, mm at 100 m
1400 / 1400
2600 / 2600
4200 / 4200
Number of preloaded reticles
10+
Video Recorder
Video / photo resolution, pixel
1024×768
Video / photo format
.mp4 / .jpg
Built-in memory, Gb
16
Environmental Characteristics
Degree of protection, IP code (IEC60529)
IPХ7
Operating temperature range, °С
-25 – +50
Weight & Size
Dimensions, mm
402x78x80
407x78x80
402x78x80
Weight, kg
0.9
Power Supply
Output voltage, V
3.0 – 4.2
Battery type

Dual Li-Ion B-Pack Mini Power System: 2 A·h Changeable Battery (external) / 3.2 A·h Battery (internal)

Capacity, mAh
2000 (external) + 3200 (internal)
Operating time on battery pack (at t=22°C), h *
5+
7
5+
External power supply, V
5V
Connections and Compatibilities
Max. recoil power on rifled weapon (Eo), Joules
Shock resistance on the smooth-bore rifles, caliber
12
Mounting brackets on weapon
Standard 30 mm rings
Wi-Fi
Frequency, GHz
2.4GHz
Standard
802,11 b/g
Line-of-sight reception range, m
15