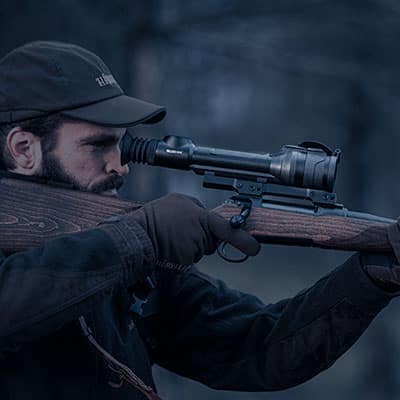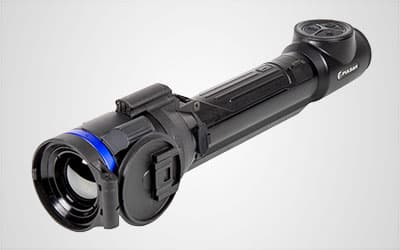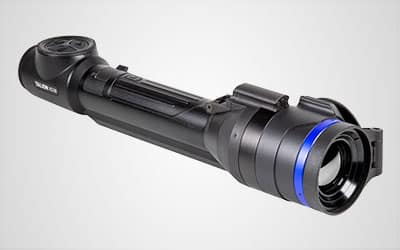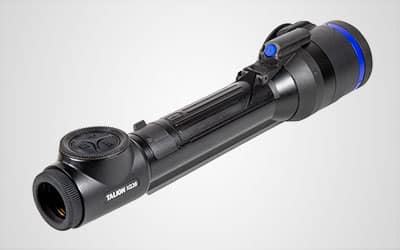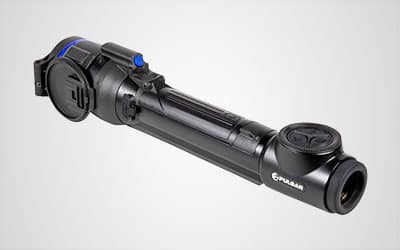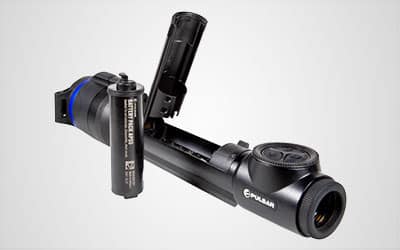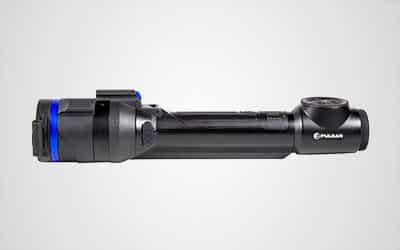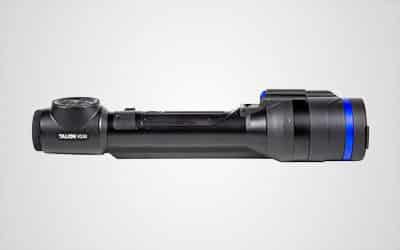 Pulsar Talion XQ38

Thermal Imaging Riflescope
Built around a highly sensitive (<40mK) 384×288 thermal sensor, the Talion XQ38 has a detection range of 1475 yards. A multi-point prism mount aids in exact positioning of the riflescope. Features include recoil resistance at high calibers; variable magnification; precision aiming with P-i-P; multiple reticles/palettes; 16GB of photos/video; Wi-Fi connectivity to iOS and Android; IXP7 waterproof rating; and 9 hours of battery life.
Export Statement
It is the responsibility of the buyer to comply with export control laws and regulations of the United States Government and to obtain export licenses if required.Learn more >
Summary of Talion XQ38 Features
1475-yard detection range
Pro-grade 384×288 sensor with <40mK thermal sensitivity
High caliber recoil resistance: 12 gauge, 9.3×64, .375H&H
Multi-point prism mount for exact positioning on a rifle
Direct access to all control elements with either hand
Variable magnification 2.5х–10х
Focus adjustment with tactile marker set for nighttime shot
3 sensitivity amplification levels
5 shooting profiles / 50 zeroing distances
Selection of 10 reticle shapes in 9 color modes
Selection of different color palettes
Precision aiming in the "Picture-in-picture" mode
Photo and video recording with 16 GB storage
Wi-Fi integration with iOS and Android devices via Stream Vision 2 app
Waterproof IPX7 rated housing
Lightweight and rugged magnesium alloy housing
9 hours of battery life on a single charge
Rapid extraction battery mechanism
The Pulsar Talion XQ38 thermal imaging riflescope can detect heat signatures up to 1475 yards away. The 384×222 thermal sensor and variable magnification of 2.5-10x work together to expertly locate heat signatures in total darkness.
The Talion XQ38 features a multi-point prism mount to aid in exact positioning on the rifle and can withstand calibers up to 12 gauge, 9.3×64, and .375 H&H. Choose from a selection of ten reticle shapes, nine color modes, and a wide range of color palettes. Another strong feature is precision aiming with Picture-in-Picture mode.
Store up to 16GB of photos and video recordings with the Talion XQ38, and connect with iOS and Android devices via Wi-Fi and the Stream Vision 2 app.
Talion maintains an extremely high image quality in severe weather conditions, and it functions for up to 9 hours on a single battery charge. The strong and lightweight magnesium alloy housing, gives the Talion XQ38 an IPX7 waterproof rating.
Up to 9 hour operation time on a single charge
Talion XQ38 is powered with a Pulsar APS5 interchangeable, rechargeable battery. A single charge guarantees up to 9 hours of battery life, which covers the time of active use of the scope for a hunt. The battery cover design helps to accurately determine the correct position and makes it possible to quickly replace a flat battery with a new one in complete darkness by touch alone.
Multi-point prism mount for precise positioning on a rifle
Talion XQ38 features a mounting prism with multiple screw points to ensure flexibility and convenience when installing the riflescope on various types of rifles. During installation the user can shift the scope along the rifle to the most comfortable viewing position.
All control elements in direct access
All Talion XQ38 controls are placed on the top panel of the eyepiece to simplify access and for the convenience of both right- and left-handed users.
Rapid battery extraction mechanism
A unique battery cover design with rapid extraction lock ensures fast and flawless battery replacement. Releasing the lock opens and raises the battery cover at the top of the riflescope's housing for quick access to the rechargeable battery.
Focus adjustment with tactile marker set for night-time shot
The precise focusing adjustment has an integrated fin lever that is set to match the protruding ridge on the housing of Talion riflescope when focusing reaches 70 m (76 yd) mark, the night-time shooting distance. This enables quick and correct focusing, even without looking at the riflescope
3 sensitivity amplification levels
A selection of the signal amplification levels combined with new filtration algorithms, with fine brightness and contrast adjustments, provide long-range detection of game under diverse weather and temperature conditions. The amplification setting helps to define an animal's trophy features and ensures clear rendering of objects and background in the field of view.
Lightweight and rugged magnesium alloy housing
The Talion XQ38 housing is made of magnesium alloy to ensure structural strength while retaining a light weight. The robust and lightweight metal housing serves also as a heat sink, extracting the warmth generated by inner electronics to make the Talion XQ38 even more sensitive.
Photo and video recording
Store the best moments of observation and share them with your friends and hunting colleagues. One touch of a button is enough to snap a shot or start recording video. 16 GB of internal memory holds many hours of video and tens of thousands of photos.
Wi-Fi integration with iOS and Android devices via Stream Vision 2 app
The built-in Wi-Fi module connects the device with iOS and Android smartphones and tablets via the Stream Vision 2 mobile application. This connectivity enables wireless updating of the device software, transmission of images to a mobile device screen in real time, remote control of digital functions, and more. Users registered in the application are provided with cloud storage space for photos and videos taken with their Talion XQ38.
Waterproof IPX7 housing
With an IPX7 waterproof rating, The Talion XQ38 works in conditions of high humidity and heavy rain and can withstand half an hour immersion under water to a depth of 1 meter.
High calibre recoil resistance: 12 gauge, 9.3×64, .375H&H
The Talion XQ38 is high impact resistant and can be used with rifled hunting weapons with calibers of 9.3×64, .30-06, .300, .375H&H, etc., as well as with smooth-bore and pneumatic weapons.
5 shooting profiles / 50 zeroing distances
Zeroing settings are saved in a shooting profile. The Talion XQ38 memory contains up to five shooting profiles for several types of weapons or cartridges. Each profile can hold up to ten zeroing distances.
A selection of 10 reticle shapes in 9 color modes
A reticle is electronically displayed in the same plane as the target. The Talion memory contains ten reticle configurations and functions (direct shot type, ballistic, scalable, and regular), all available in nine color options.
Precision aiming in the "Picture-in-Picture" mode
The "Picture-in-Picture" function enables display of a high-precision zeroing frame. Taking only 10% of the total display area, the frame shows a magnified image of the target and reticle and allows the user to closely see the image in the aiming area and have visual control of the entire field of view at the same time.
Variable color palettes
A choice of 8 color palettes lets the user observe their field of view more effectively, allowing them to optimize the unit for specific tasks and react to changing observation conditions. White Hot, Black Hot and Red Hot are optimal for object detection; Rainbow and Ultramarine help increase chances for recognition & identification; Red Monochrome, Sepia, and Violet are best suited to long-range observation at night.
Accessories
APS Batteries
Interchangeable standard power supplies provide sufficient operation time and can be quickly replaced. B-Pack mini batteries can be quickly charged either with included charger station or in the unit connected to USB.
APS Chargers
Chargers for APS 2, APS 3 and APS 5 battery packs.
Rifle Mounts
The mounting holes in the base of Pulsar riflescopes enable the mount to be installed in one of multiple positions. This choice helps the user to ensure the most suitable position on a riflescope. Available mounts include: Weaver USQD, Weaver U, Weaver LQD, MAK Adapter, Prism 14/200 Mount.
Pulsar Talion XQ38 Specifications
General
MPN
PL76561
UPC
310119010193
Performance & Compatibilities
Detection Range
1475 yds
Max. recoil power on rifled weapon (Eo)

6000 Joules

Shock resistance on the smooth-bore rifles, caliber
12 caliber
Compatible mounts

Weaver U Mount, Weaver USQD Mount, Weaver LQD Mount

Sensor
Type
Uncooled
Resolution
384×288
NETD

<40 mK

Pixel pitch

17 µm

Frame rate

50 Hz

Optics
Objective lens

F38/1.2

Magnification

2.5x – 10x

Field of view (HxV)

9.8х7.3 / 17.2х13 degrees / m @ 100 m

Magnification

2.5x – 10x

Diopter adjustment

-3/+4 dptr.

Eye relief

50 mm

Display
Type

AMOLED

Resolution
1024×768
Reticle
Click value, H/V

17mm / 17mm @ 100m (on minimum magnification)

Click range, H/V

3400mm / 3400mm at 100m

Number of preloaded reticles

10+

Video Recorder
Video / photo resolution
1024×768 px
Video / photo format

mp4 / .jpg

Built-in memory

16 GB

Connectivity
Wireless Protocol

Wi-Fi

Wireless Standard

IEEE 802.11 b/g/n/ac (WPA)

Frequency

2.4 / 5 GHz

Supported Application

Stream Vision 2

Power Supply
Output voltage

3.0 – 4.2 V

Battery type
Pulsar APS5 B-Pack (Li-ion)
Capacity
4900 mAh
Operating time on battery pack (at t=22°C)
9 hrs
External power supply
5V USB Type-C
Environmental & Physical
Degree of protection, IP code (IEC60529)

IPX7

Body material

Magnesium alloy

Operating temperature range

-25 to +50 °С

Dimensions

330x57x67 mm

Weight
0.7 kg

Specifications are subject to change without notice.