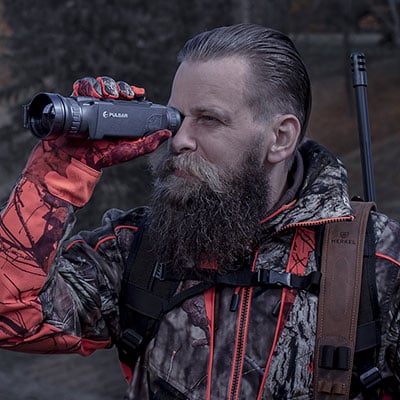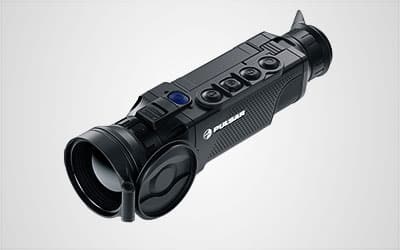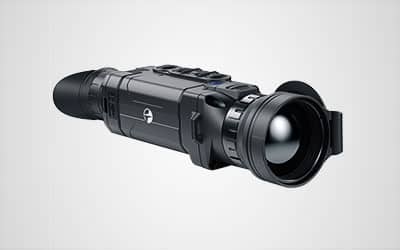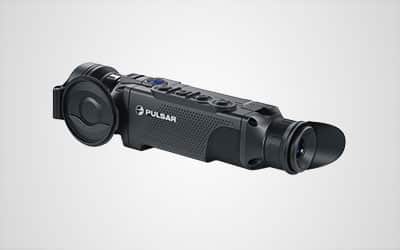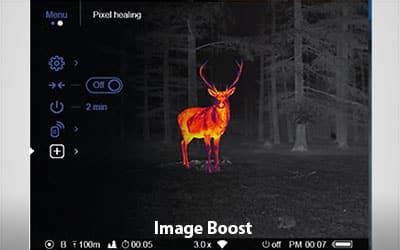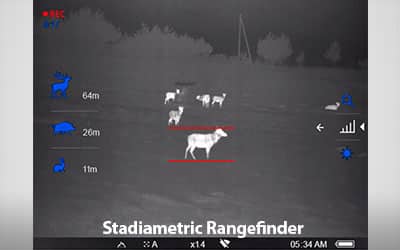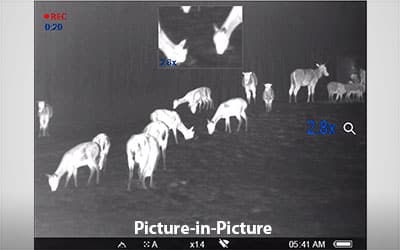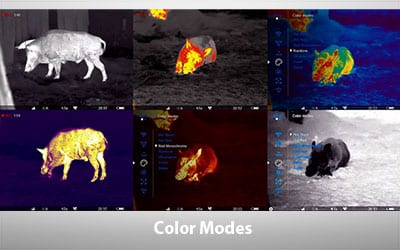 Pulsar HELION 2 XQ

Thermal Monoculars
Pulsar HELION 2 XQ thermal monoculars have a highly sensitive thermal sensor (<40 NETD), plus a full-color HD AMOLED display and Image Boost technology, to capture every image in crystal-clear, high-definition. Detection range is up to 2000 yards. Features include variable digital zoom, pic-in-pic, 8 color palettes, Wi-Fi, and a photo/video recorder with 16GB storage.
Export Statement
It is the responsibility of the buyer to comply with export control laws and regulations of the United States Government and to obtain export licenses if required.Learn more >
HELION 2 XQ thermal imaging monoculars extend your vision for hunting, forestry, personal security, life rescue, and recreational outdoor activities. Features include:
Detection range up to 1475 ft (1350 m) or 2000 yards (1800 m)
384×288 17µm thermal sensor with <40 mK NETD
Fast Aperture f1.0 Quality Germanium Optics
Image Boost processing
50 Hz frame rate
HD AMOLED display
4 observation modes
Variable digital zoom
Picture-in-Picture mode
8 color palettes
Stadiametric rangefinder
Built-in photo and video+sound recorder
16 GB memory
Wi-Fi connectivity to iOS or Android devices
Stream Vision app compatibility
Livestream to Facebook or YouTube
Up to 9 hours operation time on a single charge
B-Pack rechargeable battery system
Fast start-up
Lightweight and shockproof metal housing
IPX7 waterproof rated
Operates from -25C (-13F) to 50C (122F)
Highly Sensitive Thermal Imaging Sensor
An advanced NETD <40mK sensor produces precise detail recognition imaging even in adverse weather conditions like rain and fog. Even when thermal contrast is low, small temperature differences are clearly visible with richly contrasted, high-resolution imaging. The user is rewarded with enhanced identification of animals, their extremities, and even the smallest details, such as branches, leaves, grass, and terrain.
Large Aperture Lens
Ultimate detection efficiency is achieved with the fast lenses of the HELION 2 XQ38F (F35/1.0) and HELION 2 XQ50F (F50/1.0) thermal imagers in combination with highly sensitive thermal sensors. The HELION 2 XQ models give users the best quality, most detailed, and high-contrast imagery every time, even during rain or fog, when the temperature contrast of the observed scene is minimal.
Full Color HD AMOLED Display
The new 1024×768 HD AMOLED display delivers improved color rendering, reduced power consumption, and high contrast informative imagery. Images are clear and smooth, even when observing on-the-move or in cold conditions.
Image Boost Technology
Pulsar's proprietary Image Boost Technology is comprised of software algorithms designed to increase imaging clarity and overall image detail. Image Boost results in a sharper, more detailed field of view and enhanced object identification capabilities.
Ultra-high-strength Magnesium Alloy Housing
The lightweight magnesium alloy housing stands out due to a high structural strength and resistance to external mechanical and climatic loads. The housing material effectively removes and dissipates the heat generated by the electronics, ensuring the operational stability of the thermal imager and helps maintains a high quality image during prolonged observation.
Variable Digital Zoom
Digital zoom, up to 4x depending on model, provides improved focus and better overall object recognition at significant distances.
Long Detection Range
The powerful objective lens in combination with the professional grade thermal imaging sensor (<40 mK NETD) provides exceptional detection capabilities. A standard 1.8 m tall object can be detected in complete darkness at up to 2000 ft (1800 m), depending on HELION 2 model.
Built-in Photo and Video Recorder
The built-in video recorder is a great asset when it comes to recording video with sound, or taking photos of once-in-a-lifetime experiences. One press of the REC button captures footage that can be shared easily with colleagues, friends, and family. 16 GB of internal memory stores many hours of video and tons of photos.
Wi-Fi Integration with IOS and Android devices
The built-in in Wi-Fi module connects HELION 2 with Android or iOS smartphones or tablets. The combination of smartphone and thermal imager enables direct image streaming, downloading and sharing recorded files, firmware updates, and more.
Power Supply System B-Pack
Each HELION 2 includes a progressive autonomous B-Pack power supply consisting of a quick-detach, rechargeable IPS7, 6.4 A-h battery pack designed to deliver over 10 hrs of operation on maximum mode. Higher-powered IPS14 battery packs, as well as AA battery cases, also are available.
Stadiametric Rangefinder
HELION 2 has a stadiametric rangefinder to measure the distance to observed objects of a known height (deer 1.7 m; boar 0.7 m; hare 0.3 m).
Wide Range of Operation Temperatures
HELION 2 thermal monoculars are suitable for use in low temperatures (-25°C) thanks to the frost-resistant AMOLED display. (The image remains the same as when viewing at positive temperatures.)
High Image Frequency
The high image frequency of 50 Hz makes it comfortable to use thermal camera during rapid movement by the observer or the viewing object.
Updatable Software
For initial setup and additional updates, the iOS and Android compatible Stream Vision App ensures the most recent HELION software versions are available.
External Power Supply
HELION 2 makes charging from external sources, such as power banks, fast and easy with a micro-USB jack. The convenience of power bank charging also enhances the ability to power up HELION 2 during extremely cold weather while also protecting the source from rapid discharge.
User-Friendly Interface
HELION 2 is designed with ease-of-operation in mind. User feedback has resulted in the most friendly interface to date, complete with an easy-to-read, icon-driven, alphanumeric status bar at the bottom of the display. Internal menu items and options are also displayed on a contrasting gradient substrate so you can keep an eye on settings without losing sight of your objective.
External Power Supply
HELION 2 makes charging from external sources, such as power banks, fast and easy with a micro-USB jack. The convenience of power-bank charging even enhances the ability to power up HELION 2 during extremely cold weather while also protecting the source from rapid discharge.
HELION 2 Accessories
Stream Vision
The Stream Vision mobile app (iOS or Android) was developed by Yukon Advanced Optics Worldwide for hunters, professional sport shooters, forestry and conservation organizations, security professionals, life-rescue teams, and outdoor enthusiasts. Stream Vision integrates HELION 2 with mobile devices (smartphones, tablets), providing a higher level of comfort in controlling the units, as well as extending functional capabilities and adding new application scenarios.
PB8I Battery
The Pulsar PB8I Power Bank is designed to extend the operating time of Pulsar devices equipped with a microUSB port.
C-Clamp Mount
Designed for fixing Pulsar units equipped with a 1/4″ tripod mount on various elements (crossbeam, handrail etc.). The pivoting ball head allows the Pulsar unit to be mounted in any convenient position.
Tree Mount
Designed for fixing Pulsar devices equipped with a 1/4″ tripod mount on such vertical elements as a tree trunk or branch, pillar, column, etc. It uses adjustable straps or screws that are screwed into wooden parts of a structure (through the holes in plastic parts of the Tree Mount). The Weaver rail allows additional equipment, such as Pulsar PB8I Power Bank, to be mounted.
Window Frame Mount
Mounts optical devices on outside elements of standard PVC windows or any other suitable windows. This mount has a swivel head with a 1/4″ tripod mount and quick-release plate.
Flat Glass Mount
Designed for the fixing of digital and thermal devices equipped with a 1/4″ tripod mount to various flat surfaces such as a window or automobile glass, paving tile, polished metal, plastic etc.
Neck Straps
Allows HELION 2 to hang around neck.
Pulsar Helion 2 XQ Specifications
Model
XQ38F
XQ50F
MPN
PL77396
PL77397
UPC
812495026591
812495026508
Sensor
Detector type
Uncooled ASi
Resolution
384×288 pixels
Pixel pitch
17 μm
NETD

<40 mK

Frame rate
50

Hz

Optics
Lens focus

35 mm

50 mm

Relative aperture

1:1 D/f'

Magnification

3–12x

4.5–18x

Digital zoom

2/4x

Field of view (HxV), degrees / m@100m

10.7×8.0 / 18.7×14.0

7.5×5.6 / 13х9.8

Minimum focusing distance

3–5 m

Eye relief

15 mm

Exit pupil

5 mm

Diopter adjustment, dptr.

± 5

Display
Type
AMOLED
Resolution
1024×768

pixels

Color palettes

8

Picture-in-Picture

Yes

Range Performance
Detection range (object H/W = 1.7/0.5m)

1350 m

1800 m

Stadiametric rangefinder

Yes

Calibration (non-uniformity correction)

Manual, Auto, Semi-auto

Built-in Video Recorder
Built-in memory size

16 GB

Built-in memory capacity

5+ hours of video or >100 000 pictures

Video/photo format

.mp4/.jpg

Video/photo resolution

1024×768 pixels

Built-in Wi-Fi
Wi-Fi Standard

802.11 b/g

Frequency

2.4 GHz

Line-of-sight reception range

15 m

Stream Vision application support

Yes

Power Supply
Output voltage, V

3.0 – 4.2

Battery type
Pulsar IPS7 (Li-ion)
Capacity

6400 mAh

Operating time on battery pack (at t=22°C)

9 hours

External power supply

5V Micro USB type-C (power/data)

Physical
Ingress protection (IP) code (IEC60529)

IPX7

Operating Temp

-25 to +50 °С

Tripod mount

1/4″ socket

Housing material

Magnesium alloy

Dimensions

234.6х55х58 mm

226x55x58 mm

Weight (without batteries)
0

.45 kg

0.5 kg

*Disclaimer: Specifications are subject to change without notice.