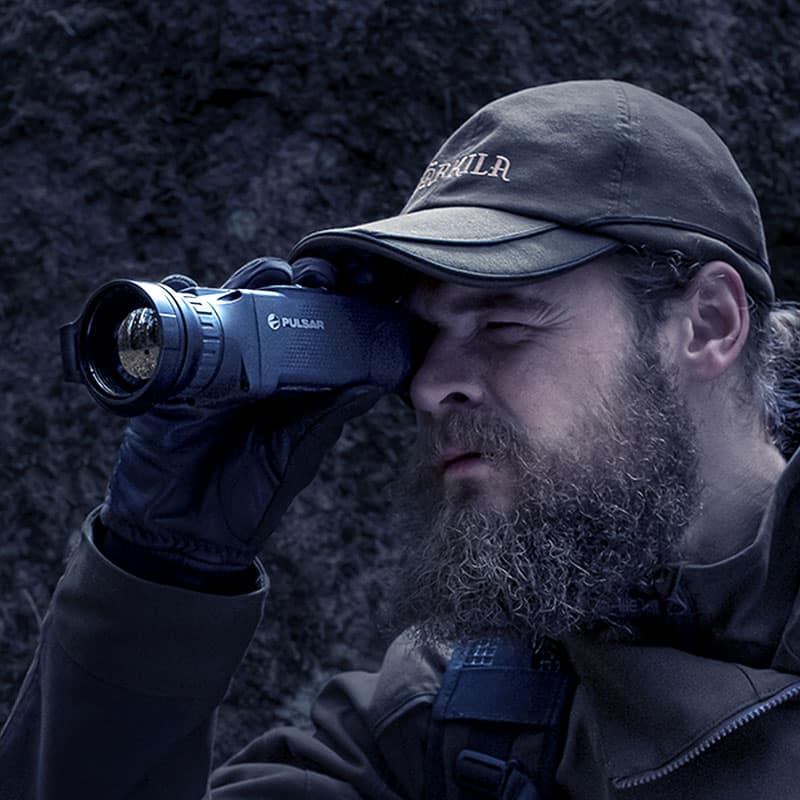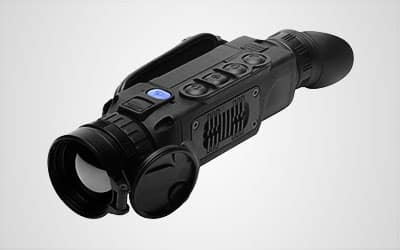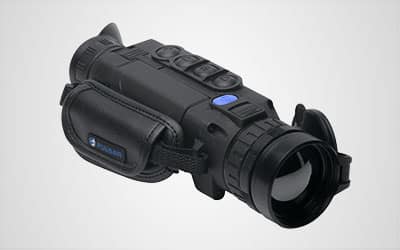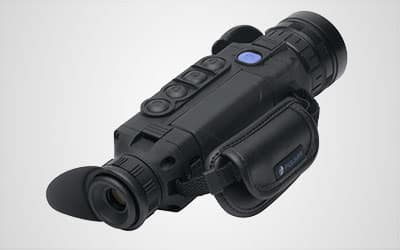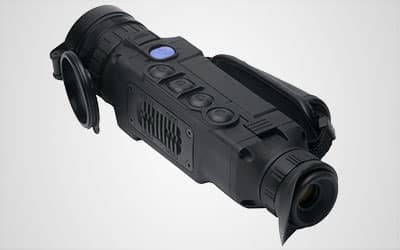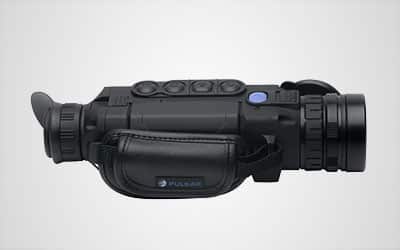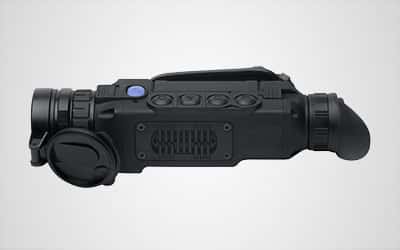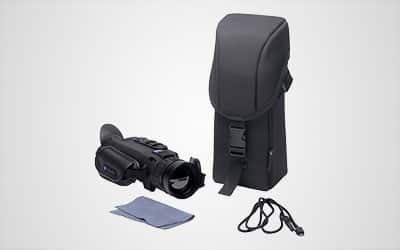 Pulsar Helion 2 XP50 Pro

Thermal Monocular
The sleek and powerful Helion 2 XP50 Pro is packed with cutting-edge features and technology. Its highly sensitive thermal sensor (<25 mK) detects heat signatures at up to 2000 yards and displays them on a sharp 1024×768 AMOLED display. Whether hunting, ranching, providing security, or conducting search and rescue, the Helion 2 XP50 Pro is mission critical!
Export Statement
It is the responsibility of the buyer to comply with export control laws and regulations of the United States Government and to obtain export licenses if required.Learn more >
Summary of Helion 2 XP50 Pro Features
Highly Sensitive Thermal Imaging Sensor (<25 mK NETD)
Fast Aperture f1.0 Quality Germanium Optics
Long Detection Range up to 2000 Yards
Image Boost Technology
HD AMOLED Display
Built-in Photo and Video Recorder
4 Observation Modes
Variable Digital Zoom
Picture-in-Picture mode
8 Color Palettes
8 Hours Operation (on single charge)
Unprecedented Thermal Sensitivity
The Helion 2 XP50 Pro thermal sensor features 640×480 resolution (17 µm) and NETD <25mK to ensure perfect detail recognition even in the hardest weather conditions when thermal contrast is low. The smallest temperature differences will be clearly visible during rainfall, fog, or cold mornings—the most difficult conditions for thermal imaging. The richly contrasted thermal imaging enhances identification of animals, their extremities, and even the smallest details, such as branches, leaves, grass, and terrain.
Long Detection Range
A powerful long-distance F50/1.0 objective lens combined with the high end thermal sensor provides exceptional detection capabilities. A standard 6 foot tall object can be detected up to 2000 yards away in complete darkness.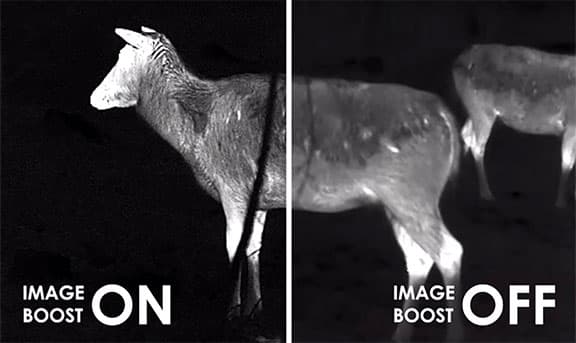 Image Boost Function
The Helion 2 XP50 Pro employs proprietary Image Boost technology to produce even clearer high contrast images with precise tracing of contours and detailed visualization of the smallest objects in areas with minimal temperature differences. A hunter is able to clearly identify objects, both target and background, as well as accurately evaluate the trophy.
Large Aperture Lens
The characteristics of thermal imaging optics have a decisive influence on a thermal imagers ability to capture even the lowest radiation levels. Ultimate detection efficiency is achieved with the fast lens (F50/1.0) of the Helion 2 XP50 Pro, aka the Helion XP50. In combination with highly sensitive thermal sensor and sophisticated image processing, the objective lens helps deliver the sharpest thermal image possible.
Magnesium Alloy Housing
The lightweight magnesium alloy housing stands out for its high structural strength and resistance to external mechanical and climatic loads. The housing material effectively removes and dissipates the heat generated by the electronics, ensuring the operational stability of the thermal imager and maintains a high quality image during prolonged observation.
Full Color HD AMOLED Display
The new 1024×768 HD AMOLED display has improved color rendering and energy efficiency. Its high contrast and a quick response displays clear and smooth images when observing on-the-move or in cold conditions.
16 GB Photo/Video Recorder
The built-in video recorder is a great asset when it comes to filming or taking photos of once-in-a-lifetime experiences. One press of the REC button captures footage that can be shared easily with colleagues, friends, and family. 16 GB of internal memory stores over eight hours of video or 100,000 photos.

8 Color Palettes
A choice of eight color palettes lets the user observe their field of view more effectively, optimized for specific tasks and adjustable for changing conditions. White Hot, Black Hot, and Red Hot are optimal for object detection, Rainbow and Ultramarine help with recognition and identification. Red Monochrome, Sepia, and Violet are most suitable for long observation in the night.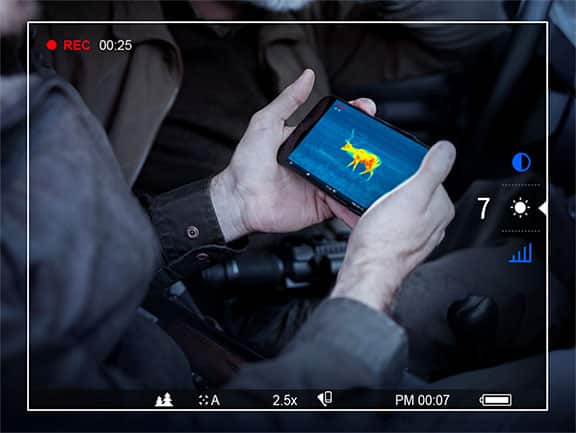 Wi-Fi Connectivity with Smart Devices
The built-in Wi-Fi module connects the device with either Android or iOS smartphones using the Stream Vision 2 mobile app. This combination opens up a wide range of options: wireless device software updates, real-time image transmission to the mobile device screen, remote control digital functions, and much more. Users registered in the application are provided with cloud storage space for photos and videos taken with the Helion 2 XP50 Pro. (The first version of the Stream Vision is also supported.)
Quick-Change High Capacity Battery
Quick-change rechargeable battery packs provide up to 8 hours of non-stop operation. The Helion 2 XP50 Pro can run all night on a single battery pack. Any ordinary power bank connected via Micro USB can be used as external power supply. The IPS14 Battery Pack, available as a separate item, provides up to 16 hrs. of operation time. A battery cradle for LR6 (AA) batteries is an optional accessory.
Picture-in-Picture Function
Picture-in-Picture (PiP) displays a magnified image at the top-center 10% of the overall field of view for precise zooming on an object of interest.
IPX7 Waterproof Rated
The Helion 2 XP50 Pro is IPX7 waterproof-rated for protection from heavy rainfall, snow, or other precipitation. The unit is designed to run flawlessly, even after submersion in up to 1 meter of water for up to 30 minutes.
Wide Range of Operating Temperatures (-25 to +50°C)
The housing, power unit, optics, and electronics of the Helion 2 XP50 Pro are designed to function flawlessly in a wide range of temperatures, from -13° F to 122° F.
Stadiametric Rangefinder
The stadiametric rangefinder is a dynamic rangefinding scale intended to help determine approximate range to objects with known height, such as 1.7 m (deer), 0.7 m (wild boar), and 0.3 m (rabbit).
High Refresh Rate
The 50 Hz frame rate helps capture and deliver smooth images during rapid movement of either the observer or the target.
Updatable Software
The iOS and Android compatible Stream Vision App ensures the most recent Helion software versions are available.
External Power Supply
The Micro USB jack allows fast and easy charging from external power banks and other sources. The convenience of power-bank charging even enhances the ability to power up the Helion during extremely cold weather while also protecting the source from rapid discharge.
User-Friendly Interface
The Helion 2 XP50 Pro is designed with ease-of-operation in mind. User feedback has resulted in the most friendly interface to date, complete with an easy-to-read, icon-driven, alphanumeric status bar at the bottom of the display. Internal menu items and options are also displayed on a contrasting gradient substrate so you can keep an eye on settings without losing sight of your objective.
Display Off
When it is necessary to temporarily stop observation the user can apply the Display Off function. It provides the necessary level of camouflage (no light from the eyepiece of the device) between observation sessions as well as the fast restart of observation (when display is turned off, all other systems are working; for normal operation it is enough just to power on the display again). 
Included in Package
Battery pack
USB cable
Hand strap
Lens Cleaning Cloth
Carrying Case
Accessories
IPS Batteries
Interchangeable power supplies: IPS 5 (8–10 hrs), IPS 7 (10–13 hrs), IPS 10 (16–20 hrs), IPS 14 (22–26 hrs).
IPS Battery Charger
Compatible with IPS5, IPS7, IPS10, IPS14 battery packs.
PB8I Battery
Power bank extends operating time via the Micro USB port.
Germanium Lenses
Interchangeable objective lenses: F28/1.2 (1000 m detection range), F38/1.2 (1350 m), F50/1.2 (1800 m). Quick bayonet mounting. Waterproof.
C-Clamp Mount
Designed for fixing Pulsar units equipped with a 1/4″ tripod mount on various elements (crossbeam, handrail etc.). The pivoting ball head allows the Pulsar unit to be mounted in any convenient position.
Tree Mount
Designed for fixing Pulsar devices equipped with a 1/4″ tripod mount on such vertical elements as a tree trunk or branch, pillar, column, etc. It uses adjustable straps or screws that are screwed into wooden parts of a structure (through the holes in plastic parts of the Tree Mount). The Weaver rail allows additional equipment, such as Pulsar PB8I Power Bank, to be mounted.
Window Frame Mount
Mounts optical devices on outside elements of standard PVC windows or any other suitable windows. This mount has a swivel head with a 1/4″ tripod mount and quick-release plate.
Helion Flip-Up Phone Mount
Mounts a smartphone on Helion 2. When streaming image from Helion 2 via Wi-Fi, the smartphone acts as an external display for the thermal scope. Inclinable at various angles. Collapsible for travel.
Flat Glass Mount
Designed for the fixing of digital and thermal devices equipped with a 1/4″ tripod mount to various flat surfaces such as a window or automobile glass, paving tile, polished metal, plastic etc.
Neck Straps
Allows Helion 2 to hang around neck.
Pulsar Helion 2 XP50 Pro Specifications
General
MPN
PL77431
UPC
812495027062
Sensor
Type
uncooled microbolometer
Resolution, pixels
640×480
Pixel pitch
17 µm
NETD
<25 mK
Frame rate
50 Hz
Optics
Objective Lens
F50/1.0
Lens Material
Germanium
Magnification
2.5x – 20x
Digital Zoom
2/4/8x
Field of view (HxV),
degrees / m @ 100 m
12.4×9.3 / 21.8×16.3
Minimum focusing distance
10–16.4 ft / 3–5 m
Eye relief
15 mm
Exit Pupil, mm
5
Diopter Adjustment
± 5
Display
Type
AMOLED HD
Resolution, pixels
1024×768
Stadiametric Rangefinder
Yes
Color palettes
8
Range Performance
Detection range
2000 yd / 1800 m
Video Recorder
Video / photo resolution, pixels
1024×768
Video / photo format
.mp4 / .jpg
Built-in memory
16 GB
Built-in memory capacity
8+ hours of video or 100,000+ photos
Integrated Wi-Fi
Wireless Standard
802,11 b/g
Frequency
2.4 GHz
Environmental Characteristics
Degree of protection, IP code (IEC60529)
IPХ7 (waterproof)
Operating temperature range
-13 to 122 °F / -25 – +50 °С
Connections and Compatibilities
Tripod Mount
1/4″ socket
Supported Application
Stream Vision, Stream Vision 2
Power Supply
Output voltage
3.0 – 4.2 V
Battery type
Li-Ion Battery Pack IPS7
Capacity
6400 mAh
Operating time on battery pack (w/o video out)
8 hours (at t=22°C)
External power supply
Micro USB type B (5V)
Weight & Size
Body material
Magnesium alloy
Dimensions
9.5×2.9×2.4 in / 242x75x60 mm
Weight
17.637 oz / 0.5 kg

Specifications are subject to change without notice.