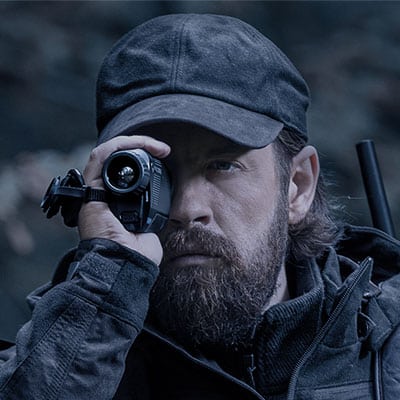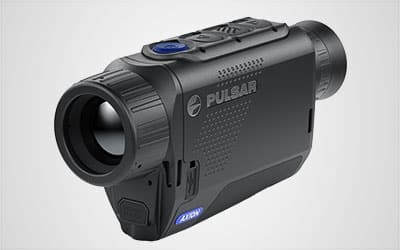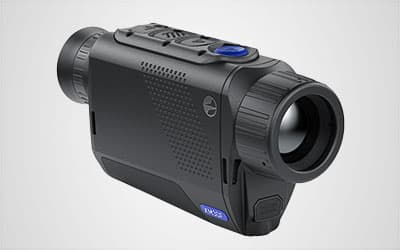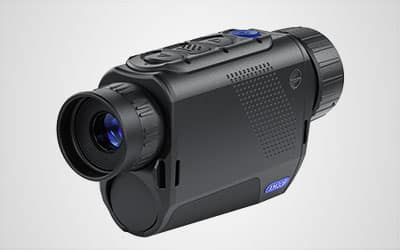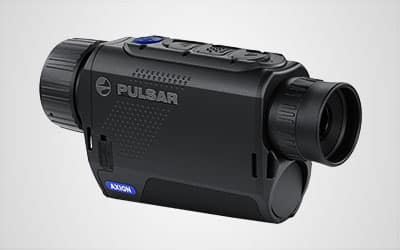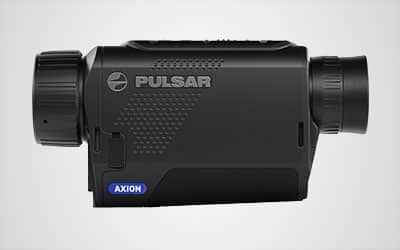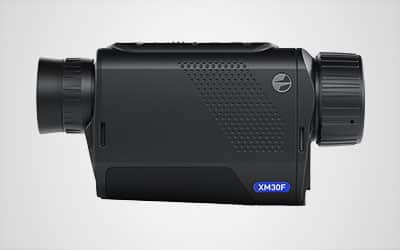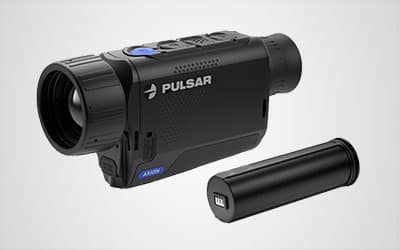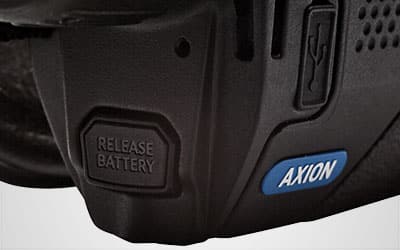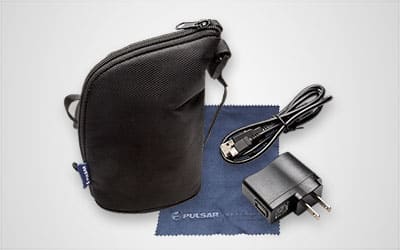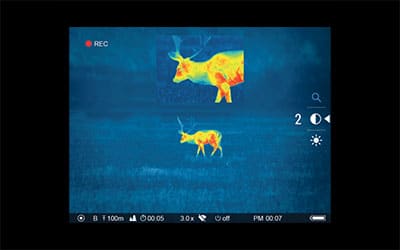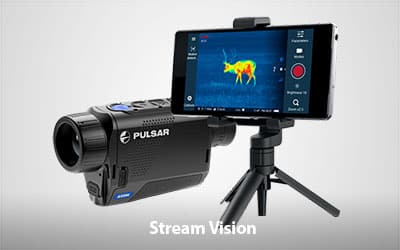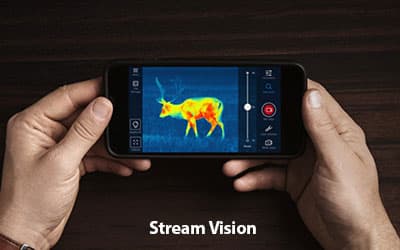 Pulsar Axion XM30F

Compact Thermal Monocular
The pocket-sized AXION XM30F delivers advanced features for hunters and nature enthusiasts. Based on a highly sensitive (<50 mK) 12 µm thermal sensor with 320×240 resolution, image quality is superb, with exceptional contrast and detail on the AMOLED display. Detect a man-sized object over 1400 yards away in pitch black. Stream to iOS and Android.
Export Statement
It is the responsibility of the buyer to comply with export control laws and regulations of the United States Government and to obtain export licenses if required.Learn more >
Whether you are hunting, hiking, checking your perimeter, or just observing wildlife, the lightweight and compact Axion XM30F is the thermal optic of choice. With a highly sensitive 320×240 thermal sensor, this pocket-sized monocular detects heat signatures over 1400 yards away, and the images are viewed with up to 12x digital zoom on a crisp 640×400 AMOLED display.
You always know the distance to your target with the built-in stadiametric rangefinder. Picture-in-picture mode and 8 selectable color palettes further enhance your viewing options. The built-in video recorder shoots videos and still images and stores them on 12 GB of internal memory. The Stream Vision 2 App for iOS and Android enables streaming and offloading via built-in Wi-Fi.
The Axion XM30F boasts 5 hours of operation using an Li-Ion 18650 battery, which is rechargeable by an external 5V micro USB source. A durable magnesium housing and waterproof rating (IXP7) ensure that the Axion XM30F excels in a wide variety of weather conditions.
Feature Summary:
Pocket-sized dimensions
Light weight under 9 oz.
Detection range over 1400 yards
320×240 thermal sensor with 12 µm pixel pitch
Ideal 3x optical magnification
Up to 12 digital magnification
Frost-resistant 640×400 AMOLED display
Picture-in-picture
Selection of 8 color palettes
Stadiametric rangefinder
Built-in photo and video recorder
16GB built-in memory
Wi-Fi connectivity
Stream Vision 2 app for iOS & Android
Li-Ion 18650 batteries
5 hours of battery life (rechargeable)
Rugged magnesium alloy housing
IPX7 waterproof rated
Pocket-sized dimensions and light weight
Axion XM has a space-saving and pocket-sized design and weighs under nine ounces. The symmetrical layout of control buttons along the top of the monocular makes it easy to grip and operate by either right-handed or left-handed users.
Detection range up to 1400 yards
High-quality optics and a highly sensitive (<50mK) 12 micron thermal sensor can detect an object 6 feet high up to 1400 yards away.
Ideal optical magnification
The 3x magnification of Axion XM30F is optimal for comfortable inspection of the target at short and medium distances, while the field of view is sufficient for observing dynamic scenes. The magnification is increased up to 4 times by means of digital zoom to identify distant objects.
Rugged magnesium alloy housing
Axion XM is designed for constant, rugged use. The magnesium alloy housing is light and strong and reliably protects the internal components from shocks, drops, moisture, and heat or cold. The metal housing effectively removes heat from electronics, minimizes image noise, and increases consistency of long-term observations.
5+ hours of battery life on a single charge
A quick-change APS3 rechargeable battery provides 5 hours of continuous operation on a single charge. The battery can be swapped with a new one in seconds. Recharging is by external charger, or inside the device via USB from a PC, household power system, or power bank. The same sources can be used as an external power supply.
Three levels of signal amplification
Selection of the signal amplification level, combined with new filtration algorithms and fine brightness and contrast adjustments, delivers superior long-range detection under diverse weather and temperature conditions. The amplification setting helps to define the target's features and ensures clear rendering of objects and background in the field of view.
Frost-resistant AMOLED display
The high-contrast AMOLED display has improved color rendering, power saving, and quick-response. Even under frosty conditions, images are sharp and smooth.
A selection of 8 color palettes
A choice of 8 color palettes lets the user optimize the Axion XM30F for specific tasks and adapt to changing observation conditions. White Hot, Black Hot and Red Hot are optimal for object detection. Rainbow and Ultramarine help increase chances for recognition and identification. Red Monochrome, Sepia, and Violet are most suitable for long observation during night.
Built-in photo and video recording
One press of the REC button captures footage that can be shared easily with colleagues, friends, and family. 16 GB of internal memory provide many hours of recorded video and tons of photos.
WiFi integration with iOS and Android devices
The built-in WiFi module connects the Axion XM30F with either Android or iOS smartphones or tablets using the Stream Vision 2 mobile application. This combination opens up a wide range of options: wireless device software updates, real-time image transmission to the mobile device screen, remote control digital functions, and much more. Users registered in the application also have access to cloud storage space for photos and videos taken with the monocular.
IPX7 waterproof rated
Axion XM30F is waterproof (IPX7 rated) for protection from heavy rainfall, snow. or other precipitation. The unit is designed to run flawlessly even after submersion in up to one meter of water for up to 30 minutes.
Pulsar Axion Accessories
APS Battery Packs
Interchangeable standard power supplies.
APS Battery Charger
Charges APS2 / APS3 battery packs.
Pulsar PB8I
The Pulsar PB8I power bank extends Axion operating time via the microUSB port.
C-Clamp Mount
Designed for fixing Pulsar units equipped with a 1/4″ tripod mount on various elements (crossbeam, handrail etc.). The pivoting ball head allows the Pulsar unit to be mounted in any convenient position.
Tree Mount
Designed for fixing Pulsar devices equipped with a 1/4″ tripod mount on such vertical elements as a tree trunk or branch, pillar, column, etc. It uses adjustable straps or screws that are screwed into wooden parts of a structure (through the holes in plastic parts of the Tree Mount). The Weaver rail allows additional equipment, such as Pulsar PB8I Power Bank, to be mounted.
Window Frame Mount
Mounts optical devices on outside elements of standard PVC windows or any other suitable windows. This mount has a swivel head with a 1/4″ tripod mount and quick-release plate.
Neck Straps
Allows Axion to hang around neck.
Pulsar Axion XM30F Specifications
General
MPN
PL77473
UPC
812495029721
Sensor
Type
uncooled microbolometer
Resolution
320×240 pixels
Pixel pitch
12 µm
Frame rate
50 Hz
Optics
Objective lens
F30/1.2
Magnification
3x – 12x
Field of view (HxV)
7.8° x 5.9° / 13.7 m @ 100 m
Diopter adjustment
+4/-5 dptr.
Display
Type
Resolution
640×400 pixels
Stadiametric rangefinder
Yes
Color palettes
8
Scene optimized observation modes
4
Range Performance
Detection range
1400 yds
Video Recorder
Video / photo resolution
528х400 pixels
Video / photo format
.mp4 / .jpg
Built-in memory
16 GB
Connections & Compatibilities
Wi-Fi standard

802.11 b/g/n/ac

Wi-Fi frequency

2.4 GHz

Supported application (iOS & Android)

Stream Vision 2

Power Supply
Output voltage
3.0 – 4.2 V
Battery type
Li-Ion Battery Pack APS 3
Capacity
3200 mAh
Operating time on battery pack (at t=22°C)
5 hrs
External power supply
5V microUSB
Physical & Environmental Characteristics
Degree of protection, IP code (IEC60529)

IPХ7

Operating temperature range

-25° C to +40 °C

Housing material

Magnesium alloy

Dimensions

5.6″ L x 1.6″ W x 2.7″ H

Weight

8.8 oz