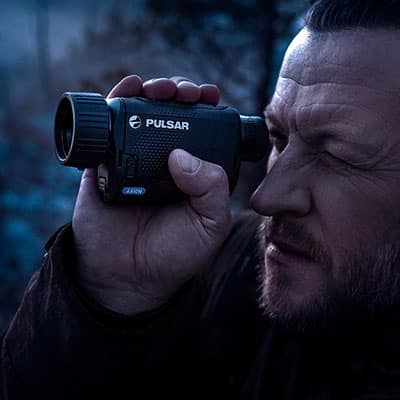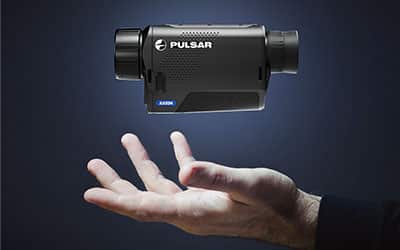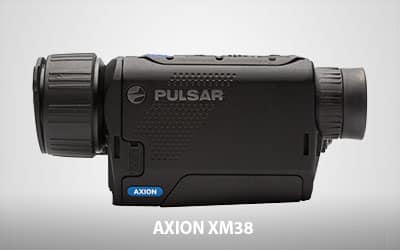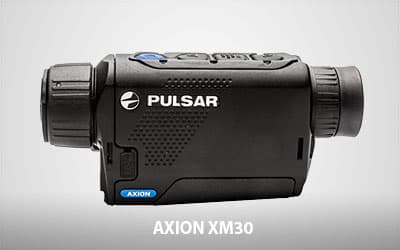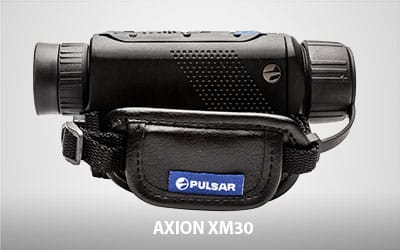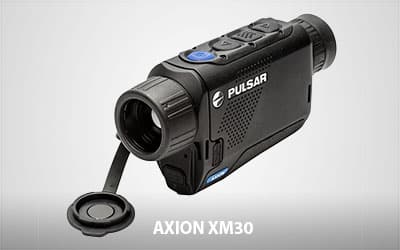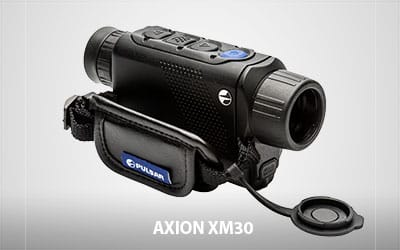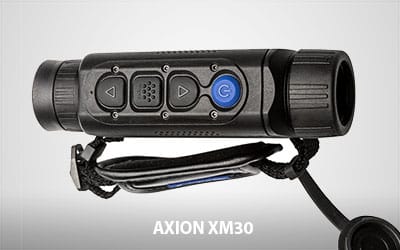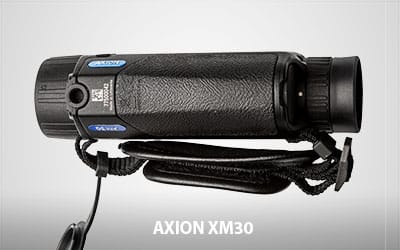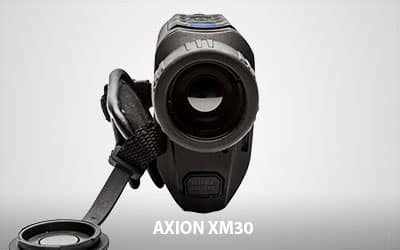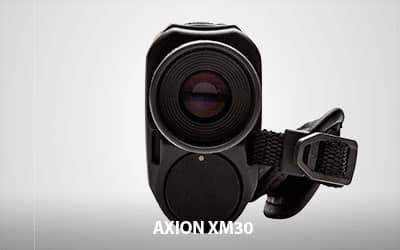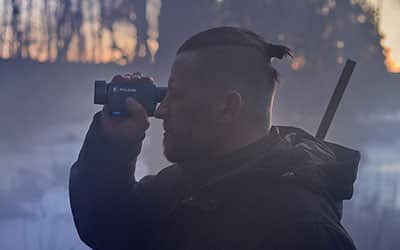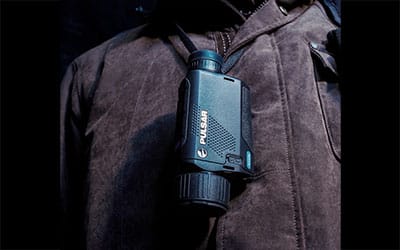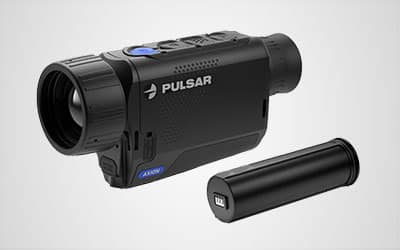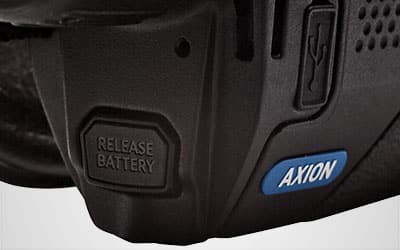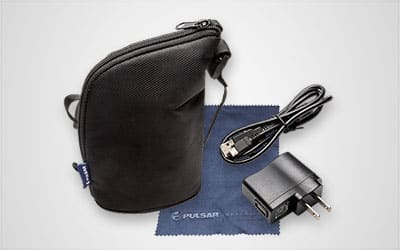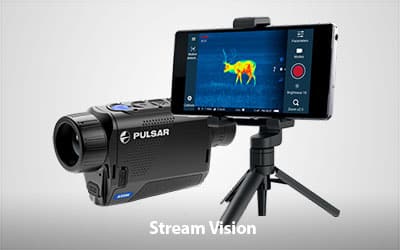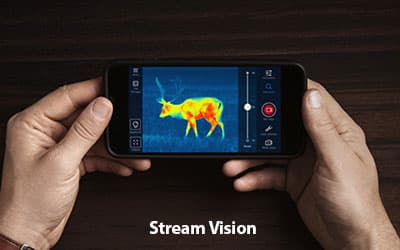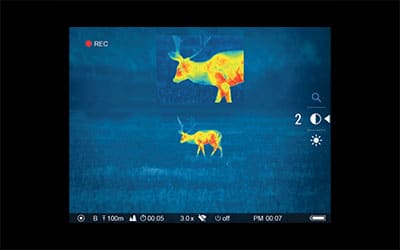 Pulsar AXION

Compact Thermal Monocular
The pocket-sized Pulsar AXION delivers advanced features and functions to professionals charged with observation and detection, as well as hunters and nature enthusiasts. Based on a 12 µm thermal sensor with 320×240 resolution, image quality is superb, with exceptional contrast and detail, and the AXION M38 can detect a man-sized object over a mile away in pitch black.
Export Statement
It is the responsibility of the buyer to comply with export control laws and regulations of the United States Government and to obtain export licenses if required.Learn more >
Three AXION Models
Pulsar AXION thermal monoculars come in three models: AXION XM30 or AXION KEY XM30 with a 30mm objective lens and AXION XM38 with a 38mm lens. Choose the model that offers the best combination of magnification, range, and field of view for the desired application. (The KEY XM30 does not have image recording or wifi connectivity, and it uses an LCOS display instead of AMOLED.)
Small Pocket-Sized Format
AXION fits perfectly in one hand or an ordinary pocket, making it well suited to scouting and spotting. User friendly controls are located on top, right under the fingers, for easy operation with either hand.
12 µm Thermal Imaging Sensor
An advanced thermal imaging sensor with 12 µm pixel pitch helps achieve higher optic magnification, greater observation distance, and helps make the monocular more compact.
Long Detection Range
The high grade germanium objective lens in combination with the 12 µm thermal imaging sensor achieves exceptional detection capabilities. A standard 1,8 m (6 ft) tall object can be detected with the AXION XM38 at 1700 m (1800 yds) in complete darkness.
High Optic Magnification
AXION provides best-in-class optical magnification (4.1x for XM30 and 5.5x for XM38), and up to 4x digital zoom multiplies it. 
Stadiametric Rangefinder
AXION features a stadiametric rangefinder that determines the distance to an object if the object's height is already known.
HD AMOLED Microdisplay
The high contrast AMOLED microdisplay offers crisp images and vivid colors with HD resolution. This display ensures excellent image quality and flawless performance even in freezing temperatures. (The MX30 Key model comes with LCOS microdisplay.)
8 Display Color Palettes
AXION images can be displayed in any of  8 color palettes to enhance contrast and brightness in varying conditions, from dense forest to rocky terrain to foggy conditions. The classic "White Hot" mode is exceptionally versatile "Hot Black" is often favored for detecting wildlife at night. "Red Monochrome" helps to reduce or prevent bright backlight from exiting the eyepiece.  "Red Hot", "Rainbow", and "Ultramarine" enhance temperature differences of various object attributes. "Sepia" and "Violet" reduce eye fatigue during long observation.
Picture in Picture Function
Picture in Picture is a handy mode when zooming only a part of image is necessary. Upon activation it displays a second, small image in the top part of the screen. This inset image helps to zoom in on a target while retaining the rest of the field of view.
Instant Start-Up
The start-up time of less than 3 seconds helps to save energy and thus prolongs time of operation. AXION can be kept in a pocket, then rapidly activated when the right time comes.
Lightweight
Even small weights become important when the outdoor trip is long and multiple pieces of gear add up. AXION weighs around 300 grams, comparable to a regular rangefinder unit but with far greater capability.
Rugged Magnesium Alloy Housing
The AXION housing is made from a lightweight magnesium alloy to ensure high structural rigidity and ruggedness while retaining small weight and ergonomics.
IPX7 Waterproof Rated
IPX7 waterproof rating provides protection from heavy rainfall, snow, or other precipitation. The AXION is designed to run flawlessly, even after submersion in up to 3 feet of water for up to 30 minutes.
Video and Still-Photo Recording
The built-in video recorder can record videos in MP4 format and take photos in JPEG. One press of the REC button captures video that can be shared easily with colleagues, friends, and family. 16 GB of internal memory can store 10 hours of recorded video or thousands of photos.
Stream Vision App Supported
The built-in Wi-Fi module connects AXION with Android or iOS smartphones and tablets, enabling direct image streaming, downloading and sharing recorded files, firmware updates, and more. (Requires Stream Vision App on smart device.)
Quick Change APS Battery Pack
The rechargeable Pulsar APS3 battery pack can power the AXION for about 4 hours. A small button below the objective lens releases the battery and pushes it out of the unit when it is time for change. The power can also be fed via Micro-USB cable from the Pulsar PB8I or other power banks.
Pulsar AXION Accessories

APS Battery Packs
Interchangeable standard 3.6 V Li-Ion power supplies for AXION monoculars. APS2 weighs 0.04 kg and measures 59x24x24 mm. APS3 weighs 006 kg and measures 74x24x24 mm.

C-Clamp Mount
Attach AXION monoculars (which have a 1/4-inch tripod mount) to various thin profile structures (crossbeam, handrail, etc.). The pivoting ball head allows AXION to be mounted in any convenient position.
Pulsar PB8I
The Pulsar PB8I power bank extends AXION operating time via the microUSB port.

Tree Mount
Attach AXION monoculars to vertical elements such as a tree trunk or branch, pillar, column, etc, using adjustable straps or screws. The Weaver rail allows additional equipment, such as a Pulsar PB8I Power Bank, to be mounted.

APS Battery Charger
Charges APS2 / APS3 battery packs.

Window Frame Mount
Tripod for mounting AXION monoculars on outside elements of standard PVC windows or any other suitable windows. Tripod has a swivel head with 1/4-inch screw and quick-release plate.
Nonslip Phone Stand
The Pulsar Nonslip Phone Stand is designed to put a smartphone in a vertical position. Non-slip material allows you to securely install it on a horizontal surface or surface with a slight slope, such as car dashboard.

Flat Glass Mount
Strong suction cup attaches digital and thermal devices equipped with a 1/4-inch tripod mount to various flat surfaces such as a window or automobile glass, paving tile, polished metal, plastic, etc.
Specifications
Models
XM30
XM38
KEY XM30
SKU
PL77421
PL77422
PL77425
MPN
PL77421
PL77422
PL77425
Main
Sensor
320×240 pix. @ 12 µm
Objective lens
F28/1.2
F38/1.2
F28/1.2
Magnification, x
4.1 – 16.4 (x4 zoom)
5.5 – 22 (x4 zoom)
2.4 – 9.6 (x4 zoom)
Detection range, m
1200
1700
1200
Sensor
Type
uncooled
Resolution, pixels
320×240
Pixel pitch, µm
12
Frame rate, Hz
50
Optics
Objective lens
F28/1.2
F38/1.2
F28/1.2
Magnification, x
4.1 – 16.4
5.5 – 22
2.4 – 9.6
Field of view (HxV),
degrees / m @ 100 m
7.8×5.9 / 13.7×10.3
5.8×4.3 / 10.1×7.6
7.8×5.9 / 13.7×10.3
Display
Type
LCOS
Resolution, pixels
1024×768
960×720
Range Performance
Detection range, m
1200
1700
1200
Video Recorder
Video / photo resolution
1024×768 pixels
N/A
Video / photo format
.mp4 / .jpg
N/A
Built-in memory
16 Gb
N/A
Environmental Characteristics
Degree of protection,
IP code (IEC60529)
IPХ7
Operating temperature range, °С
-25 – +40
-10 – +40
Weight & Size
Dimensions, mm
143x41x69
149x49x70
143x41x69
Weight, kg
0.25
0.27
0.25
Power Supply
Output voltage, V
3.0 – 4.2
Battery type
Li-Ion Battery Pack APS3
Capacity, mAh
3200
Operating time on battery pack (at t=22°C), h *
4+
External power supply
5V
Wi-Fi
Frequency
2.4GHz
N/A
Standard
802,11 b/g/n
N/A
Line-of-sight reception range, m
15
N/A