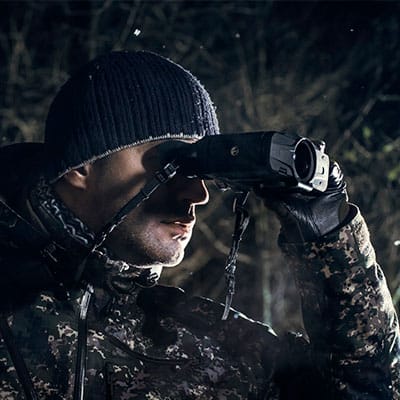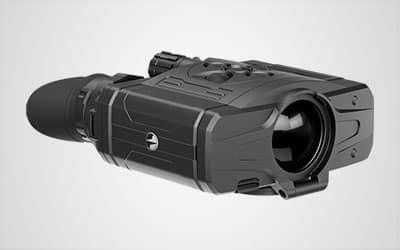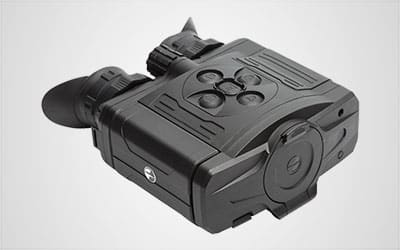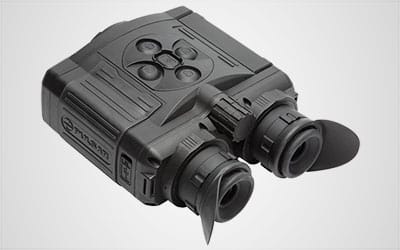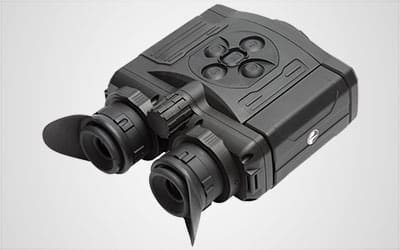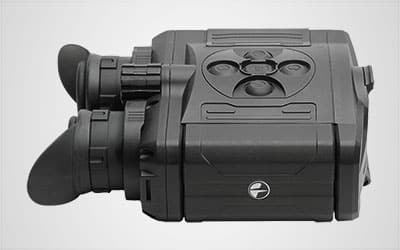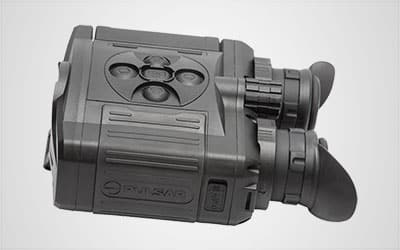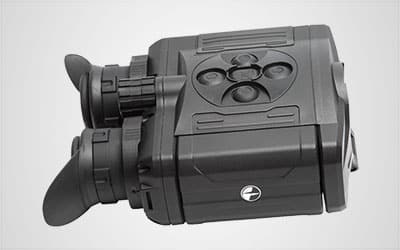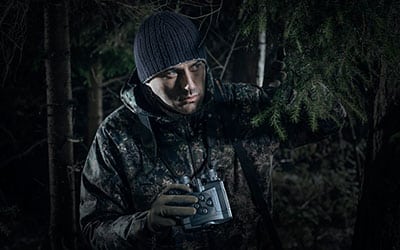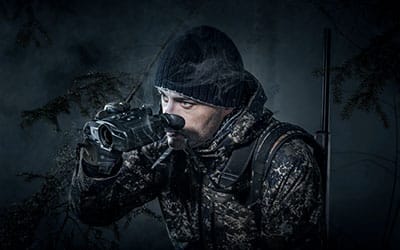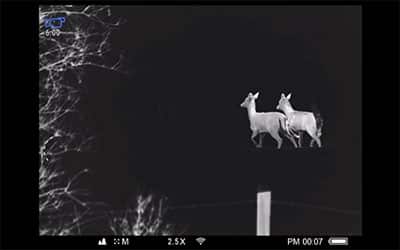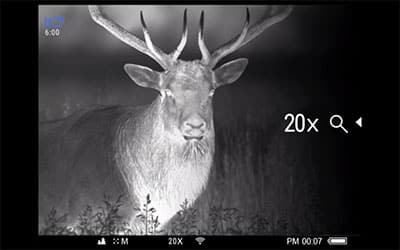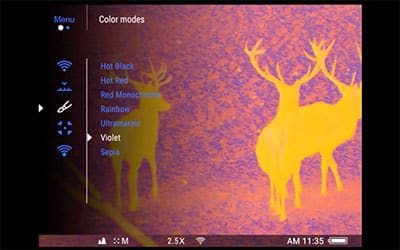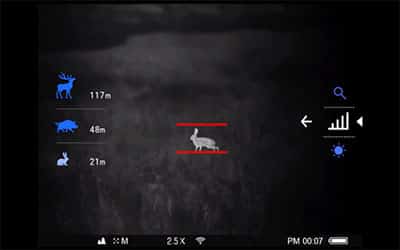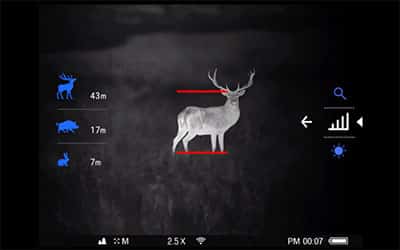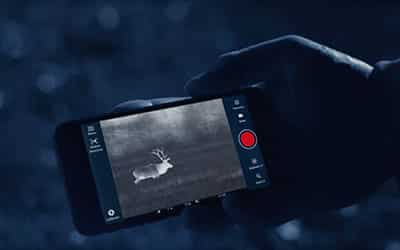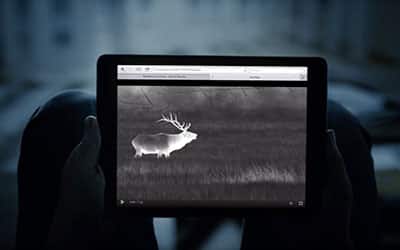 Pulsar Accolade

Thermal Imaging Binoculars
Accolade thermal binoculars combine an impressive refresh rate for real-time fluid motion with a highly-detailed sensor for ultra-crisp, detailed images. The dual eyepiece performs comfortably for longer observation times. Other features include picture-in-picture, fully waterproof construction, calibration modes, and observation modes for image optimization.
Export Statement
It is the responsibility of the buyer to comply with export control laws and regulations of the United States Government and to obtain export licenses if required.Learn more >
Dual Eyepiece Comfort for Long Observation
The Accolade's dual eyepiece with adjustable interpupillary distance reduces eye fatigue during longer viewing and enhances the natural look of objects. The human brain is pre-conditioned to receive visual information from two channels simultaneously. The brain then combines the information into a single image. When one eye is used to observe, the brain only receives information a single input. The increased effort from the brain to override the standard algorithm of visual perception can quickly lead to the observer feeling fatigued and uncomfortable.
Interpupillary distance differs from person to person. Adjusting for individual fit dramatically improves viewing comfort and quality, and eliminates the potential for double-imaging.
Two Resolutions, One Crisp Image
All the cutting-edge features you expect from Pulsar are offered in Accolade thermal imaging binoculars. The Accolade is available with affordable and practical 384×288 resolution or highly-detailed 640×480 resolution that makes even the smallest details, such as branches, leaves, and animal extremities, appear sharp and vibrant from up to 2,000 yards away. For all models, a 17µm pixel pitch core, high-contrast digital AMOLED display, and a 50 Hz refresh rate provides a stable, high-quality image and fluid, real-time motion in any weather condition.
Long Range Detection
Optic quality, the best thermal imaging sensor, and smooth and incremental digital zoom combine to deliver the longest detection range possible:
The Accolade XQ38, with or without laser rangefinder (LRF), has a magnification range of 3.1x to 12.4x, a 9.8 degree field of view, and can detect man-size heat signatures up to 1,475 yards away in complete darkness.
The Accolade XP50, with or without laser rangefinder (LRF), has a magnification range of 2.5-20x, a 12.4 degree field of view, and can detect  man-size heat signatures up to nearly 2,000 yards away in complete darkness.
Incremental zoom is a perfect solution to quick, on-the-fly zooming. When time is not a limiting factor but slight details are, the device's smooth zoom is the better option. All models of Accolade are well suited to up-close and long-range hunting, surveillance, and search and rescue.
Integrated Laser Rangefinder (LRF) Available
Both the Accolade XQ38 and XP50 are available as LRF models with an integrated laser rangefinder. The LRF LRF provides precise distancing in two modes: Single Time Measurement and Scanning. Scanning mode allows the shooter to adjust quickly to changing distances for better shot placement.
Stadiametric Rangefinder Standard
All Accolade models include an advanced and proprietary stadiametric rangefinder. The interface estimates range according to the object's size within seconds, so the perfect shot is never missed. 
Stream Vision: Remote Control and Live Internet Streaming
The smart electronics onboard the Accolade, in collaboration with the free Stream Vision app for iOS or Android, enables the binocular to connect to the internet, as well as function as a Wi-Fi hot spot. Broadcasting a video signal directly to a smartphone or tablet makes remote observation significantly easier. When two people are in the field, both can see the image, one on the device's display and the other on their smartphone or tablet screen. When a situation requires covert operation, viewing from just a tablet or smartphone may be safer or more convenient.
The user can also live stream in real-time to YouTube, transfer files, update firmware, control the optic remotely, and take advantage of these two newer features: 
Motion Detection. The user is automatically alerted to a moving object in the device's field of view. Setting detection accuracy is simple, based on object size and type of notification, sound or vibration. Enhanced accuracy can be obtained by making the device immobile during motion detection.
Ballistic Calculator. Determine precise ballistics for more accurate shooting. Setting up preferred ammunition parameters, weather conditions and other pertinent variables is easy. Once set up, the ballistic calculator determines windage and elevation adjustments required for accuracy, even at long distances. The calculations work perfectly with Pulsar riflescopes and are compatible with other scopes.
Built-in Video Recorder
The built-in video recorder makes it simple to capture photos of once-in-a-lifetime experiences. One press of the REC button captures footage that can be shared easily with colleagues, friends, and family.
8 Custom Color Modes
Built for accuracy in virtually any condition, the Accolade's AMOLED display provides stable, high-quality images that retain their contrast and vivid colors during extreme temperatures. Identification of objects is faster with the option to switch between eight custom color modes, including "white hot" and "black hot," which helps clearly distinguish between objects and the background in varying conditions.
Identify objects faster and easier by adjusting the eight different color modes for the viewing conditions.
While the classic "White Hot" mode is exceptionally versatile, "Hot Black" is often favored for detecting wildlife at night. Red monochrome helps to reduce or prevent bright backlight from exiting the eyepiece. Sepia often improves long-range observation while "Red Hot", "Rainbow" and "Ultramarine" enhance temperature differences of various object attributes. Violet helps to identify objects faster.
50 Hz Refresh Rate
At a high refresh rate of 50 Hz, the Accolade provides crisp, comfortable viewing even during dynamic, rapid motion.
Quick-Change Long-Life Rechargeable Battery Packs
The Accolade uses an innovative battery-release mechanism for fast, flawless battery changes. The rechargeable IPS5 battery packs provide up to 8 hours of continuous operation in Wi-Fi mode, with the option to upgrade to even higher capacity battery packs for longer use time. 
Frost Resistant AMOLED Display
The Accolade is designed for flawless operation in extreme weather and temperature conditions. Whether the environment is freezing cold or blistering hot, the image retains its contrast and vivid colors without loss of frame rate. The high contrast, color AMOLED display delivers stable, high quality imaging in virtually any weather conditions.
"Picture-in-Picture" Mode
Picture-in-Picture mode provides a second, magnified reticle-area image to help the observer see magnified target details without loss of field of view.
Fully Waterproof
Rain, snow, fog, high waves, and other moisture don't bother the Accolade, which has an IPX7 waterproof rating. The Accolade is manufactured and rigorously tested to withstand extreme weather conditions, even submersion to a depth of one meter for up to 30 minutes.
Calibration Modes (Non-Uniformity Correction)
A thermal imaging sensor requires calibration or non-uniformity correction (NUC) from time to time. Calibrating reduces or eliminates remaining redundant signals and improves overall image quality. The Accolade offers three modes of calibration: Automatic, Semi-Automatic, and Manual. 
In Automatic mode, the shutter closes and calibration is performed automatically within defined lime intervals and without user participation.
In Semi-Automatic mode the shutter closes and calibration is done only when the user presses the calibration button.
In Manual mode, also called "Silent', the shutter remains open but the user has to close the objective cap and press the calibration button.
Observation Modes
Already-stored observation modes optimize Accolade images in different environmental conditions by recognizing changes in temperatures in different terrains. Mountains, cities, and forests have different ambient temperatures, so situational settings have been optimized and gathered into profiles. Identification preset is another optimal-imaging option that makes identifying easier, even at longer distances.
Specifications
Specifications
Model
XQ38
XQ38 LRF
XQ50
XQ50 LRF
MPN
PL77411
PL77415
PL77414
PL77415
UPC
812495025136
N/A
812495025143
N/A
Frame rate
50 Hz
Microbolometer Resolution
384×288
640×480
Sensor Response
LWIR
Spectral Sensitivity
8-14

µm

17

µm

Pixel pitch
17

µm

Display Type
AMOLED
Display Resolution
640×480
Objective lens
F38/1.2
F50/1.2
Built-in Video Recorder Availability
Yes
Built-in Memory
8 GB
Video Clip (format)
*.avi
Resolution of Photo Files
640×480 px
Format of Photo Files
*.jpg
Micro USB Socket
Yes
Operating Modes
3
Integrated Wi-Fi
Yes
Defective Pixel Repair Option
Yes
Digital Zoom
2x / 4x
2x / 4x / 8x
Integrated laser rangefinder
No
Yes
No
Yes
Lens Diameter
32mm
42mm
Magnification
3.1–12.4
2.5–20
Lens Focus
38mm
50mm
Relative Aperature (D/f')
1:1.2
Field of View
9.8° – 7.4°
12.4° – 9.3°
Field of View m@100m
17.2° – 12.9°
21.8° – 16.3°
Field of View f@100yd
51.6° – 38.7°
65.4° – 48.9°
Minimum Focusing Distance
10 ft (3m)
Eye Relief
16mm
Diopter Adjustment
+5 to -5
Focusing Type of Distance
External
Range of detection (yards)
1475
1970
Power Supply
3-4.2 V
Battery Type
B-Pack (18650 Li-Ion)
Battery Life
7 hours
External Power Supply
5V – Micro USB
Lens Material
Germanium Glass
Body Material
Glass-nylon composite
Tripod Mount
1/4
Operating Temperature
-13° to 122° F (-25° to +50° C)
Level of Protection (acc. to IEC 60529)
IP67 100% dustproof and submergible to 1m for 1 hour
Calibration
Manual, automatic, and semi-automatic
Length
6.46″ (164mm)
Width
5.12″ (130mm)
Height
2.52″ (64 mm)
Weight (without batteries)
21.2 oz
N/A
21.2 oz
N/A

*Disclaimer: Specifications are subject to change without notice.