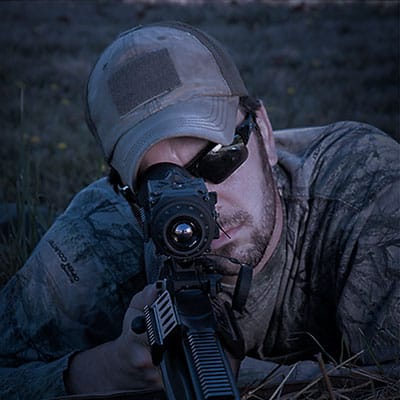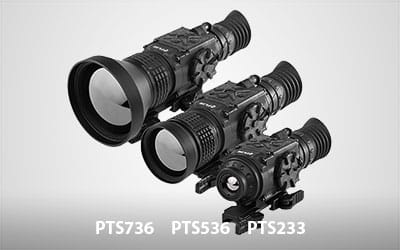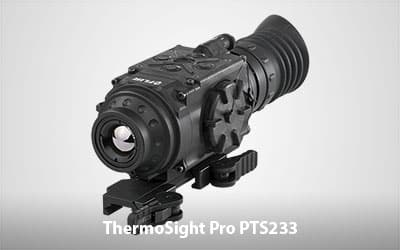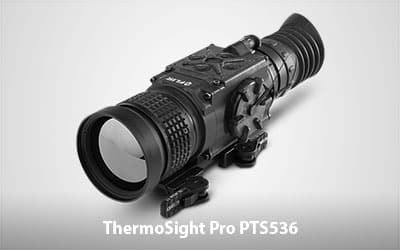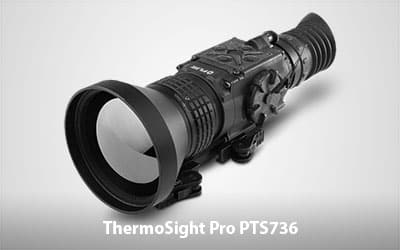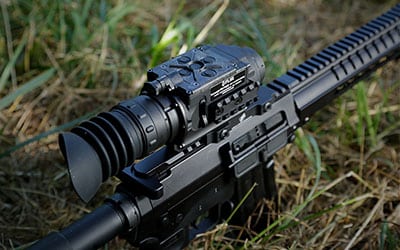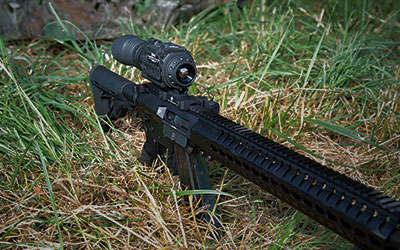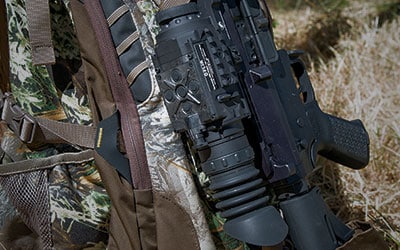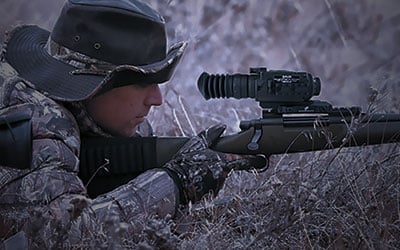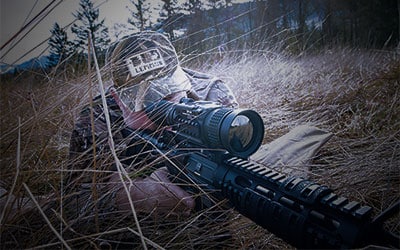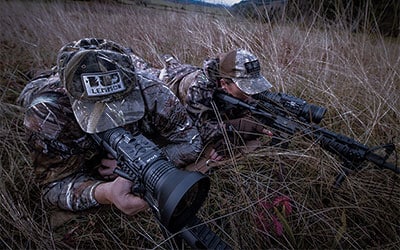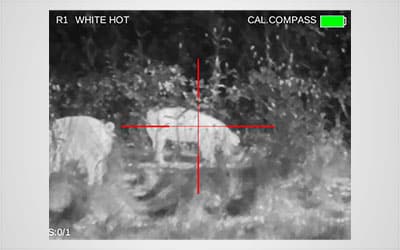 FLIR ThermoSight® Pro Series

Thermal Weapon Scope
Powered by the breakthrough FLIR Boson core, ThermoSight Pro Series weapon sights set the standard for thermal detection and classification. With multiple features packed into a compact housing, these thermal sights deliver brilliant, clean thermal imagery in low contrast daylight scenes, as well as in total darkness. With an emphasis on reliability, ThermoSight Pro is the perfect addition to any hunting or security weapon platform.
Export Statement
It is the responsibility of the buyer to comply with export control laws and regulations of the United States Government and to obtain export licenses if required.Learn more >
The Ideal Balance Between Size and Performance
Equipped with shot activated video recording and FLIR's patent pending High Visibility Technology (HVT) reticle, the FLIR ThermoSight Pro Series is the perfect addition to any hunting or security weapon platform. These thermal sights are powered by the new FLIR Boson core, featuring a 12 μm pixel pitch sensor, industry leading on-chip video processing. The entire ThermoSight Pro Series offers an uncompressed video signal, a high definition display, and shot-activated video recording for better detection and classification in the field.
The PTS233 has a 19 mm lens and a 12° × 9.5° field of view for maximum viewing area.
The PTS536 has a 50 mm lens and a 4.5° × 3.5° field of view for a "just right" balance between viewing area and range.
The PTS736 has a 75 mm lens and a 3° × 2.5° field of view for long-range targets.
Whichever ThermoSight Pro sight you choose, you will find greater levels of performance and functionality packed into a remarkably compact, nimble, and lightweight housing made of rugged aircraft-aluminum alloy that can withstand drops in the field.
ThermoSight Pro Series Features & Benefits
Exceptional vision
Advanced image processing eliminates the guesswork
Completely digital for better detection, classification, and recovery, day or night
Built using the new FLIR Boson thermal core
Bright, high definition FLCOS display for absolute clarity
Compact, Powerful
Perfect balance of size and performance
Powerful and compact hardware is protected by a robust aircraft-aluminum alloy body
Features a 12 μm pixel pitch and industry leading on-chip video processing
Outstanding thermal image quality in total darkness or through smoke, haze, fog, rain
Superior Value
Packed with features for a versatile and customizable viewing experience
On-board video recording, image capture, and storage. Up to 2.5 hours of recording time or up to 1,000 pictures
Shot activated video recording feature automatically captures before/after shot video
Stored video can be accessed and managed through Bluetooth 4.0 and USB-C connectivity
FLIR's patent pending HVT reticle technology provides clear reticle visibility against even the most difficult to discern backgrounds
Multiple color palettes, reticle types, and reticle colors, plus 3" of eye relief
Digital compass/inclinometer for precise range and target orientation
Reliable quick-release Picatinny rail
FLIR 10-year detector warranty
Swappable CR123A Batteries
Made in USA
Specifications
Model
PTS536
PTS736
Information
MPN
TAB176WN5MR0041
TAB176WN7LR0061
UPC
849815007831
849815007855
General
Detector Type
320 x 256 VOx Microbolometer
Video Refresh Rate
60 Hz
Start Up
< 6 seconds
Image Processing
FLIR Proprietary Digital Detail Enhancement™
System Specifications
Lens System
50 mm; F/1.0
75 mm; F/1.0
Optical Magnification
4x
6x
Field of View (H x V)
4.5° × 3,5°
3° × 2.5°
Digital Zoom
2×, 4×
Diopter Adjustment Range
-5 to +5 dpt
Focusing Range
10m to infinity
10m to infinity
Eye Relief
45 mm
Display
Quad-VGA (1280 x 960) FLCOS
Video Output

Digital Video

Temperature Imaging Modes (Image Palettes)
Outdoor Alert, Artic, Sepia, Ironbow HC, Rainbow, Black Hot, White Hot
Reticle Type

Dot 4 MOA, Line Dot, Cross Center Dot, Cross, Crosshair, and "No Reticle"

Reticle Color
Black, White, Red, Cyan, and High Visibility
Boresight Adjustment Type

Digitally Controlled

User Interface
Operation Switch

On / Off / Standby Mode

Control Panel Buttons
Configures Operational Settings:
• Display Brightness Control
• Image Palette Control
• Digital Zoom Control
• Reticle Color Control
• Reticle Pattern Control
• Boresighting Adjustment
• On-Screen Menu Navigation
Diopter Adjustment Ring
Adjusts the Eyepiece Diopter
Interfacing
USB-C Connector
Digital video out; Image and video file access
Power
Battery Type
Two CR123A 3V Lithium batteries
Battery Life (Operating)
Up to 4 hours at 20 C°
External Power
Through USB-C port (5Vdc)
Environmental
Operating Temperature Range
-20°C to +50°C (-4°F to +122°F)
Storage Temperature Range
-40°C to +60°C (-40°F to +140°F)
Physical
Weight
0.81 kg (1.78 lbs)
0.97 kg (2.14 lbs)
Size
259 x 68 x 84 mm
(10.2 x 2.7 x 3.3 in)
283 x 89 x 93 mm
(11.1 x 3.5 x 3.7 in)
Weapon Mount Type

Picatinny, MIL-STD 1913, and Weaver Rails

Height of the Scope Axis above Rail

42 mm (1.65 in)

Package Includes
Thermal Weapon Sight, CR123A Battery (2), Battery Cassette, Spare Battery Cassette, USB to USB Type C cable (3'), Lens Cloth, Quick Start Guide, and Hard Carrying Case

*Disclaimer: Specifications are subject to change without notice.